On 50th Anniversary of Marathon Gold, Frank Shorter Reflects On Impact of Munich Massacre
Shorter's Favor to Dave Wottle: Now That's a Teammate
By Randy Maniloff, Guest contributor
September 6, 2022
On September 10, 1972, Frank Shorter won the gold medal in the marathon at the Summer Olympics in Munch. For a time, he thought the race wouldn't be.
Article continues below player
Five days earlier, the American runner, asleep on the balcony of his apartment in the Olympic village, was awakened by a loud, crashing sound. He thought it was someone slamming a door in the building.
Shorter would come to learn that the pre-dawn noise was gunfire. In a dormitory roughly 150 yards away, two members of the Israeli team had been shot to death by members of a Palestinian terrorist group. Nine more Israelis were taken hostage and would be killed not long after in a botched rescue attempt at a nearby airport.
On the eve of the half-century anniversary of what has come to be known as the "Munich Massacre," Shorter, in a phone interview from his home in Falmouth, Mass., recalled the events and its impact. His view was close enough to get a glimpse of what would become an iconic image of the tragedy — a ski-masked terrorist standing on the balcony of an Israeli apartment.
"My first reaction was instinctive," Shorter told me. "The games are over. We're going home. Nothing is worth human life."
But following a brief suspension, the competition continued. The marathon was pushed back a day. Shorter credits mental strength for keeping the focus needed to win.
"We've been training our whole lives for this," Shorter recalls thinking. "One day is not going to make a difference."
In that kind of situation, he explained, "you do that over which you have control. And what we had control of was our training." With armed guards now at the gates of the village, Shorter recounted he and some teammates climbing a fence to go for a run. "That was the beginning of our trying to go on."
Race day came and Shorter said he "ran the race and never thought about it, ever." I expressed shock. But he refers back to something he told me earlier. "The only thing that you have any control over in that situation is your thoughts."
Shorter remembers another marathoner, whom he declines to name, who didn't take the race delay in stride. "This person was apoplectic," Shorter recalled. "'But we trained and we have our schedules,'" Shorter said, using a whining voice to mimic the runner's complaining. Shorter told me that he knew, right then and there, that this person, despite being a favorite, "was not going to be a factor in the race." He wasn't.
Shorter credits the Munich Massacre as impacting the trajectory of his career. "At that time," Shorter said, "you get your gold medal and you hire William Morris [the talent agency] and go on and endorse products and go on with the rest of your life."
But on account of Munich, Shorter said he wanted to stay in the sport. "[I] just can't walk away from this. … I don't want to take the normal route." Four years after the Munich games, Shorter won the silver medal in the marathon at the Montreal Olympics. [The gold medal went to East Germany's Waldemar Cierpinski, whose achievement has been questioned by his country's support for the use of performance-enhancing drugs.]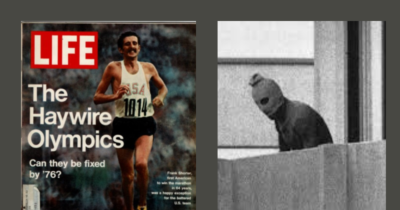 In 2013, Shorter was again a witness to sport as a target for terrorists. He was 50 feet away from the second bomb that exploded at the Boston Marathon. "I have to believe," he figures, "I'm one of the few people that's been there for both."
Shorter told me he'll never forget the carnage that he saw in Boston. As a member of NBC's broadcast team, his press credential afforded him a view of the medical area.  [For 22 years, Shorter, along with Bob Lobel, provided the race commentary for WBZ-TV.]
One positive was to come out of the tragedy for Shorter – he met his current wife at a Boston Strong fundraiser that he did along with four-time Boston Marathon winner Bill Rodgers.
Of course, Boston brought back memories of Munich for Shorter and the reminder that "caring for human life sometimes gets lost with certain people."
Not trying to sound banal, he repeated a famous French expression that came to mind that day: "Plus ça change, plus c'est la même chose. The more it changes, the more it's the same."
I couldn't help but ask Shorter one more question: why was he sleeping outside of his apartment in Munch? His roommate, Dave Wottle, he explains, was recently married and his new bride was with him.  So Shorter moved his mattress to the balcony. "I don't think we have to go any further than that," Shorter said, laughing.
Randy Maniloff is an attorney at White and Williams, LLP in Philadelphia and an adjunct professor at Temple University Beasley School of Law. He's done interviews and written articles on a wide variety of famous people over the years including Kareem Abdul Jabbar, Joe Lieberman, John Grishman, Judge Judy and been published in a wide variety of publications including the Wall Street Journal and USA Today. Many of his articles can be found here.