U.S.'s Fastest 1500 Man of 2022 Jonathan Davis Goes Pro and Signs With……
The 2022 USA runner-up has signed with the Atlanta Track Club
ATLANTA – August 3, 2022 – One of the nation's most promising middle distance prospects is relocating to Atlanta to join Atlanta Track Club. The Club announced today it had signed recent University of Illinois graduate Jonathan Davis to its Elite Team. Davis, who placed second in the 1500m at USATF Outdoor Track and Field Championships this summer, will make his debut in the adidas Atlanta Track Club kit at Friday night's Sir Walter Miler in Raleigh, NC.
Article continues below player.
"I am thrilled to get to work with Coaches Amy and Andrew Begley and Atlanta Track Club to pursue my running dreams," said Davis. "The sky's the limit with this team and I am beyond excited to start training."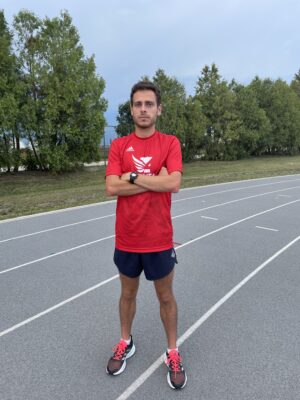 Despite placing in the top three in the tactically-run championship race, Davis did not represent the United States at the recent World Athletics Championship in Eugene as he had not yet achieved the qualifying standard. However, earlier this month, he clocked 3:33.81 at the Sound Running meet in Los Angeles. It's the fastest 1500m time run by an American this year.
"We have seen Jonathan race against and defeat the best 1500 meter runners in the country," said Rich Kenah, Atlanta Track Club's CEO. "Having him represent the Club on and off the track will go a long way in continuing the success Atlanta Track Club Elite has brought to Running City USA."
Davis is coming off a standout senior campaign at Illinois. The four-time All-American broke the four-minute mile barrier three times indoors this year, setting a school record of 3:54.59 at the Music City Invitational in February. He was the Big 10 Champion in the event and placed fourth at the NCAA Indoor Championships. Davis was sixth in the 1500 at the NCAA Outdoor meet last month.
A native of Oakwood, Illinois, Davis is a three-time state champion in the 1600m and 3200m and was thrice named Illinois High School Runner of the Year.
In his inaugural professional season, Davis joins a team of accomplished middle distance runners coached by Amy and Andrew Begley. They include American record-holder Shane Streich, and Olympic Trials qualifiers Abe Alvarado and Ryan Adams as well as Allie Wilson and Olivia Baker, two of the fastest American women in the 800m this year.