2022 NCAA W800/1500 Preview: Micaela DeGenero's Kick Is Dangerous; 800 Is Wide-Open
By Jonathan Gault
June 7, 2022
The 2022 NCAA Outdoor Championships are upon us, and the women's meet gets started on Thursday with prelims in the mid-distance events. In the 800, indoor champ Lindsey Butler of Virginia Tech is out for the season with a stress fracture, leaving a power vacuum at the top. In the 1500, meanwhile, indoor mile champ Micaela DeGenero of Colorado looked sensational in closing in sub-60 to win the Pac-12 title on the same Hayward Field track that will host NCAAs…but it's been 12 years since a woman has successfully pulled off the mile/1500 sweep. There are plenty of challengers in each field, including 2021 NCAA indoor champ Aaliyah Miller in the 800 and 4:04 woman Julia Heymach in the 1500. Let's take a closer look at each event.
Our women' s5K/10K/SC preview is here.
Article continues below player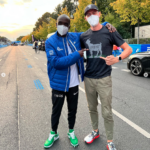 Kipchoge loves the 1:59:40 Shirt Get Yours Today
What a legend!
Other LRC previews *Men's 800/1500 *Men's 5k/10k/steeple *All 2022 NCAA outdoor coverage
Women's 800: Deep field should make for a compelling final
(Prelims Thursday 10:14 p.m. ET, final Saturday 6:44 p.m. ET. Times below are from regionals. Regular season times here)
  1  Kristie Schoffield            SR Boise State         2:01.41 
  2  Valery Tobias                 JR Texas               2:02.14 
  3  Sarah Hendrick                JR Kennesaw State      2:02.16 
  4  Josefine Eriksen              SO Utah                2:02.49 
  5  Imogen Barrett                JR Florida             2:02.61 
  6  McKenna Keegan                SR Villanova           2:02.70 
  7  Aaliyah Miller                SR Baylor              2:02.87 
  8  Gabija Galvydyte              FR OK State            2:02.90 
  9  Kassidy Johnson               JR KS State            2:02.94 
 10  Avi' Tal Wilson-Perteete      SR Texas A&M           2:02.98 
 11  Claire Seymour                JR BYU                 2:03.01 
 12  Laura Pellicoro               SO Portland            2:03.17 
 13  Carley Thomas                 SO Washington          2:03.18 
 14  Gabrielle Wilkinson           JR Florida             2:03.25 
 15  Katy-Ann McDonald             JR LSU                 2:03.42 
 16  Ellie Deligianni              SO Stanford            2:03.47 
 17  Aurora Rynda                  SR Michigan            2:03.63 
 18  Rachel Gearing                JR Penn State          2:03.72 
 19  Honour Finley                 SR Kansas              2:03.87 
 20  Victoria Tachinski            SR Penn State          2:03.89 
 21  Dorcus Ewoi                   JR Campbell            2:04.08 
 22  Presley Weems                 SR Auburn              2:04.41 
 23  Sydney Steely                 SO Miss State          2:04.46 
 24  Katherine Mitchell            JR Boston College      2:04.53
With NCAA indoor champion Lindsey Butler of Virginia Tech missing the outdoor season due to a metatarsal stress fracture, there is no clear favorite in this race. Five women broke 2:02 for 800 during the regular season, but none stands out from the field. Let's run through them:
The Five Sub-2:02 Women In The NCAA
Sarah Hendrick, Kennesaw State (2:00.98 sb)
Hendrick is undefeated against collegians this year and though she is tied for the NCAA lead at 2:00.98, she gets credit for the most impressive performance considering her 2:00.98 was a solo run at a Kennesaw State home meet in which the runner-up ran 2:13. The worry about Hendrick is what she did the last time she was in an NCAA final: indoors, she totally misjudged her effort, going out in 56.17 for the first 400 before totally blowing up and fading to last place. Hendrick would have had a shot to win that race had she been a little less aggressive, but she should know better for NCAA outdoors.
2. Katy-Ann McDonald, LSU (2:00.98 sb)
McDonald didn't make the NCAA final indoors but has been terrific outdoors, tying for the NCAA lead at 2:00.98 with a victory over 2021 NCAA 1500 champ Anna Camp Bennett at the Bryan Clay Invite in April. The blotch on her resume is that she was only 4th in the 800 at SECs, but that requires some context; 80 minutes earlier, she ran a 1500 pb of 4:12 to finish 3rd in that event. That actually makes me feel better about McDonald's chances as 4:12 is a terrific 1500 time for an 800 specialist.
3. Sintayehu Vissa, Ole Miss (2:01.06 sb)
Vissa is running the 1500 at NCAAs instead.
4. Imogen Barrett, Florida (2:01.42 sb)
The Australian Barrett won the toughest conference meet in the NCAA, the SEC (four of the top nine fastest women in the country this year were in that race). What's more, she did it by pulling the same 800/1500 double as McDonald, running 4:14 (.25 off her pb) to finish 5th in the 1500 before doubling back to win the 800 less than 90 minutes later. The knock on Barrett is a lack of NCAA championship success — she's been to NCAAs three times and never made the final — but she wasn't performing at this high of a level in the past.
5. Lauren Ellsworth, BYU (2:01.72)
Surprisingly only finished 5th in her heat at regionals and failed to advance to NCAAs.
A sixth woman broke 2:02 at regionals and no woman in the field is hotter right now than her- Boise State's Kristie Schoffield. Schoffield was 6th at NCAAs in 2019 but had stagnated since then until running 2:02.45 at the Mountain West champs on May 14 — her first pb in three years. At regionals, she was even better, running 2:01.41 to take an additional second off her pb — the fastest time of any qualifier. Schoffield is reminiscent of Michaela Meyer of Virginia, who made big improvements at the end of her 5th year in 2021 and wound up winning NCAAs and running 1:58 to finish 4th at the Olympic Trials.
There are a few other women worth monitoring. BYU's Claire Seymour was the runner-up indoors but it's hard to get a real read on her as she only finished one individual 800 during the outdoor season prior to regionals (2:03.70 win at the Sun Angel Classic). Baylor's Aaliyah Miller is also back in good form. After running 2:00.69 to win NCAA indoors in 2021, Miller struggled her next two seasons: she didn't make the NCAA final outdoors and didn't make NCAA indoors at all this year. But she ran an impressive 2:02.31 to win Big 12s and is trending in the right direction.
JG prediction: There's a compelling case to be made for half a dozen of the women in this field, and that's the great thing about the NCAA championships — put all the best women together and let them sort it out on the track. Watch the prelims carefully for a hint as to who looks the best. I'll roll with Barrett — her SEC performance was sensational — but she could just as easily finish 5th, such is the depth of this race.
Women's 1500: Can anyone stop Micaela DeGenero and her big kick?
(Prelims Thursday 8:46 p.m. ET, final Saturday 5:41 p.m. ET. Times below are from regionals. Regular season times here)
  1  Shannon Flockhart             FR Providence          4:10.80 
  2  Ellie Leather                 SR Cincinnati          4:11.33 
  3  Emily Mackay                  SR Binghamton          4:11.65 
  4  Sintayehu Vissa               SO Ole Miss            4:11.92 
  5  Eusila Chepkemei              SR Mid. Tenn. St       4:12.65 
  6  Flomena Asekol                SO Alabama             4:12.73 
  7  Megan Marvin                  SO Furman              4:13.47 
  8  Nevada Mareno                 JR NC State            4:13.49 
  9  Maia Ramsden                  FR Harvard             4:13.54 
 10  Caroline Timm                 JR Princeton           4:13.64 
 11  Grace Jensen                  SR Vanderbilt          4:13.86 
 12  Anna Vess                     SR NC State            4:13.99 
 13  Julia Heymach                 SR Stanford            4:16.34 
 14  Anna Gibson                   JR Washington          4:16.82 
 15  Olivia Howell                 SO Illinois            4:17.68 
 16  Micaela Degenero              SR Colorado            4:18.93 
 17  Krissy Gear                   SR Arkansas            4:18.97 
 18  Gracie Morris                 SO TCU                 4:19.50 
 19  Christina Aragon              SR Stanford            4:19.55 
 20  Rachel McArthur               SR Colorado            4:19.55 
 21  Abbe Goldstein                JR New Mexico          4:19.65 
 22  Stefanie Parsons              JR New Mexico          4:20.00 
 23  Melissa Tanaka                JR Stanford            4:20.04 
 24  Izzy Thornton-Bott            JR Oregon              4:20.58
If you watched the NCAA indoor mile final in March, it was hard to forget the performance of Colorado's Micaela DeGenero in the mile. After sitting toward the back of the pack for the first six laps, DeGenero, a sixth-year grad transfer from Michigan, made a huge move to the front with two laps remaining and closed her final 400 in 61.07 to win in a blowout.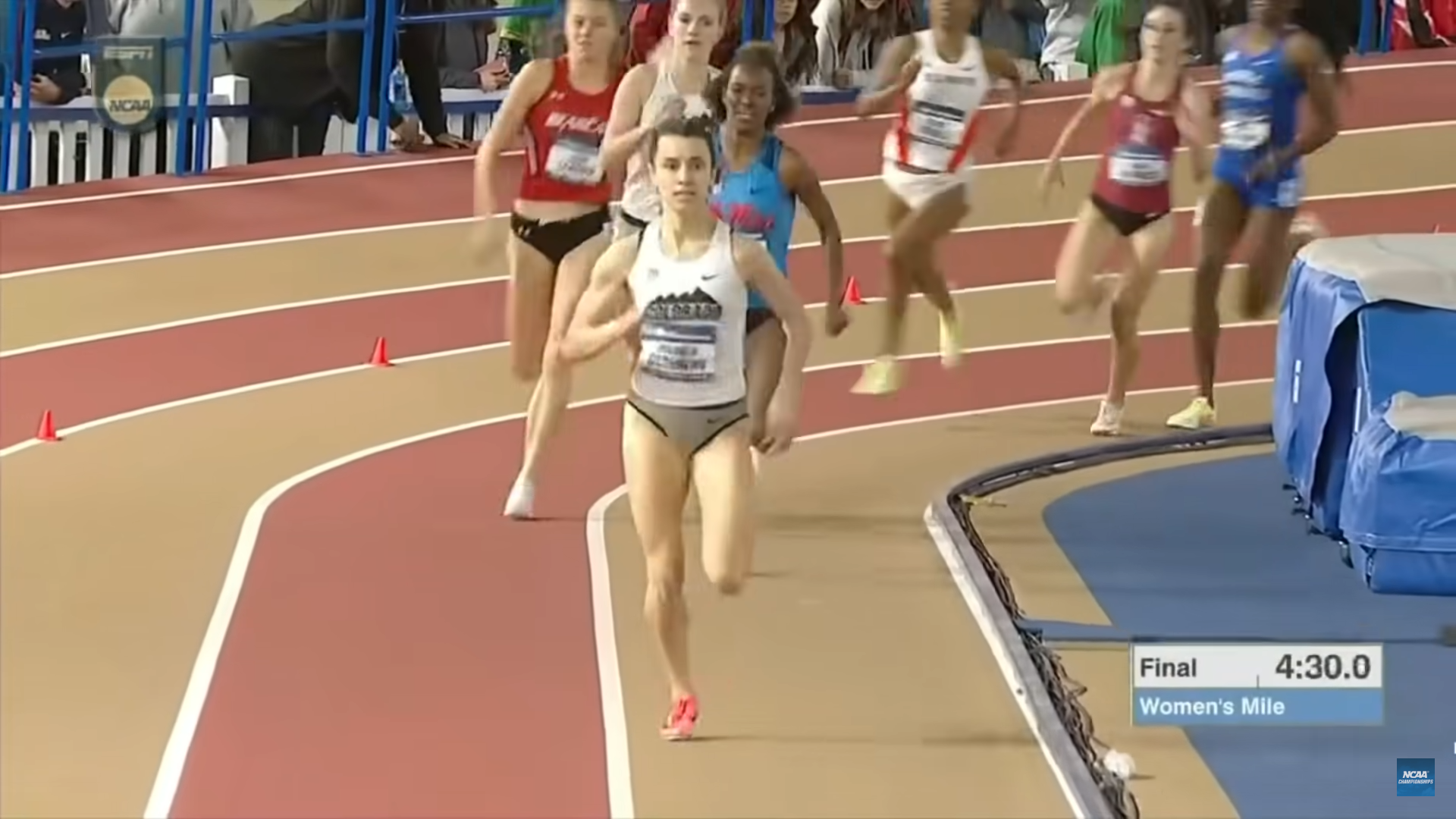 Just a month later, DeGenero was soundly beaten in her outdoor opener at Bryan Clay, finishing 9th in 4:15.96. Not a great result, but DeGenero still deserves to be the NCAA favorite for one reason: 59.60. That's the time it took for DeGenero to cover her final 400 at the Pac-12 meet last month (a race she won in 4:13). College women's milers are not supposed to be able to close that quickly. That sort of kick is essentially a cheat code — the ultimate trump card.
Which means the onus is on everybody else in the field to drop DeGenero before the final lap — or at the very least, force a fast enough pace that DeGenero can't blow them away over the final 400. Because if she can close anything close to 59.60 at NCAAs, it's game over for everyone else.
DeGenero owns a 4:09 pb from NCAAs last year, so dropping her isn't going to be easy as of the four women in the NCAA who have broken 4:10 this year, only one of them is in the 1500 at NCAAs, Sintaeyhu Vissa of Ole Miss.
The Sub-4:10 Collegians This Year
1 Tuohy, Katelyn SO-2 NC State 4:06.84 – running 5000
2 Vissa, Sintayehu SO-2 Ole Miss 4:08.72 – racing 1500
3 Gregory, Lauren JR-3 Arkansas 4:09.73 – doing 5000/10,000
4 Skyring, Maudie SR-4 Florida State 4:09.83 – did not qualify, last in East regional semifinals
If DeGenero is beaten, Vissa of Ole Miss may be the most likely to take her down. Vissa was the indoor runner-up and won SECs by more than a second when she ran that 4:08.72.
The woman with the best pb in the field is Stanford's Julia Heymach (4:04.84), who is a bit of wildcard. After getting sixth in the 5000 last year (she ran the 1500 as well but didn't make the final), she ran 4:04 to place sixth at the Olympic Trials. However, she was only 7th in the mile indoors and hadn't won a race outdoors until she won her regional semi.
Also keep an eye on Providence's Shannon Flockhart. The 20-year-old Brit started the outdoor season with a career best of 4:34 and made a big improvement to 4:20 this spring — though she was still only ranked 86th in the NCAA heading into regionals. Then Flockhart took two more huge leaps, running 4:13 in the first round at regionals and 4:10 in the second. At some point, the breakthroughs will stop, but if there are more improvements to come, this field at NCAAs will bring it out of her.
JG prediction: No NCAA women's indoor mile champ has gone on to win the 1500 outdoors in the same year since Florida's Charlotte Browning in 2010. Last year was a perfect example of how hard it can be: Sage Hurta, another Colorado star, won the mile and dominated during the regular season outdoors but could only manage second at NCAAs despite a solid run in the final as Anna Camp sprung the upset.
However, the double can be done and I think it will be: DeGenero FTW.
Talk about the women's meet on our world-famous fan forum / messageboard. MB: Official 2022 NCAA Outdoors Women's Discussion Thread – 5k is LOADED. Is it Tuohy's time to shine?
Other LRC previews *W 5K/10K/SC Preview *Men's 800/1500 *Men's 5k/10k/steeple *All 2022 NCAA outdoor coverage