Introducing the Sedona Shitter – New Green Product for Runners Who Gotta Go
By LetsRun.com
April 1, 2022
First there were the LetsRun.com t-shirts, "the softest shirts in the business."
Now there is the Sedona Shitter.
Article continues below player
LetsRun.com is proud to continue its push into performance running apparel and gear and release the Sedona Shitter, the first portable toilet for adult athletes.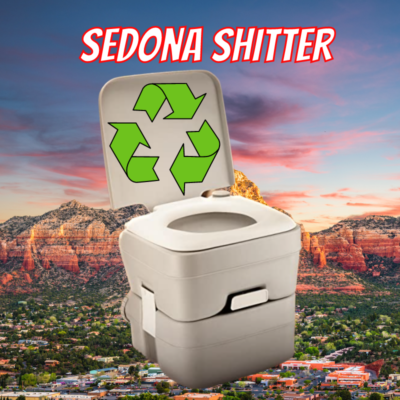 Earlier this year, the running world was rocked with the closing of the Red Rock High School track in Sedona, Ariz., to professional athletes after an unidentified runner defecated on a walkway adjacent to the track.
The LetsRun.com team then went to work on solving one of running's most perplexing problems: "What are athletes supposed to do when they have to go on the go?"
Portable Toilets Work for Kids, Why Not Athletes?
"One of my daughter's favorite words is 'poo-poo,' so coming up with this idea was pretty easy," said LetsRun.com co-founder Weldon Johnson ("Wejo"). "Finding the technical expertise to design it wasn't hard either as my brother spent a decade coaching at Cornell University which is one of the world's greatest engineering schools."
While the market for a portable toilet to use before a track workout is pretty limited as the only people self-centered enough to take a shit on concrete before a workout are professional athletes, the Johnson brothers say the real target for growth is the road-racing market.
"Even before COVID-19 resulted in supply chain shortages, Porta Potties were hard to come by before a road race. Plus it's not fair that elites athletes were the only ones with special toilets before races. We did a soon-to-be peer-reviewed study that showed non-elites run 4 minutes faster in a marathon when they are not holding in a shit for 4 hours," said Erik Westlund, head of the LetsRun.com analytics team.
"That's getting close to a super-shoe performance effect," Westlund added.
100% Green, Subscription Product
Private equity groups are fighting to fund the Sedona Shitter, as the Sedona Shitter Elite version will be sold as a subscription product that in addition to generating monthly revenue will help races get closer to having zero waste by 2030. Each Sedona Shitter will be equipped with a cellular beacon and GPS so that runners can do their business before the race and leave the toilet, not having to worry about clean-up afterwards.
"Most races rely on thousands of volunteers for clean-up. This can be a green add-on to the volunteer experience," said Wejo.
The LetsRun.com team is also in talks with road races to require elites to use the Sedona Shitter before major races. "This would be very beneficial to drug testers. It would streamline the specimen collection process. And in addition, we believe there is an ancillary market to make compost from the waste of the stars. Can you imagine what someone would pay for the compost from Kipchoge's shit after one of his marathons?"