Women's 60M: Batman's daughter – Shawnti Jackson – breaks US HS 60m record with a 7.18
by LetsRun.com
January 29, 2022
NEW YORK — 2018 NCAA champion Aleia Hobbs (adidas) closed down the leaders in the final 40 meters to get the women's 60 in 7.11, but the big story was that high school junior Shawnti Jackson, of Raleigh, NC, ran 7.18 for third place to break the girl's indoor high school national record of 7.19 held jointly by Ashley Owens (2004 at altitude) and Tamari Davis (2020)
Article continues below player.
Jackson, the 16-year old daughter of 2005 world 400mh champ Bershawn 'Batman' Jackson (he also is her coach), came in with a pb of 7.24. 
Full race video
2020 Olympic silver medalist @AleiaBitOfThis jets to the line for the win in the women's 60m. 💨@usatf | @MillroseGames pic.twitter.com/WTyDl0EM8c

— NBC Olympics (@NBCOlympics) January 29, 2022
Full results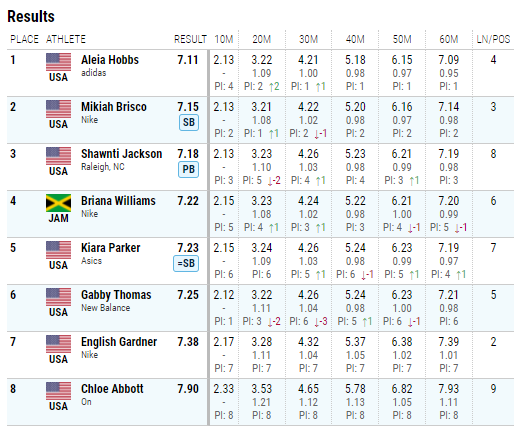 For more on Jackson, read this TFN profile of her from earlier in the week: Shawnti Jackson Has Multiple Dashes To Choose From
Talk about the 2022 Millrose Games on our world-famous messageboard/fan forum: MB: MILLROSE Live Thread?!