The Fans Have Spoken: Conner Mantz, NAU, Mercy Chelangat and NC State Picked As Favorites In Running Warehouse NCAA XC Prediction Contest
by LetsRun.com
November 19, 2021
The early results are in from the fans' votes in our Running Warehouse 2021 NCAA XC Prediction contest. The LRC fans have annointed the NAU men, NC State women as well as Conner Mantz and Mercy Chelangata at the NCAA favorites. You can see the full contest results below.
Howeer, the computers don't 100% agree with the LRC faithful. The computer program at Lacticc.com created by Bijan Mazaheri,  computer scientist and mathematician PHD studnet at Cal Tec (and 2:15 marathoner), has Wesley Kiptoo as the men's individual favorite (21% chance of victory) and only has Conner Mantz at #3 (12%). Lacticc.com does agree with the other LRC picks as they have NAU has the men's team favorite (59% chance of victory), as well as NC State (51%) and Mercy Chelangat (38%) for the women.
Article continues below player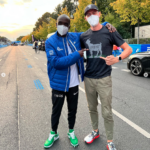 Kipchoge loves the 1:59:40 Shirt Get Yours Today
What a legend!
Enter our free prediction contest here.
LetsRun.com Men's Super Poll Results
1.
Northern Arizona (271)
4690
2.
BYU (74)
4103
3.
Notre Dame (117)
4026
4.
Oklahoma State (40)
3429
5.
Colorado (4)
2874
6.
Stanford (2)
2034
7.
Iowa State (2)
1836
8.
Wisconsin
1112
9.
Arkansas (2)
1096
10.
Oregon (4)
536
11.
Tulsa
348
12.
Washington
311
13.
Ole Miss
271
14.
Alabama
258
15.
Florida State
171
16.
Air Force
153
17.
Michigan
140
18.
Syracuse
121
19.
Portland
112
20.
Texas
96

Others receiving votes: 21. Wake Forest 92 22. Princeton 92 23. Furman 75 24. North Carolina 72 25. Harvard 64 26. Georgetown 62 27. Minnesota 58 28. Michigan State 46 29. Southern Utah 41 30. Gonzaga 33 31. Butler 28

LetsRun.com Women's Super Poll Results
1.
NC State (327)
4406
2.
BYU (63)
3866
3.
New Mexico (48)
3733
4.
Colorado (28)
3556
5.
Minnesota (1)
1990
6.
Arkansas (5)
1871
7.
Oklahoma State (1)
1322
8.
Alabama (3)
850
9.
North Carolina (8)
833
10.
Stanford (1)
729
11.
Notre Dame (1)
537
12.
Ole Miss
365
13.
Iowa State (1)
363
14.
Wisconsin
329
15.
Florida State
288
16.
Northern Arizona
266
17.
Oregon
241
18.
Utah
241
19.
Michigan (1)
183
20.
Michigan State (1)
169

Others receiving votes: 21. Georgetown 159 22. Washington 146 23. Villanova 91 24. Syracuse 68 25. Harvard 63 26. West Virginia 62 27. Colorado State 49 28. Utah State 45 29. Butler 39 30. Providence 25 31. Rice 10
Individual Polls
LetsRun.com Men's NCAA Picks
Conner Mantz JR-3
61.1 %
Wesley Kiptoo JR-3
19.8 %
Adriaan Wildschutt JR-3
8.7 %
Cooper Teare SR-4
3 %
Nico Young FR-1
3 %
Athanas Kioko SR-4
2.4 %
Eliud Kipsang FR-1
0.4 %
Kieran Lumb SR-4
0.4 %
Victor Kiprop FR-1
0.2 %
Ahmed Muhumed SR-4
0.2 %
Others
0.6 %

Total Votes: 494

LetsRun.com Women's NCAA Picks
Mercy Chelangat JR-3
67.5 %
Whittni Orton
14.3 %
Ceili McCabe SO-2
4.9 %
Kelsey Chmiel SO-2
4.2 %
Abby Nichols SR-4
2.2 %
Taylor Roe JR-3
1.3 %
Taryn O'Neill JR-3
1.1 %
Katelyn Tuohy FR-1
0.9 %
Emily Covert
0.4 %
Bethany Hasz SR-4
0.4 %
Others
2.6 %

Total Votes: 453
Men's Individual Poll

1.
Conner Mantz JR-3 (302) – BYU
4584
2.
Wesley Kiptoo JR-3 (98) – Iowa State
3825
3.
Adriaan Wildschutt JR-3 (43) – Florida State
3385
4.
Nico Young FR-1 (15) – Northern Arizona
2793
5.
Cooper Teare SR-4 (15) – Oregon
2605
6.
Charles Hicks FR-1 (1) – Stanford
1382
7.
Abdihamid Nur SO-2 – Northern Arizona
1243
8.
Athanas Kioko SR-4 (12) – Campbell
1055
9.
Isai Rodriguez JR-3 – Oklahoma State
1034
10.
Eduardo Herrera SR-4 – Colorado
625
11.
Yared Nuguse SR-4 (1) – Notre Dame
529
12.
Casey Clinger SO-2 – BYU
523
13.
Kieran Lumb SR-4 (2) – Washington
452
14.
Amon Kemboi SR-4 – Arkansas
437
15.
Eliud Kipsang FR-1 (2) – Alabama
318
16.
Dylan Jacobs – Notre Dame
282
17.
Victor Kiprop FR-1 (1) – Alabama
246
18.
Ahmed Muhumed SR-4 (1) – Florida State
183
19.
Morgan Beadlescomb SR-4 – Michigan State
169
20.
Simon Bedard SR-4 (1) – Butler
137
Others receiving votes: 21. Other (Other) 127 22. Bob Liking (Wisconsin) 113 23. Aaron Bienenfeld SR-4 (Oregon) 105 24. Ehab El-Sandali SR-4 (Iona) 88 25. Danny Kilrea (Notre Dame) 86 26. Adam Fogg JR-3 (Drake) 69 27. Matthew Carmody JR-3 (Notre Dame) 65 28. Olin Hacker SR-4 (Wisconsin) 59 29. George Kusche (Northern Arizona) 52 30. Parker Stokes FR-1 (Georgetown) 45 31. Hillary Cheruiyot FR-1 (Alabama) 36 32. Haftu Knight SO-2 (Texas) 31 33. Jonathan Davis JR-3 (Illinois) 30 34. Alex Maier SO-2 (Oklahoma State) 25 35. Jacob Choge SR-4 (Mid. Tenn. State) 24 36. Kirami Yego FR-1 (South Alabama) 23 37. Christian Allen JR-3 (Weber State) 23 38. Brandon Garnica JR-3 (BYU) 22 39. Graham Blanks FR-1 (Harvard) 22 40. James Mwaura JR-3 (Gonzaga) 21 41. Aaron Las Heras JR-3 (Wake Forest) 20 42. Zach Facioni JR-3 (Wake Forest) 20 43. Aidan Tooker SR-4 (Syracuse) 19 44. Haftu Strintzos SO-2 (Villanova) 19 45. Ryan Smeeton SR-4 (Oklahoma State) 18 46. Brian Fay SR-4 (Washington) 18 47. Gilbert Boit SR-4 (Arkansas) 18 48. Alec Basten SR-4 (Minnesota) 17 49. Barry Keane JR-3 (Butler) 16 50. Ed Goddard SR-4 (Iona) 16 51. Acer Iverson SO-2 (Harvard) 14 52. Alec Sandusky SR-4 (Cincinnati) 11 53. Matthew Pereira SR-4 (Harvard) 10 54. Aaron Wier SR-4 (Furman) 9 55. Andrew Alexander SR-4 (Notre Dame) 9 56. Ky Robinson FR-1 (Stanford) 7 57. Ed Trippas SR-4 (Princeton) 6 58. Victor Shitsama FR-1 (Oklahoma State) 6 59. Scott Beattie JR-3 (Tulsa) 6 60. Joe Dragon SR-4 (Syracuse) 6 61. Emmanuel Cheboson JR-3 (Arkansas) 6 62. Jakob Kintzele JR-3 (Princeton) 6 63. Kwanele Mthembu JR-3 (Texas State) 4 64. Parker Wolfe FR-1 (North Carolina) 4 65. Lexington Hilton SO-2 (Arkansas State) 2 66. Christian Ricketts SR-4 (Southern Utah) 2 67. Yaseen Abdalla FR-1 (Texas) 2 68. Jack Salisbury JR-3 (Georgetown) 2 69. Shea Weilbaker SO-2 (Georgetown) 2 70. Dario De Caro SR-4 (Boise State) 1 71. JP Flavin SR-4 (NC State) 1

Women's Individual Poll

1.
Mercy Chelangat JR-3 (306) – Alabama
4143
2.
Whittni Orton (65) – BYU
2839
3.
Kelsey Chmiel SO-2 (19) – NC State
2582
4.
Taylor Roe JR-3 (6) – Oklahoma State
1994
5.
Ceili McCabe SO-2 (22) – West Virginia
1929
6.
Katelyn Tuohy FR-1 (4) – NC State
1613
7.
Abby Nichols SR-4 (10) – Colorado
1375
8.
Julia Heymach SR-4 (1) – Stanford
951
9.
Cailie Logue SR-4 (1) – Iowa State
784
10.
Bethany Hasz SR-4 (2) – Minnesota
481
11.
Joyce Kimeli SR-4 (1) – Auburn
434
12.
Grace Forbes SO-2 (1) – Rice
417
13.
Hannah Steelman (1) – NC State
349
14.
Anna Camp SR-4 – BYU
344
15.
Maddy Denner SO-2 (1) – Notre Dame
298
16.
Emily Covert (2) – Colorado
237
17.
Amanda Vestri SR-4 – Syracuse
194
18.
Amaris Tyynismaa SO-2 – Alabama
179
19.
Tierney Wolfgram FR-1 – Nevada
158
20.
Parker Valby FR-1 – Florida
128
Others receiving votes: 21. Lauren Gregory JR-3 (Arkansas) 114 22. Lauren Ryan (Florida State) 113 23. Zofia Dudek FR-1 (Stanford) 104 24. Other () 98 25. Rachel McArthur (Colorado) 98 26. Megan Hasz SR-4 (Minnesota) 93 27. Gracelyn Larkin SO-2 (New Mexico) 90 28. Ruby Smee SO-2 (San Francisco) 69 29. Olivia Markezich SO-2 (Notre Dame) 65 30. Alexandra Hays SR-4 (NC State) 62 31. Sydney Seymour SO-2 (Tennessee) 52 32. Alessia Zarbo FR-1 (Oregon) 50 33. Jenna Magness SR-4 (Michigan State) 47 34. Abby Kohut-Jackson SR-4 (Minnesota) 45 35. Alison Pray SR-4 (Southern Utah) 43 36. Summer Allen SR-4 (Weber State) 42 37. Aneta Konieczek SR-4 (Oregon) 41 38. Isabel Van Camp SO-2 (Arkansas) 38 39. Alissa Niggemann SR-4 (Wisconsin) 38 40. Sintayehu Vissa SO-2 (Ole Miss) 36 41. Katelynne Hart FR-1 (Michigan) 29 42. Aubrey Frentheway JR-3 (BYU) 28 43. Kristen Garcia JR-3 (Gonzaga) 27 44. Esther Gitahi SR-4 (Alabama) 24 45. Addie Engel FR-1 (Ohio State) 23 46. Baylee Jones JR-3 (Georgetown) 23 47. Maria Coffin SR-4 (Providence) 22 48. Flomena Asekol SO-2 (Alabama) 21 49. Molly Born SR-4 (Oklahoma State) 21 50. Phoebe Anderson FR-1 (Columbia) 20 51. Tori Herman FR-1 (Kentucky) 20 52. Maggie Donahue SO-2 (Georgetown) 20 53. Samantha Bush SO-2 (NC State) 19 54. Kayley DeLay SR-4 (Yale) 17 55. Rachel McCardell JR-3 (Northwestern) 14 56. Sami Corman JR-3 (Georgetown) 11 57. Beth Ramos JR-3 (Texas) 11 58. Irene Rono SO-2 (Abilene Christian) 11 59. Ericka VanderLende JR-3 (Michigan) 11 60. Bethany Graham FR-1 (Furman) 11 61. Laura Mooney FR-1 (Providence) 11 62. Maggie Smith SO-2 (Villanova) 9 63. Sophie Murphy SR-4 (Iona) 9 64. Katie Camarena SR-4 (Portland State) 8 65. Gabby Hentemann JR-3 (Oklahoma State) 8 66. Lucy Jenks FR-1 (Stanford) 8 67. Lynsie Gram SR-4 (Michigan State) 7 68. Gracie Hyde JR-3 (Arkansas) 7 69. Fiona Max FR-1 (Princeton) 6 70. Emily Mackay SR-4 (Binghamton) 5 71. Lindsey Stallworth SR-4 (East Tenn. St.) 5 72. Calli Doan SR-4 (Liberty) 3 73. Annabelle Eastman JR-3 (George Mason) 2 74. Sammi Ragenklint SO-2 (Monmouth) 1