Television and Streaming Information for 2021 Chicago Marathon – How To Watch The 2021 Chicago Marathon
by LetsRun.com
October 9, 2011
The 2021 Bank of American Chicago Marathon will be broadcast on Sunday live nationally in the US on NBCSN and their app starting at 8 am ET. The elite men's and women's races begin at 8:30 am ET (7:30 am local). There will be a replay of the race on the Olympic channel at 2 pm.
In the US and Mexico, we believe you will also be able to access the local broadcast of the race on NBC 5 Chicago and nbcchicago.com as well as Telemundo Chicago and telemundochicago.com from 7-11 a.m. local. The NBCchicago live stream can be found right here. Coverage will continue online and in the apps until 3 pm local. There also will be a radio broadcast on 670 The Score Sports Radio.
Article continues below player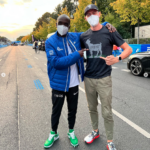 Kipchoge loves the 1:59:40 Shirt Get Yours Today
What a legend!
For the rest of the world, we know that there will be coverage on the Eurosport APP from 13.15 BST (GMT +1). Flotrack owns the rights for Canada and Australia.
To track the runners as they run or get their results, go here: https://results.chicagomarathon.com/2021/ You can also track them by downloading an app to your phone: The mobile app is now available on the App Store and Google Play.
To see a live leaderboard, go here: https://results.chicagomarathon.com/2021/?lang=EN_CAP&pid=start&pidp=start
Talk about the race as you watch on our world-famous fan forum / messageboard: MB: Official 2021 Chicago Marathon Discussion Thread.
Race Preview: 2021 Chicago Marathon Preview: Sara Hall Chases Deena's AR, Galen Rupp Doubles Back from Olympics, & a Very Shallow Women's Field
*Ryan Hall Q&A: "For Sara, Winning the Chicago Marathon Would Be More Meaningful Than Setting an American Record"
*A Very Fit and Healthy Galen Rupp is Ready for Chicago: "It has gone really well"
*Complete 2021 Chicago Marathon Coverage
Chicago Marathon start times and schedule
The timeline for 2021 Chicago is as follows. All times have been adjusted to US ET. 
8:20 a.m.: Marathon Wheelchair Start (men)
8:21 a.m.: Marathon Wheelchair Start (women)
8:22 a.m.: Marathon Handcycle Start
8:30 a.m.: Wave 1 and Elite Start
9 a.m.: Wave 2 Start
9:35 a.m.: Wave 3 Start