There's an Insane Meet in Florida on Saturday — Grant Holloway, Justin Gatlin, Matthew Centrowitz, Ajee' Wilson Are All Entered
By Jonathan Gault
April 8, 2021
Friday marks exactly 10 weeks until the US Olympic Trials begin at the new Hayward Field in Eugene, and over the next few weeks, some of the sport's biggest stars will be opening up with their first races of the 2021 outdoor season. A bunch of the world's top sprinters will be doing it at Saturday's Miramar Invitational in Miramar, Fla., the second meet in USATF's Journey to Gold – Tokyo series.
It's pretty insane how many big names will be competing at this meet. On the women's side, you've got reigning Olympic 100/200 champ Elaine Thompson-Herah, 400 world champ Salwa Eid Naser, 800 world bronze medalist Ajee' Wilson, and 100m hurdles world record holder Keni Harrison. On the men's side, there is 2017 world 100 champ Justin Gatlin, 110 hurdles world champ Grant Holloway, 9.87 100 man Ronnie Baker, and high school indoor 200m record holder Jaylen Slade.
Article continues below player
That's just a taste of the fields — the full start lists have yet to be released, but you can see the current confirmed list of athletes here.
Update: The full fields have recently been published. Naser is out but the meet entries actually include some fascinating new entries including Matthew Centrowitz, Robby Andrews and Daniel Roberts.
Below, a few storylines to watch in this early-season meet.
What: Miramar Invitational
When: Saturday, April 10
Where: Ansin Sports Complex, Miramar, Fla.
How to watch: The meet will be streamed live from 1-3 p.m. ET on RunnerSpace+ (subscription required).
Salwa Eid Naser races for the first time since her whereabouts suspension was overturned
The meet website has no information about which athletes are running which events, but it's likely Naser is in either the 200 or 400 (TrackAlerts.com has posted some of the matchups here). Whatever the distance, it will be the first race in over 15 months for the 2019 world champion and third-fastest woman ever at 400 meters (48.14).
Not everyone will be happy to see Naser out there. Remember, in June 2020 she was provisionally suspended for three whereabouts failures, only for a World Athletics Disciplinary Tribunal to overturn that suspension in October. Not satisfied, the Athletics Integrity Unit is now attempting to overturn that overturn and reinstate Naser's two-year ban; that appeal is scheduled to be heard April 22-23.
Naser may be lucky to be competing, but she is eligible and, with Shaunae Miller-Uibo opting to focus on the 200 in 2021, Naser is the heavy favorite for the Olympic 400 title this year.
Update: The meet website has been updated; Naser is not among the entries.
LRC Why Was Salwa Eid Naser Cleared? Everything You Need to Know About Her Whereabouts Case
Wilson vs. Goule in women's 800
In both 2018 and 2019, the two fastest non-DSD women in the world at 800 meters were American Ajee' Wilson and Jamaican Natoya Goule. Those two, both Olympic medal threats in Tokyo, will renew their rivalry on Saturday. Goule, who won all three of her races indoors, debuted outdoors with a 4:14 1500 personal best on March 26 in Tallahassee. Meanwhile Wilson, who didn't race at all outdoors last year, looked very strong in her 2021 outdoor opener by running 1:58.93 to win at the Texas Qualifier on February 27.
Gatlin, Kerley, and Holloway lead men's sprint fields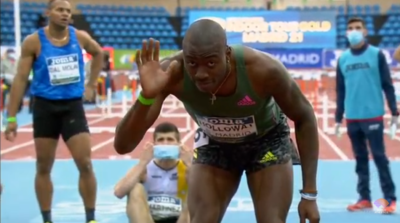 Convicted doper Justin Gatlin, trying to make his fourth Olympic team at the age of 39, will run his first open race of 2021 after relay duty at the USATF Sprint Summit last week. In the 200, Fred Kerley will be worth watching. So far, he's PR'd in all four of his outdoor races in 2021, going 10.15 and 10.11 in the 100 in Miami on March 20 and 10.06 and 10.03 in Clermont last weekend. 10.03 is seriously fast for a 400 specialist like Kerley; his 20.24 200 pb should go down this weekend. And Grant Holloway, coming off the greatest 60-meter hurdle season of all time, will race for the first time outdoors in 2021 over the 110's.
Update: Dyestat has reported that Holloway will race college nemesis Daniel Roberts, the 2019 US champ.
LRC Grant Holloway Podcast + NCAA x2, Cole Hocker Superstar?
Olympic Trials preview in women's 100; top Jamaicans clash in women's 200
On the women's side, the 100 should be intriguing as it features the reigning Olympic Trials champ (English Gardner), reigning US champ (Teahna Daniels), and reigning NCAA champ (Sha'Carri Richardson). Richardson, who ran 10.75 in 2019 and a US-leading 10.95 last year, is still only 21 and will go off as the favorite.
In the 200, reigning Olympic champ Elaine Thompson-Herah takes on the next great Jamaican talent in Briana Williams, the 2018 world U20 champ at 100 and 200.