Meet the Winners of the Running Warehouse NCAA Prediction Contest
By LetsRun.com
April 6, 2021
*If you played in the contest and want to check your scores click here
Running was back in a big way last month with the NCAA Indoor Track and Field and Cross Country champs taking place the same extended weekend.
Article continues below player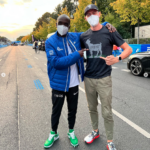 Kipchoge loves the 1:59:40 Shirt Get Yours Today
What a legend!
A few athletes attempted the unprecedented double and so did hundreds of you in the $200,021 Running Warehouse Prediction Contest.
Good Guy and Super Track Fan Eli Rosen-Duran Triumphs
The big winner of the weekend in addition to BYU's Diljeet Taylor, was 23-year-old Eli Rosen-Duran of San Diego, the winner of our prediction contest.
If anyone deserved to win one of our contests, it was Eli.
Like most of the past winners of our prediction contest, running is in Eli's blood. He ran track and cross country at the University of San Diego. Now he's an audio visual engineer at a school, but in his extra time he's helping stream track and field and cross country meets. Did you watch the 2020 USATF Cross Country Championships, any of the three Sound Running meets, or the Trials of Miles Texas Qualifier? Eli was involved in all of them.
Prior to LetsRun.com's first attempts at streaming — the American record attempts at 5,000m by Emmanuel Bor and Paul Chelimo — we posted a thread asking for tips and advice. Who was one of the first people to come to the rescue with advice? Some guy we didn't know at all at the time, Eli.  Then a week later he wins our prediction contest. Karma can be a good thing, people!
Prior to Covid, Eli worked at the San Diego Running Company putting on road races. Hopefully, he can be doing that again soon.
For his picks, Eli had confidence in the Oregon men and Arkansas women on the track. Very smart. He also had a little WCC love in his picks.
Eli won a $150 Running Warehouse gift certificate and the LetsRun.com shirt of his choice.
Dad-to-be Alex Wilson, 3rd Place
Our third placer was Alex Wilson. He's a 29-year-old from the great state of Texas. He started running in middle school as a way to get in shape for basketball. As a senior in high school he dropped from the mid-18s to high-16s for 5k, which let him compete at UT Tyler.  Good thing for him, as his wife ran at UT Tyler as well, and they are welcoming their first child this month. Alex is now an Algebra 1 teacher and cross country and track coach at Hawkins ISD in East Texas.
As for his picks, he knew Oregon and Arkansas were loaded, and the NAU men and BYU women were motivated after runner-up finishes in 2019. Alex won a $50 Running Warehouse Gift Certificate and the LetsRun.com shirt of his choice.
Trying to get in touch with "The letter why"
We've been unable to get in touch with our second place finisher user "The letter why". If that is you, please email us wejo@letsrun.com to get your prize.
Thanks to Running Warehouse for sponsoring. Remember they have  free 2-day shipping both ways on shoes. There is a reason they are the leader in specialty online running.
*If you played in the contest and want to check your scores click here.