HOKA NAZ Elite adds Jenna Wrieden as an assistant coach
Press Release
January 12, 2021. Published January 13, 2021
FLAGSTAFF, Ariz. – HOKA NAZ Elite announced that it has added Jenna Wrieden to its coaching staff. Wrieden is coming off a four-and-a-half year run as an assistant coach at the University of Louisville where she worked with multiple NCAA All Americans including 2017 National steeplechase champion Edwin Kibichiy, and 2018 10,000 meter runner-up Dorcas Wasike. Wrieden will serve as a full-time assistant coach for HOKA NAZ Elite, alongside head coach Ben Rosario.
NAZ Elite, who last year announced a new, multi-year agreement with its title sponsor, HOKA ONE ONE®, a division of Deckers Brands (NYSE: DECK), launched its search for an assistant coach last year and the hiring process took more than three months to complete. Rosario said that Wrieden beat out an amazing group of candidates.
"It was flattering to see how many great coaches were interested in this position," Rosario said. "Jenna stood out as someone who could come in right away and connect with the athletes, take on a variety of responsibilities including the majority of our ancillary work, and ultimately make us better as we look toward the 2021 Olympic year, and beyond."
Wrieden, who grew up in Arizona and competed collegiately for Arizona State University on the same teams as 2017 World Championship Bronze Medalist Amy Cragg and 2018 Boston Marathon Champion Des Linden, entered the coaching profession in 2006. She served as an assistant at Appalachian State University for two years, spending her summers interning at ZAP Fitness (now ZAP Endurance) under head coach Pete Rea. She then moved back to Tempe, Ariz. and took on graduate assistant coach duties at her alma mater, helping guide the Sun Devils to a 14th-place finish at the NCAA Cross Country Championships. From there, she worked for a year with coach Scott Simmons at Queens University in Charlotte, NC at the Division II level before taking the head women's cross country coach position at High Point University. At High Point, she led the women to their first ever Big South Conference title in 2011 and was twice named Big South coach of the year. She took on the assistant coach role at Louisville in 2016.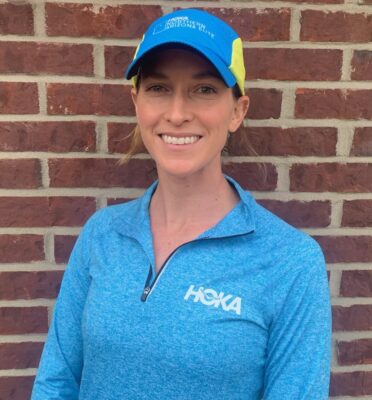 Wrieden said she is excited to get back to Arizona and get to work.
"I feel like the stars aligned a bit for me to move into this role," Wrieden said. "I am so grateful to Ben and Jen Rosario, the members of the NAZ Elite Board, and all of the athletes for believing that I could bring value to their team. From the moment I stepped on board, I felt a connection with the group that I am certain will be a factor in our overall success."
HOKA NAZ Elite athlete Lauren Paquette said Wrieden reached out to each member of the team individually.
"Jenna has already made an impact on our team and she's not even here yet," Paquette said. "I am grateful to have her as a resource going into the Olympic year and into the future, and we are all excited to welcome Jenna to the HOKA NAZ Elite family."
Wrieden has been working with the team from her current home in Louisville and will move to Flagstaff later this month to start her day-to-day duties as the HOKA NAZ Elite assistant coach.