Guess contribution by John Simons
October 5, 2020
On September 10th, the University of Minnesota President and Athletic Director announced in an open letter that they proposed eliminating Men's Indoor and Outdoor Track and Field along with Men's Gymnastics and Men's Tennis. Citing Title IX, program competitiveness, and an alleged $75 million shortfall due to COVID-19, the administration eagerly rushed the proposal to the 12 members of the Board of Regents, for an immediate vote on the very next day. Luckily the Regents tabled the proposal until its next meeting on October 8th and 9th, giving stakeholders four weeks to build their case before the vote. There is no appeals process. The decision is final.
Sadly, this has become a growing trend since the pandemic began. Significant decisions regarding access to educational opportunities through sport for young men and women are being made behind closed doors and in total secrecy by athletic directors and administrative shills. When the time is right, they strike like cowards without any prior warning or regard to the student-athletes, alumni, donors or community that their decisions will affect. With zero empathy, those in charge shrug and say, "What's done is done."
When reading the open letter, it is obvious how misleading, contradictory, and malicious the proposal is in nature. How can a school with a nearly $4 billion endowment, which has been overcharging students for decades, be in financial shambles after half a semester of remote learning and the delay of a football season? The current operations cost of cutting these sports is around $2 million, a drop in the bucket for Minnesota's athletic department which has increased its overall budget from $60 million to $129+ million since 2012. Not to mention the fact that Big Ten Football is back, which means Minnesota will get its $35 million of media revenue, possibly more since people will be watching from home. Additionally, the athletic department saves another $25 million without ordinary operating expenses related to spring and fall sports, which could extend even further due to COVID-19. Historically, the athletic department makes an annual profit from zero to $5 million, with a peak outlier of $9 million. If the department practiced common-sense financial intelligence and created an emergency fund, this would all blow over. 
At its core, Title IX is intended to provide opportunity, not take it away. The current athletic administration has systematically eliminated women's athletic opportunities to such a severe extent that they are no longer compliant with Title IX. During the current administration, women's athlete participants have shrunk from 484 in 2017 to 420 in 2020, a 13.22% reduction in opportunity. To maintain compliance with Title IX, athletic opportunities must reflect the demographic profile of the undergraduate population. The current community at the University of Minnesota is 54% female and 46%, male. The 2020 numbers show 420 to 416 participants, respectively, 50.2% female and 49.8% male. Suppose the proposal to eliminate these four sports is confirmed. In that case, the projected data shows a change of 420 to 295, a 58.8% female and 41.2% male ratio, meaning the athletic department would need to drop another 77 women's participants to rebalance the scales. That would mark a total reduction of 141 women's opportunities or 29.13% by this administration in less than five years. Those numbers also indicate that 40% of Men's opportunities will be in Football alone, creating an elitist culture of prioritizing profits over student-athlete participation.
In 2004, the athletic department faced a challenge with Title IX compliance, and instead of cutting opportunities, the athletic director allowed the Women's cross-country team to add more participants. We obtained some disturbing commentary from the athletic director (AD) and Senior Woman administrator (SWA) on their views of the proposed cuts.  SWA: "We were trying to get all of our numbers down because we felt like the number of student-athletes we had at the department was too large to have an exceptional and meaningful participation opportunity." AD: "Correct me if I'm wrong, but these are walk-on kids.  They are walk-ons." SWA: "Yes." It is useless bureaucrats like this who dare to tell young women what does and does not constitute a meaningful experience. Was it meaningful for Gabe (Anderson) Grunewald to walk-on and become an NCAA 1500m runner up, alternate for the Olympic team, and ultimately become a U.S. National Champion? What about other Big Ten Champions and All-Americans who are given a chance to walk-on through this initiative? They don't matter either? If the administration believes that, what kind of a meaningful opportunity does a fifth or sixth stringer on the 117-man football roster provide? 
Further, we have obtained information that these cuts were premeditated. Coaches from M Gymnastics, M Tennis, W Cross-Country, W Rowing, Softball, and M Golf have all had their contracts restructured with a clause for program termination, stating the University is not obligated to honor the remaining portion of their contract if their sport is cut. These flat-out predatory employment practices are borderline illegal. The appointments occurred in 2019-2020 and tipped the athletic department's unspoken strategy to cut their sponsored teams down to the NCAA DI limit of 14 teams. In this same time frame, coaches from W Soccer, Football, W Volleyball, and M Basketball have all had contract renewals without adding the program termination clause.  Coincidence? Not a chance!
The hard truth about athletic departments or Universities as a whole is that they are corporations masquerading as nonprofits. Spendthrifts, building and expanding their athletic kingdoms well beyond their means, just to keep up with the football arms race. Administrations don't care about non-revenue sports, and they certainly don't care about diversity and inclusion or women's opportunities. Athletic departments patronize women and use them as a prop to maintain compliance with Title IX, nothing more. It is also entirely tone-deaf to eliminate one of the most diverse programs at the flagship university in Minneapolis, the city that became the epicenter of racial injustice on the world stage this summer. Proving this athletic administration only cares about these social issues if their athletes of color generate revenue for the University. When you consider these factors, this proposal is genuinely offensive.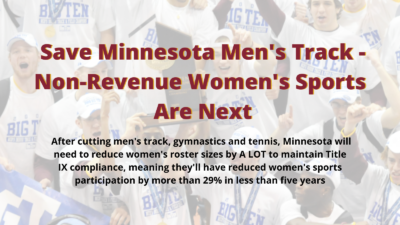 So, where does this leave us? This Friday, October 9th, the most important and consequential decision in our sport will be voted on by 12 people. If this proposal passes, it effectively marks Track and Field for death. This decision will set a precedent for Track and Field on the collegiate level; losing a Power Five program empowers athletic directors across the country to follow suit. This, in turn, will affect participation at the high school, recreational, and Olympic levels. If we lose, the sport you know today will be unrecognizable and extinct in a matter of years. If you love Track and Field, you must stand up right now and fight for the University of Minnesota. Please visit www.savegophertf.org to get involved.
John Simons '14
Sub 4:00 Miler
All-American
Big Ten Champion
---
Advertisement
The 1:59:40 GOAT shirts are here