Joshua Cheptegei Calls Out Mo Farah For Skipping World Half Marathon Championships
"I'm still surprised why Mo Farah is not part of the field…It's quite really ridiculous that he's not in the field."
By Robert Johnson
October 16, 2020
At the pre-race press conference today for tomorrow's World Athletics Half Marathon Championships — the first running world championships since the outbreak of COVID-19 — the featured man was obviously Joshua Cheptegei of Uganda, who has recently broken both the 5,000 and 10,000-meter world records. Cheptegei enters tomorrow's race as the favorite even though it's the first half marathon of his career.
At today's press conference, when Cheptegei was asked how important it is for him to come away from this season with a major title, he used the opportunity to take a shot at Great Britain's four-time Olympic gold medallist Mo Farah, who has skipped out on the event, even though he showed himself to be in fine form at the half marathon distance in early September.
Article continues below player.
"I believe having and crowning the season with a title would be something special, of course, for me, something I would really be grateful for. First the debut, then the win, that [would be] really amazing," said Cheptegei before adding, "I thought we would have a more exciting field.  Like, of course, we have the Kenyans, we have the Ethiopians, but still I was surprised — and I'm still surprised — why Mo Farah is not part of the field…It's quite really ridiculous that he's not in the field."
Quick Take: I love this quote from Cheptegei
It's been said that one of the reasons why track & field struggles for popularity is there aren't enough great rivalries. What's our sport's version of Nadal vs. Federer? Yes, in the past, Coe vs. Ovett and Lewis vs. Powell mesmerized fans, but we need modern rivalries. By calling out Farah, Cheptegei is helping create a new rivalry.
And Cheptegei is right on the money with his criticism of Farah here. The reality is, just over a month ago, Farah set a world record for the one-hour run. He ran 21,330 meters in an hour, showing he was in 59-low half marathon shape. So why wouldn't he extend his season for another month and take on the world's best?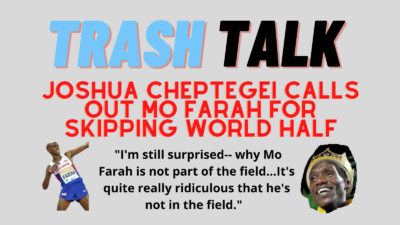 Probably because there's no huge financial incentive for him to do it and he knew he was unlikely to win. But for the sport to grow, someone has to figure out a way to get the athletes not only to act in their own self-interest.
I've also always thought that for distance running to grow in popularity, we must promote the African stars as personalities and we need more pre-race hype and trash talk. A big part of the enjoyment of all sporting events is the anticipation of the event and that's particularly true for athletics as, let's be honest, there aren't a lot of fascinating tactics employed in many track & field events once they get underway. When Cheptegei calls out Farah, he's establishing himself as a personality, creating a rivalry, and creating anticipation for when they do eventually meet up on the track next year. I can't wait for that race.
Watch Cheptegei call out Farah in the video below and talk about his trash talk on our messageboard.
MB: Cheptegei calls out Mo Farah for skipping World Half: "It's quite really ridiculous that he's not in the field."
Full Race Previews: Women's Preview & Men's Preview.
Listen to Cheptegei talk about Farah at the 38:12 mark below