I Ran a Real Race with Real People, and It Was Glorious
By Weldon Johnson, LetsRun.com
August 6, 2020
I ran a cross country race last week. A real one with other people in it. It was magnificent.
Two weekends ago, I ran into Jim Gerweck, race director and former editor of Running Times, in my town in Connecticut. He had a course measuring wheel out and was measuring a course. I thought to myself, what a waste of time.
Article continues below player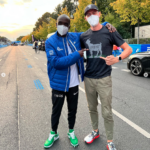 Kipchoge loves the 1:59:40 Shirt Get Yours Today
What a legend!
"Weldon, I'm glad I ran into you. Wanted you to know our Summer Cross Country Series is going on," he said.
Wait, what did he say? I thought to myself. A cross country series? That doesn't sound like a virtual race.
This couldn't be real, could it?
Yes it could.
Jim proceeded to tell me this was a real race with real people. The race website even says:
Jim told me these races were legal and that Connecticut guidelines allow up to 50 starters at one time and 500 runners total. Runners are spaced out six feet at the start in a grid system and advised not to draft off one another, and there is no water provided by the race. Runners are asked to wear a mask when not running, but don't need to wear one when running. Otherwise it would be just like a normal cross country race.
I didn't need to hear much more. I was in. I had vowed to run the first race I heard about in my area, even though I almost never race anymore. Something I once took for granted had been taken away and I wanted it back.
The Summer XC Series is how racing used to be. Old school. At the same place each Tuesday. Each week they change something to mix it up. (The race I ran was the "Women's Shortcut" where women take a few different turns and run .2 less than the men). The official race entry fee is $0. A suggested tip of $5 is recommended ($4 for students). A $20 left my pocket.
COVID-19 has led to a few improvements to the series. All entries are now done digitally and there is chip timing which limits contact between racers and organizers.
Last week's race was postponed two days because of a heat wave, so on Thursday I headed out to Waveny Park in New Canaan, Conn., (the race is sponsored by the New Canaan Recreation Department), 40 miles outside of New York City. Once there, I laced up my HOKA ONE ONE Carbon X shoes (I don't own a pair of spikes anymore), picked up my number (repeat racers can re-use their bibs to limit contact between people), wore my mask to the start line, and then dropped it once the horn went off. I didn't see anyone racing with a mask.
From then until the finish, everything was just how I remembered cross country racing, except for three things. One, I kept reminding myself I wasn't supposed to draft off anyone. Two, I kept wondering if the people out for a hike in the park were fine with us racing through it. And three, I was a lot slower. Instead of racing Abdi Abdirahman, I was trying to hold off some 12-year-old (fortunately, I did). It was glorious — the racing, not holding off the 12-year-old.
I even ran a socially distant cooldown with some runners I had never met before afterwards.
All in all, the race had 42 finishers and was won by former professional triathlete John O'Neill. I'd definitely do it again. During the race, I even found myself thinking that I'd feel safe racing with significantly more people than the 42 who gathered on Thursday — as long as everyone had a little more space than usual at the start. Now maybe that's because I was never really running right next to someone and didn't pass double-digit runners, but it's hard not to feel optimistic when we're doing one of the things humans are really good at — long distance running.
And this was in Connecticut, which was crushed by COVID-19 in March and April, and has the fourth-highest death rate from COVID in the United States.
America, you may not think you will race again soon, but the day may not be as far off as you think.
When you do, enjoy it.
---
Have you run a race recently? Discuss in this thread.
Weldon Johnson is a co-founder of LetsRun.com and "escorted" Paula Radcliffe to her first world record in the marathon.