RRW: Marathoners Jake Riley And Jared Ward To Clash In Virtual 5k On July 4th
By David Monti, @d9monti
(c) 2020 Race Results Weekly, all rights reserved
(01-Jul) — Although they'll be over 300 miles apart, marathoners Jake Riley and Jared Ward will be competing head-to-head in a special remote running competition called the Virtual 5-K Challenge presented by KT Tape on Saturday, July 4.  At 8:00 a.m. Mountain Time both men will set off on 5-kilometer courses in Boulder, Colo. (Riley), and Provo, Utah (Ward). The man with the fastest time will win a cash prize presented by KT Tape which will be donated to a local charity supporting COVID-19 caregivers.
"I'm excited to race again," said Riley who placed second at the USA Olympic Team Trials Marathon last February in Atlanta in a personal best 2:10:02.  "Jared and I always bring out the best in each other and now we can push each other while helping our local communities. The CV19 epidemic has been tough on all of us; we need to make sure we bring awareness to the heroes who have been taking care of the sick and helping them recover from the illness."
Article continues below player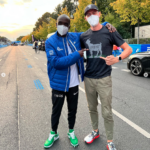 Kipchoge loves the 1:59:40 Shirt Get Yours Today
What a legend!
Ward, a 2016 Olympic marathoner who finished a disappointing 27th at the 2020 Trials, said he's also excited to get back to racing.
"I've had respect for Jake since high school; we have raced against each other for over 14 years," Ward said.  "This race will be different, but we hope to put on a good show for our social media fans and provide support to the CV19 caregivers."
The race will be broadcast live and free via Instagram through the @TeamBoulder account.  The men who coach these athletes, Ed Eyestone (for Ward) and Lee Troop (for Riley) will provide commentary.
As the COVID-19 pandemic grinds on, athletes, coaches and event organizers have had to come up with creative ideas for competitions to take place, safely.  There have been several remote clashes broadcast via social media channels, including the "Garden Clashes" set up by World Athletics, and a dual meet between the Atlanta Track Club Elite and Oregon Track Club Elite.  This is the first one-one-one remote running clash.
Riley and Ward first raced each other at the 2006 Foot Locker High School West Regional Championships in Walnut, Calif.  Riley finished third and Ward was eighth.  Since then, they competed several times in NCAA competition, including the 2011 NCAA Cross Country Championships where Riley was 18th and Ward was 58th, and then in the pro ranks beginning in 2013.  At the last Olympic Trials Marathon in Los Angeles in 2016, Ward was third and Riley was 15th.
For the record, their respective 5000m personal bests are very similar: 13:32.82 for Riley and 13:34.74 for Ward.
"KT Tape supports athletes, from Team USA members to your local running partners," said Greg Venner, CEO of KT Tape.  "We are happy to support Jared and Jake in this Virtual 5-K Challenge and bring awareness to our caregivers."