RRW: Colorado To Hold State 10-K Road Running Championships On Sunday
By David Monti, @d9monti
(c) 2020 Race Results Weekly, all rights reserved
(16-Jul) — Bucking the trend of cancelled road races, USATF Colorado will hold their state 10-kilometer road running championships on Sunday hosted by the Colorado Springs Classic 10-K. The race, which was first cancelled then rescheduled, will be held on an out-and-back course starting at Monument Valley Park. Entries close today.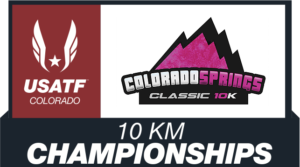 So far, 121 athletes have signed up for the race, including elite runners Fernando Cabada (2:11:36 marathoner), Lauren Masterson (the 2019 women's champion), and Maor Tiyouri (2016 Olympic marathoner for Israel). The male and female winners will each receive $400 out of a $2000 prize money purse.
Article continues below player
The event is organized by Mad Moose Events, a family-owned event management company founded by Justin Ricks. Organizers plan to have athletes start in small waves of 10 separated by one-minute intervals, and have posted hygiene guidelines to fight COVID-19 spread on the event website. Those guidelines include:
. Temperature Check: All runners must do a contact-less temperature check as they enter the start line area. If runner has a temperature of 100.4°F (38°C) or above, they will be sent home.
. Social Distancing: All runners maintain a minimum of six-foot (two meter) distance from others.
. No Post-Finish Hanging Out: Runners cannot congregate at the finish line after finishing.
. Results Posted Only On-Line: Printed results will not be posted at the finish line to discourage runners from congregating.
. Face Coverings: Masks or other face coverings must be worn when social distancing cannot be maintained.
Organizers also caution "high risk individuals and individuals from highly infected areas" not to attend the event.
For context, this is the only road race on the proprietary global Race Results Weekly event calendar for this weekend (there are some track competitions). Road races typically held this weekend include the Ann Arbor Mile – Dart for Art (Ann Arbor, Mich.), Buffalo Subaru 4-Mile Chase (Buffalo, N.Y.), Bill Luti 5-Miler (Concord, N.H.), Silks & Satins 5-K (Saratoga Springs, N.Y.), Summerfast 10-K (Vancouver, B.C.), Rock 'N' Roll Chicago Half-Marathon, Lululemon Edmonton 10-K, Marvejols Mende 22.4K (Lozere, France), Real Insurance Sydney Harbour 10-K, and the Rockville Rotary Twilight Runfest 5-K (Rockville, Md.).