2020 Beer Mile World Classic Preview — A New July 4th Running Tradition? Race on LetsRun.com at 1p.m.
By LetsRun.com
July 3, 2020
Update: Watch the 2020 Beer Mile World Classic below without knowing the results
Article continues below player
Four laps, four beers, July 4th.
Has COVID-19 started a new July 4th running tradition?
With most July 4th races across the country cancelled, the 2020 Beer Mile World Classic shifted to a virtual format and will unveil its world champion on LetsRun.com on Saturday starting at 1 p.m. Eastern.
Runners from 13 nations answered the call to try to become the 2020 Beer Mile world champion and win the team Kingston (men) and Queens (women) Cups. They went out and ran their best beer miles and were given specific instructions on how to film their efforts. Strict rules were put in place for them not to share their results if they wanted to be eligible for the $8,000 in prize and bonus money.
They submitted their entries to the Beer Mile World Classic, which has compiled them into a virtual race highlight show that will be broadcast starting at 1 p.m. on LetsRun.com.
A New Men's Champion Will Be Crowned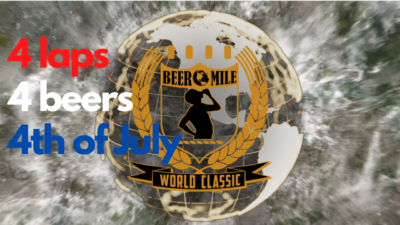 Two-time world champion Corey Bellemore is out with an injury, which opens up the men's field as Bellemore's world record of 4:33 is 13 seconds faster than anyone else. 2017 champ Chris Robertson of America hopes to fill Bellemore's void, but Sweden, Australia, and Canada are all fielding strong teams. Scandinavian record holder Markus Liwing and 2019 Beer Mile Rookie of the Year Emil Gradqvist give the Swedes a strong front two, but it takes three to score in the team competition. Meanwhile, Josh Harris and Nick Finch will look to become the first Australians to make a World Classic podium.
Defending Champ Allison Grace Morgan Hoping to Defend, Can She Target World Record?
In the women's race, Allison Grace Morgan is feeling confident. Her chugging has improved substantially since she ran 6:24 to win last year's World Classic on a cinder track in Berlin. She's primed to attack Liz Herndon's WR of 6:17.8.
Past American World Classic champs Caitlin Batten and Erin O'Mara are out. World record holder Herndon is battling injury. Laura Riches leads the English team and Australia, Sweden, and Germany are also fielding teams and have runners searching for their first podium finish.
The race can be watched live on LetsRun at 1 p.m. EST on July 4th. Pump-up videos below.