In "Runner," Olympian & Sudanese Refugee Guor Mading Maker Revisits His Tragic — and Inspirational — Story One Last Time
By Jonathan Gault
June 17, 2020
Bill Gallagher was sitting in a coffee shop in Pamplona, Spain, when he first heard the name Guor Marial. He was reading an article explaining how Marial, a marathoner with a 2:12 personal best, had turned down an opportunity to compete in the 2012 Olympic marathon, which was just a few weeks away.
"I'm like, what kind of person says no to the Olympics?" Gallagher says. "Most people would give an organ to run in the Olympics."
Marial had fled Sudan as a child during the country's bloody civil war, which eventually led the country to split into two: Sudan and South Sudan. Marial, who had grown up in Pariang, in the northern part of what is now South Sudan, had hit the Olympic qualifying standard. But because South Sudan — which only gained its independence in 2011 — did not yet have a National Olympic Committee, Marial could not represent them at the 2012 Olympic Games in London. The International Olympic Committee told Marial he could compete representing Sudan. But that was not his country. He chose to sit out rather than represent them.
Marial's story stuck with Gallagher.
Article continues below player.
"I knew when I couldn't sleep thinking about it that I had to try to make a film about it," Gallagher says.
So that's what Gallagher did. He began making calls and got in touch with Marial. The IOC had reversed its decision; just days before the opening ceremony, it decided to allow Marial to compete under the Olympic flag as an independent athlete. Marial said Gallagher could come to the Olympics and film footage of him.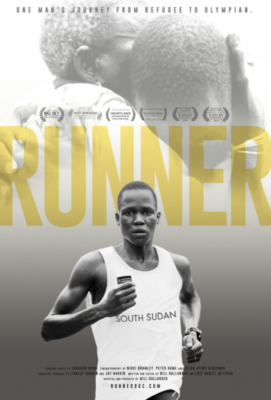 There was only one problem: Gallagher (who now lives in Madrid) had planned a vacation with his girlfriend to Murcia, in southern Spain — which he was already on by the time everything came together for him to film in London.
"I was like, I've gotta leave you on the beach and go film at the Olympics," Gallagher. (Thankfully, his girlfriend understood — they're married now).
| | |
| --- | --- |
| Overall | |
| Comfort | |
| Cushioning | |
| Durability | |
| Appearance | |
| Value | |
That trip to London was the beginning of an eight-year journey for Gallagher. Largely funding the film himself and filming in his spare time while balancing his job in the publishing industry, Gallagher followed Marial across five continents, from the 2012 Olympics in London to a long-awaited reunion with his parents in South Sudan to the 2016 Olympics in Rio, where Marial was part of South Sudan's first-ever Olympic team. The end result is Gallagher's directorial debut: Runner, an 87-minute film that won Best Documentary at the Naples International Film Festival and will be released this weekend to coincide with World Refugee Day on Saturday (a similar film, Run, on the Athlete Refugee Team, will also be released this weekend).
Marial, now known as Guor Mading Maker, says he expects the film will resonate differently with each viewer. But to him, it's about three things: hope, unity, and inspiration.
"[It's] inspir[ing] those that don't have a voice to have a hope and say, hey, there is always tomorrow," Maker says.
***
By the age of eight, Guor Maker was already on his own. It was 1993 and his home village had been burned to the ground in the midst of the Sudanese Civil War; his parents felt it was safer to send him away than remain with them.
Over the next four years, Maker endured several lifetimes' worth of hardship. He was captured by a group of Messiria before making a brave escape from their camp surrounded by armed guards. A year later, he was taken in by a soldier who offered to put Maker through school; instead, Maker was forced to work as a slave until, once again, he was able to escape. Eight of his nine siblings were killed during the war.
Eventually, Maker made it out of Sudan — first to Egypt, and then, in 2001, to Concord, N.H., with his aunt and uncle (when he moved to the US, he took their last name, Marial, before changing it back to Maker in 2013 after receiving his US citizenship). But the pain never left him. It was always there, just below the surface, ready to bleed out whenever he opened a vein to discuss his past.
And once Maker's story gained widespread global attention in the run-up to the 2012 Olympics, he was discussing his past a lot. In interview after interview, journalists asked him to relive his most painful memories — and it never got any easier. When I called him for this story, Maker asked to keep the discussion mostly to running — it was obvious how tough it was to relive his traumatic early years.
"It's difficult to talk about," Maker says. "It's very sensitive issues. It might not be sensitive for someone asking questions, but for me it's always, always fresh in my memory."
Parsing Maker's past was one of Gallagher's biggest challenges — not just getting Maker to open up about a difficult subject, but depicting it visually. No footage of Maker's early life exists, and Gallagher struggled finding a way to render it on screen. After a year-long search, he ultimately landed on the Visitor Studio animation team of George Thomson and Lukas Schrank. The search paid off: their animations are authentic without entering the realm of cartoonish. They work perfectly.
Gallagher earned Maker's trust by showing that he was in it for the long haul — initially, Runner was meant to be a short film — demonstrating empathy, and committing to tell his story in a way that would allow it to have a positive impact on the world. After culling through more than 15 hours of interviews with its subject, Gallagher's film accomplishes that, both by raising awareness of and humanizing the plight of refugees and sending a message that it is possible to endure severe hardship and still craft a meaningful life.
Maker's life has taken a different direction since the culmination of the events of the film at the 2016 Olympics. In 2017, he enlisted in the US Air Force, where he is now stationed in Colorado Springs as part of its World Class Athlete Program. After bringing South Sudan to the Olympics in 2016, his goal is to give back to his adopted homeland of the US by representing the Stars and Stripes in Tokyo next year.
That goal is mostly a pipe dream — Maker is 36, and he's trying to qualify in the 10,000 meters, an event he hasn't run since 2012 and one in which his personal best (29:42) is more than two minutes outside the Olympic standard. But he has other goals too. He continues to support his family back in South Sudan, and one day hopes to work on projects to provide clean water, education, and medical care to his home village.
That is in his future. Meanwhile, Maker hopes Runner can serve as the final word on the tragedies of his past — a past that, because of his fame stemming from his athletic accomplishments, he's been forced to revisit more than most refugees.
"Even now, it's still tough for me to talk about this thing in the past," Maker says. "So when the media comes trying to ask me the questions, it really, really breaks me down. I just always want to avoid at all costs to go back to the past and try to bring back that memory. I think the documentary has done enough."
---
Runner will be released on Friday, June 19, via virtual cinema — click here to find out how to watch.