Mike Smith Q&A Part II: On Choosing to Coach Galen Rupp, "Defending the Process," & Rupp's Human Side
By LetsRun.com
March 19, 2020
It was one of the biggest questions in the running world once Alberto Salazar was banned from the sport for multiple anti-doping violations in September 2019: who would coach Galen Rupp? Though Salazar coached athletes such as Matthew Centrowitz and Mo Farah to Olympic gold medals, Rupp, whom he began coaching as a Portland high schooler almost two decades ago, had always been his star pupil. And Salazar was the only coach Rupp had ever had.
In January, we received an answer: Rupp turned to Mike Smith, the 39-year-old coach who guided Northern Arizona University to NCAA cross country titles in 2017 and 2018. Though Rupp remains based in Portland and Smith in Flagstaff, the two have met in person for some sessions since Smith began coaching Rupp in December. Rupp's first major race under Smith was a smashing success, as he ran 2:09:20 to win the US Olympic Marathon Trials in Atlanta on February 29, 42 seconds ahead of runner-up Jake Riley.
Article continues below player
One week after the Trials, Smith agreed to speak to LetsRun's Jonathan Gault for a phone interview, with no subject off-limits. LetsRun is presenting the interview in two parts. Part I, in which Smith discusses the Trials, Rupp's preparations, and the changes he's made to Rupp's training, can be found here. Part II, in which Smith discusses why he chose to work with Rupp in the wake of USADA's investigation into the Nike Oregon Project (and subsequent ban of Salazar) is below.
JG: What was your opinion of Galen Rupp before you decided to work with him?
MS: I probably had a mixed opinion. I try to be someone who leads with great empathy. And my starting point for observing anyone's behavior is to accept that I probably don't know the whole story and I try to teach that to people.
But I think with great platforms also comes great responsibility. I had never spoken to this person, I didn't know this person. To me, it was a loss that somebody with such a great platform was for, whatever his reasons, just wasn't very accessible.
I don't mind people's privacy. I guess I thought it was maybe a loss that his platform was not maybe accessed in the ways that it could have been, probably for a multitude of reasons. I think he, from a distance, kind of became the image, for a lot of people, of some of the places that were such big topics in our sphere. And those are kind of around where performance or innovation or winning, where does that quest take us, into what boundaries? And I'm not sure he deserved that. I'm just thinking what I imagine back then is what was put upon him. 
If I had never gotten a phone call asking for me to help him, I probably would have continued to think that, and I don't know if I never would have spoken to him. I don't see the world as good guys and bad guys, and I think that's how a lot of people sort things out, just black or white. I understand and respect and also teach people to see the capacities in each of us. And I think as soon as you start seeing yourself in that way and other people in that way, a lot of things make sense. I probably would have been someone, like anyone else, who looked at him as a great mystery.
Did you have any hesitation in working with him? And if so, what were your concerns?
Hell yeah. First and foremost, I know the way that I'm gonna do things. And I know the way I'm going to work with someone, and I know what's okay and what's not okay. That could be lots of things, just like you're asking me how I'm going to train an athlete. I've gotta go over all that and I've gotta make sure that makes any sense.
But also, like anybody, I can read on the internet anything that's written. And I can't trade my critical thinking for even well-intentioned generalization or bias or opinion. So it asked me to think about lots of things. But ultimately, if I had any reservations on what that would be, then it was probably a 10-second phone call which declines the request.
The thing I had to say to him was, hey listen man, when I work with an athlete, I'm not just writing you the workout. I gotta know what you think and feel, and I have to know where you are. And so, one, I don't know if that's your style, I don't know if you do that. I don't know if you let people in like that, but I don't know how to do this otherwise. And then I need to know how you got here. Like, what are you doing, how'd you get here? I need you to tell me everything. And that would [have] be[en] a great place for him to run or bail, and he did that for me. And I appreciate that. I greatly respect it, because someone out there would just write him workouts or something. That's not what I do though.
You mentioned to Sarah Lorge Butler you asked Galen some "hard questions" before agreeing to work with him. Were those the hard questions? What else did you ask him?
The reason Galen was without a coach was because his coach was serving a ban. First and foremost, I need to ask direct questions about that situation. And some of what was brought to light in that situation, which are even pieces that are maybe just byproducts of all this. Medicalization, things that fall under the category of spirit of sport, culture. Those are things I just have to ask you about. He was nothing but willing, and nothing but forthright. Someone can always say, that's his side of it and things like that. But he was able to do that.
I got people near and dear to my heart on every side of that situation, and lots of people I don't know at all. But I know, on either side, there are good people with really good hearts who love our sport. Where people lose themselves, on whatever side, is, I think what we need to pay attention to.
So much of that is really, what is your relationship with the sport? Is it whatever I've gotta do to win? Is it fame? Is it money? What are you looking for? What is this about? And this isn't unique just to these people, but ultimately, so many times, people are well-intentioned. They minimize dialogue around clean sport to simply doping. And coaching, the war we're fighting is on win-at-all-costs, because that's where everything hides out. Everything, all these issues. It's issues with athletes' bodies, financial issues with agents capitalizing on athletes from the poorest countries on Earth. Win at all costs is where we lose our culture, leadership. It's where we lose ourselves. And some of the biggest stakeholders in that are coaches.
It's really important to say I'm not trying to specifically say that's even about this or that's unique to the situation, but the responsibility of coaches, that's the war we wage. And I think we've got great examples of people who can be at the top of this sport without it being win at all costs. It is possible.
Following up on that, there were allegations that he was on "testosterone medication" as early as high school. We know that Salazar was obsessed with raising testosterone levels. Everyone in the NOP seems to acknowledge he was closer with Galen than with any of the other members of that group. No one's totally sure what they did behind closed doors. You mentioned that Galen was forthright and willing to be very honest and vulnerable with you. Why are you convinced that he's clean and he's worth working with?
While someone may accuse me of defending a person, I'm defending a process. I would defend anybody in this. Even people that hate Galen Rupp or Nike, I'd defend anybody. Even with virtuous intention, we've gotta care about a process. We can't just trade in our own thinking on these subjects just getting swept in a movement because it actually threatens the real things that have to be addressed and attacked. 
I'm certainly alarmed at jeez, lots of things in that report. But there's also a process that looks deep into those athletes. I don't know Jordan Hasay at all, but I remember Jordan Hasay had this quote that's like hey, I've spent a lot of time with these people, and no one ever asked me to do something I was uncomfortable with or do something that violated my integrity. And instantly, [the general public's reaction] is like, no, no, no that can't be true. And that [reaction] bothers me.
Do I think that every stone [was] turned or edge explored and those things? Yeah. It's probably easier for me to just say, I don't know man, I've got nothing to do with that, that was in the past, but I think those reports, there's a lot included in there that may be concerning but is…I don't know.
I'm trying to really not dodge your question and answer it as directly as it can. I think we've gotta really care about our process of how we assign guilt. Someone that cheats, yeah, get them out. Let's crush them. The world record holder in the steeplechase yesterday? Yeah, good riddance. But we've also gotta be really open to [thinking critically about] all these things that may challenge spirit of sport ethics that aren't acceptable for me or you or someone else but that's not the same as the world record holder having EPO in her urine. It's not the same thing.
Is it just easier if it's all the same thing? Yeah, it is. Is it harder to have it be convoluted and what's okay with one person isn't okay with someone else? Yup, that's hard. But that's the human condition in so many things. And only when we are really talking about that can we firm those things up for the future of our sport. And people in the spotlight have great responsibility for that — athletes, coaches, agents.
The questions you ask, like, yeah, of course that stuff's alarming. But the second we abandon our critical thinking or our process with this stuff…I worry about that. And please, it's important to know, I'm not defending any of that. I just think that (critical thinking and the process) is as important for the battles we have to fight in our sport as anything. 
You told Runner's World when you emailed them a few months ago, "What I found out by getting to know Galen was that there was much more going on than the picture portrayed of him, and I wish the world knew that." What did you mean by that? What, specifically, do you wish the world knew about him?
You asked me what I thought of Galen Rupp before I met him. When I answered that question, I think it would be way easier for us to create good guys and bad guys. I was surprised by his humanness and his kindness and just little insights into things I would never otherwise have seen that probably not a lot of people have seen, like him being really silly with his kids. 
I went up there for this workout, he was going to do this marathon-specific workout on his treadmill. And I get there and I go down the stairs and he's in the room where the treadmill is and I open the door and Kobe Bryant had just died. It was the moment it hit the news. I thought we were gonna have to maybe delay the workout or cancel the workout. He was just really [shaken] up. Just little insights that there's a person in there, there's a human in there. I know that probably doesn't fit into everyone's version of him. There's a big heart in there.
And just that work ethic that everyone wants to write off as gizmos and gadgets or someone that's been catered to in all these ways. I mean man, I've just never seen such a hard worker and so precise and so tough. He finishes that first run and the world stops and everything is just about that second run. He finishes the second run, and the world stops and everything is just about the run the next morning.
That, to me, it's a loss. Because I think he gave up on media and all those things, or what people think. What's a loss in there is like, man, there's this whole person like every day, this guy. And just, the work. You can blame technology or whatever, the haves and have-nots on lots of things, but the human brain and the human heart, that's a different thing. There's no invention or whatever that makes up for that. There are very, very few people that have what he has when it comes to that.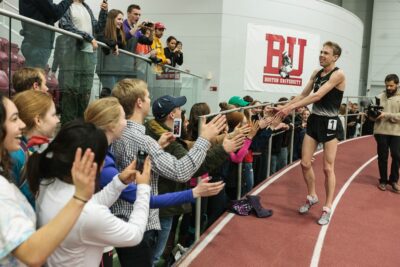 Do you think he'd be better served by putting himself out there more and showing that human side more in public?
Yes, absolutely. But those are his decisions. And I can tell him why I think that, but ultimately, the first question is, why is he not like that? That's the starting point. How has he been made to feel to not be like that? Community and together is the answer to everything.
I also think that when we're not so worried about just defending, when all our energies aren't in just defending ourselves or our group identity, [when] the side we're on is not paramount, it opens up space to have really important discussions. And in some of the places in these really important bylaws in our sport, people aren't gonna like to hear it, but someone on a different side than you may have things you should really listen to. And we lose that when it's just about our defense. I try to look at everybody that crosses my path like that — no matter how different we may be, there's something I can learn from them. I wish we did that more.
I've run into people who assume Alberto must still be coaching Galen, that the ban is just too easy to get around. What do you think when you hear something like that?
I mean, I get it. I laugh, because I happen to know a lot about this. I think the origin of that conspiracy theory is in the assumption that Coach Salazar's love for his pupil would not allow him to ever be out of the picture. And maybe if you can accept that, his care for him might also be the exact reason that he has stayed so far away. And that's to say he's not gonna do anything to [jeopardize Galen's career]. 
My only experience — and this isn't knowing them for a long time or being employed to say something — my observation is that people are in full respect of those rules and wouldn't want to do anything to jeopardize that. 
I also get the phone call from [Galen] when he's pissed off and he can't hit the splits on my stupid short rest workout. I've just worked too closely with him [to think someone else is coaching him].
There was also this thread on our messageboard during the Trials that Alberto was in Atlanta. Do you know if that was true? What did you think when you heard about that?
Of course it's not true. If someone spotted Tupac at the Trials, we would want evidence that Tupac was at the trials. And if we didn't require great evidence that Tupac was at the Trials, we might actually ask ourselves why we wanted him at the Trials so bad.
I'm in Pocatello, Idaho, while that's happening. Of course, I ask people that were there, Alberto Salazar at the Trials, is that true? Because of course, it's not true. And then I'm kind of mad at myself for even falling for that.
But I get it, people want it to be a certain way. If we're doing that there, if you can just take a picture of someone with a white hat and that's it, the mob mentality, everyone just goes crazy, what else are we doing that with? If that's all it takes? And no, that's not to say everything is like that. But I think it's interesting human behavior.
---
Talk about Part II on our world famous messageboard. MB: Mike Smith Part II: Smith explains why he agreed to work with Galen Rupp
Yesterday: LRC Mike Smith Q&A, Part I: On Galen Rupp's Commitment, Restructuring His Training & That 24 X 400 Workout In this LRC exclusive, Smith goes deep on Rupp's commitment to excellence (including setting his house to an altitude of 10,000 feet), his resilience, and the changes he's made to Rupp's training, including the introduction of fartleks for the first time.
*MB: Mike Smith lifts the veil on Galen Rupp's training and talks about what makes him great
The interview was lightly condensed for clarity.