Defending Champion Amy Cragg Withdraws from 2020 US Olympic Marathon Trials
By LetsRun.com
February 20, 2020
There will be a new US Olympic Marathon Trials champion in 2020.
On Thursday, Amy Cragg, the winner of the 2016 Olympic Trials in Los Angeles, announced on Instagram that she is withdrawing from next weekend's Trials in Atlanta due to illness.
Article continues below player
Like our coverage from Albuquerque?
Cragg wrote, "Unfortunately, due to illness, I am going to have to withdraw from the US Olympic Marathon Trials. The Trials are the reason I have shown up every day for the last four years, so this has been an extremely difficult decision. Thank you to Nike, my support team, my teammates, my marathon training buddy and everyone who helped me get this close and continue to help me get back to my best.
I wish all my friends, teammates and competitors good luck in Atlanta."
A source close to Cragg told LetsRun.com that Cragg has been battling adrenal fatigue as a result of the Epstein-Barr virus. Cragg, 36, was one of the most accomplished women in the 2020 Trials field: she finished 9th in the 2016 Olympic marathon in Rio, earned a bronze medal at the 2017 World Championships in London, and ran 2:21:42 (#5 all-time among Americans) at the Tokyo Marathon in February 2018.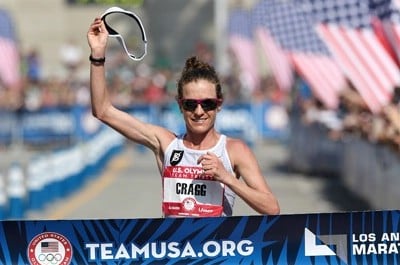 But Cragg has struggled over the last two years and has not started a marathon since Tokyo. She was slated to run Chicago in 2018, but withdrew after a hamstring injury put her behind schedule. She elected to skip the 2019 spring marathon season in favor of chasing a fast half marathon, but could only manage 73:27 in Prague — five minutes off her personal best. She signed up for Chicago again last fall, only to withdraw six weeks before the race. Cragg ran a Trials tuneup race on February 8, winning the Rock 'n' Roll New Orleans Half Marathon, but her time was just 76:53.
Quick Take: Where does Amy Cragg go from here?
Cragg is 36, hasn't run a marathon in two years, and the one race she's been focused on is now off the table. She has some serious decisions to make about her career. Retirement is certainly an option, and if Cragg chooses that path, she would finish with a career to be proud of: two Olympic teams (and two Olympic Trials titles, in the 10,000 in 2012 and the marathon in 2016), a World Championship medal, and pbs of 15:09/31:10/68:27/2:21:42.
While Cragg has struggled recently, she has shown flashes of potential, most recently a 5th-place finish at the US Cross Country Championships last year. Can she overcome her illness and return to her level of a few years ago? That is the question Cragg will need to ask herself if she is to continue her professional running career.
Quick Take: What does this mean for the Trials?
Cragg, had she been fully fit and healthy, was a serious contender to make the team. None of her fellow athletes will be celebrating her withdrawal, but the fact is that everyone else's chances of making the team just went up.
Discuss Cragg's withdrawal on the LetsRun messageboard: MB Amy Cragg – 2:21:42 marathoner – pulls out of Trials with illness
---