Decade Awards Podcast & Runners of the Decade: Eliud Kipchoge, Caster Semenya, Jenny Simpson and Matthew Centrowitz
By LetsRun.com
December 24, 2019
Our weekly LetsRun.com Track Talk podcast is here (subscribe here).
A crazy decade of running and track and field is in the books.
Article continues below player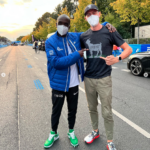 Kipchoge loves the 1:59:40 Shirt Get Yours Today
What a legend!
The end of the year and decade is here and we pay our respects to a crazy decade in the running world.
LetsRun.com announces its men's and women's runners of the decade: Eliud Kipchoge and Caster Semenya and US distance runners of decade Matthew Centrowitz and Jenny Simpson.
Looking for a great race this winter? Run the Publix Atlanta Marathon, Half, 5k, the day after the Olympic Marathon Trials in Atlanta. More details here.
100% of the tips up to $5,000 total received by 12/31/2019 here will be matched by LetsRun.com and go to LRC's Jonathan Gault.
Show notes: (click on time stamp to listen there)
[0:00] Race of Decade down to 2: David Rudisha vs Eliud Kipchoge
[7:16] Alysia Montaño alleges misogyny in Race of Decade voting
[25:44] High School Cross Country: Sofia Dudek 1a – Katelyn Tuohy 1b per Dyestat, NC State gets big recruiting class w Marlee Starliper and Tuohy, Nico Young to NAU
[40:29] Chad Hall 1:03 Half Marathon
[44:52] What was the most shocking thing in running in the last decade?
[54:05] Alberto Salazar segment of week
[56:40] Decade Awards: World and US athletes of decade, person of decade, doping excuse of decade, doping bust of decade and more
[75:48] Rojo's brilliant point on Alysia Montaño, misogyny, Galen Rupp and more
Merry Christmas / Happy Holidays
Tip jar here – 100% of tips to Jonathan Gault
Looking for a better pair of running shoes at a better price? We've got you covered here. https://www.letsrun.com/shoes
Got an audio question / opinion for the podcast? Call 844-LETSRUN (538-7786) and hit option 7.