USATF 5k Quick Takes: Rowbury and Jenkins Talk NOP, Aaron Templeton Breaks Out, and Jessica Tonn Returns Home
By LetsRun.com
November 2, 2019
NEW YORK — It had been 43 months, one baby, and one training group since Shannon Rowbury's last national title, but the drought ended today as the 35-year-old held off a late charge from unsponsored Jessica Tonn to win the 2019 USATF 5K road championship as part of the Abbott Dash to the Finish Line 5K on Saturday morning. Rowbury's time of 15:43 was one second up on Tonn's 15:44 as the Bowerman Track Club's Emily Infeld, racing for just the third time in the last 20 months, took third in 15:47.
In the men's race, training partners Shadrack Kipchirchir, Stanley Kebenei, and Anthony Rotich separated early from the field and then Eric Jenkins joined them around the mile mark. Unheralded Aaron Templeton of Tinman Elite caught them by two and a half miles. As the leaders kicked for glory in Central Park, Templeton opened up a gap in the final 200 meters on everyone else and just when you thought he might win his first national title, Rotich battled back, caught Templeton, and won his first national title.
Article continues below player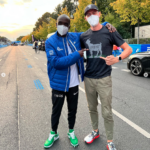 Kipchoge loves the 1:59:40 Shirt Get Yours Today
Shirts are $10 off if he breaks the world record and you order today.
We have a separate article on Rotich's big day here: Scott Simmons Raves About Anthony Rotich's Potential: "I Honestly Think He's a Guy Who Can Medal on the World Stage" Rotich, a 4-time NCAA champ in college, is now a US citizen and Olympic medallist hopeful according to coach Scott Simmons.
Quick take analysis and top 10 results appears below.
Top 10 Results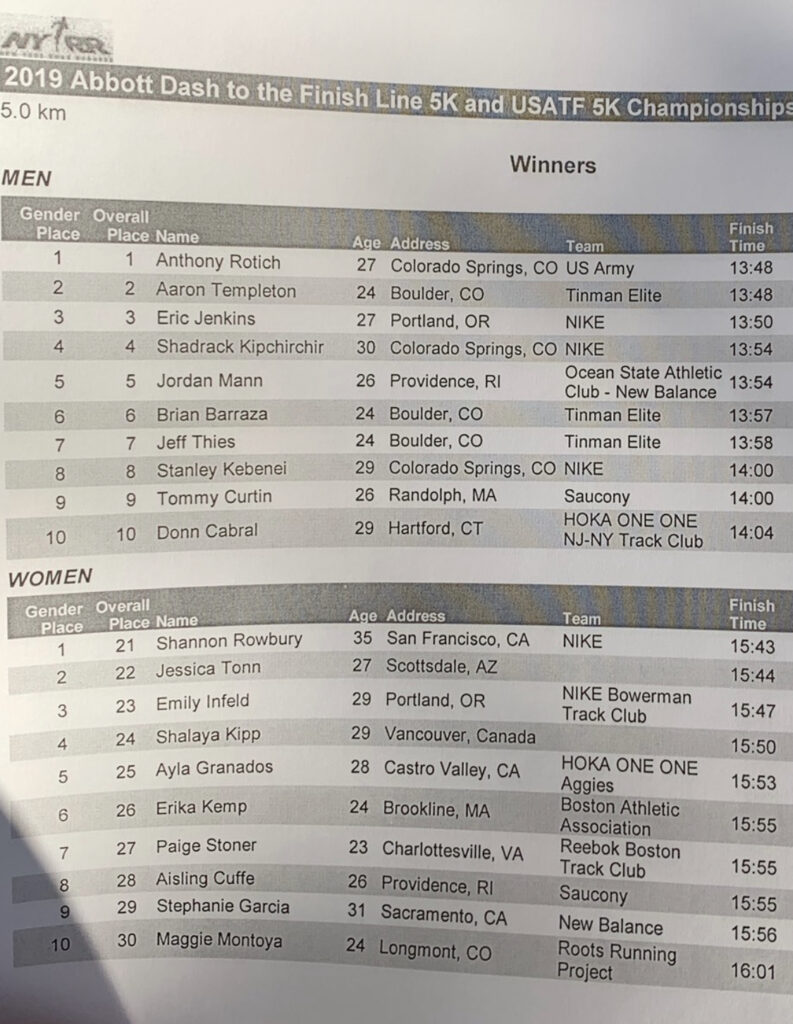 Shannon Rowbury has more in the tank
Rowbury flew under the radar a little in 2019 as she didn't make the World Championship team — her first time missing out on Worlds/Olympics during her 12-year professional career — but today's race was a reminder of just how good she can be. Granted, it's November, but today's run was a good sign for Rowbury, who is moving in the right direction after an uneven 2019. 
She gave birth to daughter Sienna in June 2018 but just as she was working her way back to fitness, she was diagnosed with a sacral stress fracture in February. That left her in a race against the clock to gain fitness before USAs, and though she only finished 6th in Des Moines, she decided to keep racing, knocked out the Olympic standard with a 15:05 in Berlin in September and targeting some fall road races, beginning with this one. 
So far, so good. This was her first national title since she won the indoor 3,000 title in March 2016.
If Rowbury wants to make the Olympic team next year, her best bet is the 5,000, even though she still loves the 1500 meters.
"If, in the next nine months, I can become fast enough to get back to the 15, that's my track baby," Rowbury said. "I love that event…the biggest challenge for me postpartum has been doing the speed work and then doing the Olympic lifting. When I got injured earlier in 2019, it was when I started to try to do speed work and lifting again."
Rowbury on the dissolution of NOP and where she goes from here
Rowbury spoke at length this week about her time with the recently-shuttered Nike Oregon Project (we did another interview with Rowbury on Thursday, which you can watch below). Of all the NOP athletes, Rowbury may be least affected in terms of her situation going forward. Prior to Alberto Salazar's ouster, Rowbury had already been training under NOP assistant Pete Julian and had relocated from Portland to San Francisco. She said that Julian's athletes will return to Portland at some point to map out the next steps.
We were also interested to know why Rowbury joined NOP in the first place back in 2013. At the time, Rowbury was 28 and had already won a World Championship medal in the 1500. She was aware of the rumors surrounding Salazar and NOP, but her coach John Cook had just retired and, as a Nike-sponsored athlete, felt she didn't have many other options. She said she also did her own research into the group and felt comfortable with what she found, adding that she never saw anything untoward during her time in the group.
Rowbury also said that it was challenging to find a new coach once Cook retired. Remember, Jerry Schumacher's Bowerman Track Club did not have nearly as many women at that time while Salazar was coaching two of America's top milers in Treniere Moser and Mary Cain.
"In 2013, there weren't a whole lot of coaches at the elite level that I felt it was a lateral movement [to join] and wouldn't be a downgrade in terms of their capacity, in terms of resources," Rowbury said. "From the highest level at Nike, there was confidence in the Oregon Project. They were a group that I never heard anything from the higher-ups that it wasn't a group that i should be a part of. In fact, they encouraged me to consider it."
Jessica Tonn is having fun once again training under her high school coach
After running 15:18 and getting third at NCAAs in the 5000 for Stanford in 2015, Jessica Tonn joined the Brooks Beasts and started to focus on the 10,000. But while she lowered her 10,000 pb to 31:54, at the end of last year, she decided to return home back to Phoenix to train under her high school Jeff Messer and is thrilled with the way things are going in all aspects of her life, including her role as a volunteer assistant at Arizona State.
Tonn said she got back to her "bread and butter" basics and has just really focused on staying healthy as a "cycle" of injuries had bothered her while in Seattle.
"For me, I just needed to find out what the recipe was for staying healthy and what that looks like in terms of training and life. I just needed a holistic balanced approach to the sport and just life in general. Once I found that — and that was in Phoenix — it's just been fun again. And I think I wasn't having fun for a while and I am honestly just having a blast now," said Tonn.
"I got back to the basics with a focus on staying as healthy as possible and just getting strong. Stacking those healthy miles and training and racing on top of each other, and I think I'm honestly starting to reap those benefits of staying healthy. I think I had two unplanned days off in the last year and some change. For me, that was like the biggest win for sure," said Tonn.
Tonn said the 5k normally feels almost like an all-out sprint the whole way for her but not today as it was "the first time I"ve felt super strong and solid the whole time so I'll take it any day."
Tonn said her race plan was to start a little conservatively as she blew up last year after going out with the leaders but in the end felt like she was a little too conservative. "I felt really good with 400 to go, so I wish I went a little bit sooner but no complaints here. I was hoping for top 5 so when I saw I was top 3 and feeling good I was stoked."
Aaron Templeton turned down pro contracts from other groups to run for gear only at Tinman Elite
Templeton was the surprise of the day as he closed a 30+ meter gap earlier in the race to join the leaders in the final mile. He even took the lead with 200 meters to go, and though he was outkicked, he was pleased with his result in his first national championship.
As he crossed the finish line, Templeton, who was 5th at NCAA XC for Furman last year, crossed his arms to form the symbol of his new training group, Tinman Elite. He was one of three Tinmen among the top six today (Brian Barraza was 6th, Jeff Thies 7th) and Templeton was proud to rep the club even though, right now, he's not getting paid to do so.
Coming out of Furman, Templeton had offers from shoe companies to run for other groups, but said he "decided to sort of forego money for Tinman because I honestly thought I would thrive the most there."
Though Templeton does receive some gear from adidas, that's about it, meaning he has to work a job packing boxes at a nutrition supply contract. Templeton hopes that he can eventually get paid to run, but he is loving the family atmosphere of the Tinman group in Boulder.
"I knew within a day of being there that that's where I needed to be," Templeton said.
Eric Jenkins on road back after tearing plantar at Pre Classic, dissolution of NOP
The last time Eric Jenkins raced was in the Pre Classic in the 2-mile and with around 800m to go he tore his plantar fascia. He took the rest of the summer off, started running six weeks ago, working out two weeks ago, and had a very solid performance today finishing third.
"I am really happy with that," he said of today's run, which sets him up well to having a strong Olympic year.
2020 not only is an Olympic year, but it will be one of transition for Jenkins, who will be moving back to Portland, Oregon, to train with the remnants of the Nike Oregon Project (NOP). Jenkins, a member of the NOP since turning professional in 2015, has been based out of New Hampshire the last two years and joining his NOP teammates for training camps, but he feels for 2020 he needs to be with the others year-round.
Jenkins, primarily a 5,000m runner, moved back East when Matthew Centrowitz left Portland for the 2018 season. Jenkins lost one of his main daily training partners, and also had personal reasons for moving back East. Jenkins was primarily coached by NOP assistant coach Pete Julian. Since his departure from Portland, Jenkins noted the group has changed a lot as Craig Engels and Donavan Brazier have joined the group to be coached by Julian.
Jenkins speaks on Alberto's ban: "I totally understand why he'd get banned"
The biggest change of all to the group was the four-year ban handed down last month by the US Anti-Doping Agency to NOP head coach Alberto Salazar. Jenkins said the ban hasn't had many practical effects on him. "It's kind of weird to say that it hasn't affected me too much other than my name getting dragged through the mud and I understand why [that has happened]."
"Of course I'm sad about that (my name being tarnished), but I understand why and I understand I put myself in that situation. I'm not confused about that. It's not true where the sense everyone is doing it [something illegal]," Jenkins said.
Jenkins said when he joined the NOP the BBC/ Pro Publica allegations were known and "Alberto did say these are just allegations and nothing will come of it."
Despite something coming of it, Jenkins said he is not angry at Alberto. "I'm not mad at him. He was nice to me," Jenkins said.
Jenkins however fully understands why Alberto got banned. "He got banned, so clearly a lot of people thought he did something wrong… If they banned him they must have had some serious stuff," Jenkins said.  "One of the things that has been thrown around a lot is this grey area and maybe it's not cheating… you're getting into some weird morality issues with things in this area and I totally understand why he'd get banned."
Jenkins added, "I'm sure if you ask Alberto [he'd say ] there is no such thing as a grey area, there is right or wrong." Jenkins was not trying to imply that Alberto was on the right side of the line. "Alberto pushed the line and clearly he pushed it too far," Jenkins said.
Jenkins stressed he had seen nothing suspicious in the group and had done nothing he felt was in the grey area. "I've never been asked to take any supplements by Alberto or Pete. I've never seen anything suspicious in the group," he said.
Discuss: MB: Eric Jenkins on Salazar: "I totally understand why he'd get banned…(He) pushed the line and clearly he pushed it too far."