Don't Believe The Spin, Nike's Treatment Of Mary Cain Is Very Much In Line With Its #1 Core Value: Win At All Costs
By Robert Johnson
November 12, 2019
Last week, Mary Cain filmed a video op-ed with The New York Times that went viral in which she accused Alberto Salazar of fat-shaming her to such a degree that she became suicidal.
Many were outraged by the allegations. Nike itself would like you to believe that they are outraged as well; they said in a statement that they would start an investigation immediately and that "these allegations are completely inconsistent with our values."
Come again? Completely inconsistent with our values?
Article continues below player.
Far from it. The reality is, Nike as a company has, for decades, marketed the message that winning is the end-all, be-all and the public has eaten up that message. In 1996 at the Atlanta Olympics, Nike ran advertisements with slogans like: "Second place is the first loser"; "You don't win silver, you lose gold"; and "No one trains for second place."
That was far from a one-off message. In 2013, Nike featured Tiger Woods, who was on the comeback trail after some much-publicized marital woes, in ads carrying the slogan "Winning Takes Care of Everything."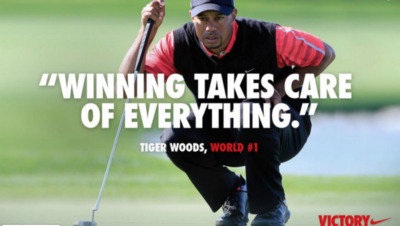 In between the two, Nike sponsored some of the most notorious drug cheats in sporting history, whether it was Marion Jones, Lance Armstrong, or Alex Rodriguez.
Since its inception, Nike's #1 message has been win at all costs. Not a surprise since Nike was named after the winged Greek goddess of victory.
But winning often doesn't come easy, so sometimes people take drugs or purge themselves to get to the top.
Salazar told Cain — who was probably one of the highest-paid female athletes in America but not producing at a high level — to lose weight, with little regard for her mental well-being or long-term health. He did so for one reason: he believed that if Cain lost weight, she would run faster. For Nike to argue those actions are inconsistent with its values is disingenuous. Nike has always been about one thing: winning.