David Rudisha's Strange Summer Continues
By LetsRun.com
September 11, 2019
800-meter world record holder and double Olympic champion David Rudisha hasn't raced in more than two years — not since July 4, 2017 — but that doesn't mean he hasn't been in the news a lot this summer.
At the end of July, his wife Lizzy Naanyu went public on Facebook about some marital woes writing, "David Lekuta Rudisha really stop frustrating me with my kids. To my family, my heart is heavy I can't hold anymore. I love u all."
Article continues below player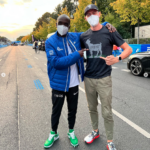 Kipchoge loves the 1:59:40 Shirt Get Yours Today
What a legend!
At the end of August, Rudisha was involved in a car crash at 2 a.m. with a bus.
And today, Rudisha posted a picture on Instagram of himself making a mobile phone call to someone named Naomi.
What is the point of the post? Is he trying to make a statement to his wife or Naomi? We have no idea. If you know, email us or post on our messageboard: MB: David Rudisha makes strange instagram post 
 

View this post on Instagram

 
To top things off, many on Instagram are speculating (editor's note: and we did earlier, in this post and on the forums) that there is an adult toy over Rudisha's head. See for yourself. Some think it may be a child's leg from a doll.
Editor's note: Our initial title of this post referenced the item above Rudisha's head, but we have changed the title and edited the article, as we regret the focus the initial title brought about.