By LetsRun.com
May 23, 2019
Who says we don't talk sprints? Great podcast this week. Details below. Listen in the player below or on your favorite podcast host. HOKA NAZ Elite coach Ben Rosario, whose runners have been on fire this spring, joins us at the 83:53 mark. Email us at [email protected] to let us know if you like these longer guest talks being in the main podcast or separate.
Noah Lyles beat Christian Coleman for the first time ever at 100m and we may have the rivalry the sport needs. JUCO star Kenny Bednarek pulled a sub-20/sub-45 double that is almost unheard of, but Michael Norman may have had the best 200 of the weekend. What about 100/200/400 high schooler Matt Boling? We have sprint talk the first 20 minutes of the podcast. Then a little discussion of another World Marathon Major (21:48), before we turn to discussing whether Paul Chelimo is in trouble or just starting the season more slowly because Worlds are later in the year (26:45). Then Running with the Buffaloes author Chris Lear is a surprise caller and he tells us about Noah Lyles' parents and how Lyles' dad was great Seton Hall sprinter Kevin Lyles (35:48). We then discuss Sydney McLaughlin's Diamond League debut (40:00) and the incredible Shaunae Miller-Uibo.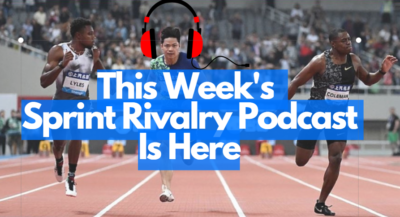 Our listener audio of the week (47:43) is from Fred and he wins a free pair of HOKA Carbon X shoes and he talks how hard it is to watch pro track and field in America, Jonathan Gault's love life, and being a minority on LetsRun.
We talk Gwen Jorgensen's surgery, the Bowerman Track Club and Alberto Salazar at 58:12 before discussing pro women runners and Alysia Montaño taking on Nike in the quest to get paid maternity leave (64:23). We then talk controversy at the Iowa state meet and deleted threads of the week at 74:09, before HOKA ONE ONE NAZ Elite coach Ben Rosario joins us at 83:53 for an hour talk. The NAZ Elite group has been on fire of late with a 2:09 by Scott Fauble in Boston, 2:26 marathons from Kellyn Taylor and Aliphine Tuliamuk, a USA half marathon title by Stephanie Bruce followed up by a 5k PR two weeks later. Email us at [email protected] if you like the interviews being in this podcast or if you want them separate.
Podcast sponsored by HOKA ONE ONE. Give us some great listener audio and you could win a pair of HOKA ONE ONE Carbon X shoes, which are now here. Call 844-LETSRUN and hit option 8. Also sponsored by FloydsofLeadville.com. Use code RUN2019 to save 15% on certified CBD products.
Want to support the podcast with no effort? Just click here before you shop at Amazon.com and we'll get a commission.
Click on a timestamp below to listen to that part.
0:00-21:47 Sprint Talk: Noah Lyles Beats Coleman and Coleman and his girlfriend don't like it
[21:48] Another World Marathon Major?
[26:45] Time for Paul Chelimo to worry?
[35:48] Running with the Buffs author Chris Lear on Kevin Lyles, Noah's dad
[40:00] Sydney McLaughlin's Diamond League debut and Shaunae Miller-Uibo
[47:43] Listener audio from Fred on how hard it is to watch pro track and Jon Gault's love life
[58:12] Gwen Jorgensen goes under the knife + Bowerman + Alberto talk
[64:23] Alysia Montano fights for paid maternity for pro runners
[74:09] Iowa state high school controversy and deleted thread of week
[83:53] HOKA NAZ Elite coach Ben Rosario
Want to support the podcast with no effort? Just click here before you shop at Amazon.com and we'll get a commission