26 Days Until the 2018 NYC Marathon: Shalane Flanagan Offers Advice to Gwen Jorgensen, Des Linden Talks Coaching Change
By Jonathan Gault
October 9, 2018
On November 4, the TCS New York City Marathon will welcome not one, but two American reigning major marathon champions in Shalane Flanagan and Des Linden. The friendly rivals — Linden famously slowed down for Flanagan after the latter took a bathroom break during this year's Boston Marathon — have been at the vanguard of the resurgence of American marathoning, but they will be underdogs in NYC against Kenyan stars Mary Keitany (who won New York in 2014, 2015, and 2016) and Vivian Cheruiyot (who ran 2:18:31 to win London in April).
Today, the New York Road Runners put Flanagan and Linden on a conference call with reporters to mark 26 days to go until race day in New York. Here's what I learned.
Article continues below player
Like our coverage from Albuquerque?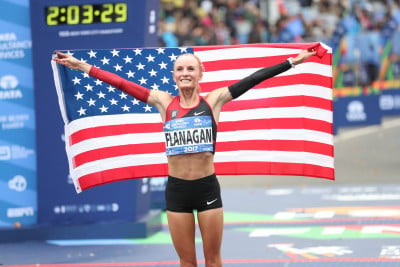 1) Flanagan doesn't want to put an expiration date on her career
This time last year, Flanagan, 37, was hinting strongly at retirement, telling Sports Illustrated that before the 2017 NYC Marathon, she was "mentally acting like as if it's my last." Later, at the pre-race press conference, she admitted that ending her career with a win in NYC would be a "dream scenario."
"A lot of people would be like, Well if you had a major win, that means you could capitalize on that moment and keep going. But to me, I feel like I've done almost everything that I want to do," Flanagan said last year.
But since then, Flanagan has run Boston (she finished 6th) and now she's back to defend her title in New York. And today, Flanagan did not rule out competing in 2019 and beyond.
"Over the last probably two years since Rio, I've acted as if each marathon is my last, not knowing really where it's going to take me," Flanagan said. "I just let my passion and my excitement kind of dictate my next goal. So I'm not in the phase of my career where I'm focusing years in advance. I'm very much living in the moment and the day to day. So until I cross the finish line on November 4, I honestly don't know [whether I will run another marathon]."
As for her training, Flanagan said that she "couldn't ask for better" fitness right now, though she has had to take her recovery more seriously as she ages. She borrowed a Toby Keith line to describe her mindset as race day approaches: "I'm not as good as I once was, but I'm as good once as I ever was."
2) Des Linden has enjoyed leaving her comfort zone under new coach Walt Drenth
In June, Linden made the decision to split from coaches Keith and Kevin Hanson, who had coached her since 2005. Shortly after that, she began talking to Walt Drenth, her college coach at Arizona State, about the idea of coaching her, and by the end of July Drenth was writing her workouts. Linden and Drenth share more than a college connection however, as Linden has been training for NYC in Charlevoix — a small northern Michigan town on the shores of Lake Michigan that also happens to be Drenth's hometown (though Drenth, now the coach at Michigan State, lives 200 miles south in East Lansing).
Linden said that it's been refreshing to change things up after 13 years in the same system.
"[I'm] probably more out of my comfort zone than ever before," Linden said. "He's really testing me with workouts and systems I haven't worked on in a really long time."
Much of that has focused on trying to regain some of Linden's leg speed (she's known as a grinder, but she has run 15:08 for 5,000 and made the World Indoor team at 3,000 back in 2010). The Hansons' philosophy is to put in a lot of work during a buildup, often having their athletes run workouts on tired legs in order to simulate the fatigue they'll feel during a marathon. Under Drenth, however, Linden has been more rested heading into workouts, which has allowed her to increase the quality and run faster sessions (though she said last week on the Ali on the Run podcast that her peak weekly mileage won't change much — 120 before Boston, 125 before New York).
3) As she prepares to transition to coaching, Flanagan is offering advice to Gwen Jorgensen (and the rest of her Bowerman teammates)
While Flanagan may not know exactly when she'll retire, she knows what she will be doing when she does: coaching at the Bowerman Track Club, where she played a crucial role in expanding the women's component of the team. Though the training plans are still written by Jerry Schumacher, who remains Flanagan's coach, Flanagan, as the most decorated and experienced member of the group, has essentially become an extra assistant coach as she has seen it all in a 15-year professional career.
"I feel like they feel comfortable coming to me with every type of question that they could possibly have," Flanagan said.
That goes for members of the men's team too — she said in a recent training stint, she and Chris Derrick spent two weeks debating racing and training tactics.
"I'm completely open and share everything with my teammates," Flanagan said.
One of those teammates is Gwen Jorgensen, who ran 2:36 in Chicago on Sunday in her first marathon as a member of BTC (and first as a full-time runner after switching over from triathlon).
"Gwen comes to me for quite a bit, not in terms of the X's and O's of a workout but more maybe the mental approach," Flanagan said, adding that she offered tips on details such as what to eat the week of the race or what time to shake out the day before the marathon.
Flanagan shared her admiration for Jorgensen's work ethic and dedication to the marathon, but admitted that Jorgensen may be better suited to the 5,000 and 10,000 meters than the marathon, an event which could take time to master. Jorgensen ran 15:15 for 5,000 meters in February, less six months after giving birth — a time that would put her in the mix for making the U.S. team at 5,000 meters. Only five Americans broke 15:10 this year, and one of them, Molly Huddle, likely won't be running the 5,000 at USAs next year.
"I try to teach her patience but she's a very driven woman," Flanagan said of Jorgensen, who told LetsRun that she was "not happy" that she was not in 2:19 shape before Chicago — a time that only one American has ever run. "I try to remind her that I didn't have my big breakthrough marathon until seven years from when I started and I've been running my entire life."
"If I put my coach's hat on, I've definitely seen more of an inclination toward her 5k/10k background," Flanagan added, noting that Jorgensen was a "more natural fit" for those distances considering the run portion of an Olympic-distance triathlon is 10 kilometers. "It doesn't mean she can't become a marathoner, it just means [it might not happen] in the timeframe she wants it to. I do know she does not want to go back to the triathlon. I know she'll stick with running, we just have to be realistic with the timeframe we're under and what she's capable of."