Christian Coleman Defeats Noah Lyles, Ronnie Baker and Mike Rodgers at Rabat Diamond League 100m
by LetsRun.com
July 13, 2018
Christian Coleman is back — both literally and figuratively.
Coleman, who indoors set a world record at 60m and won the world indoor title, returned with a vengeance after a six-week hiatus due to a hamstring injury as he won the men's 100 in 9.98, in a match-up that featured Coleman and his fellow Americans Noah Lyles (9.88), Ronnie Baker  (9.88), and Mike Rogers (9.89) who were 1-2-3 on the world lists in 2018.
Article continues below player
The race featuring America's four best men lived up to the hype as it was extremely tight as the top 3 were separated by just .01 and top 4 by just .03. Finishing second, also in 9.98, was the 2018 US-runner-up and co-world leader Baker as 2018 US champ  Lyles, who got off to a horrific start, was third in 9.99 with Mike Rodgers 4th in 10.01.
Watch the race below:
Quick Take: It's great to see Coleman return with a win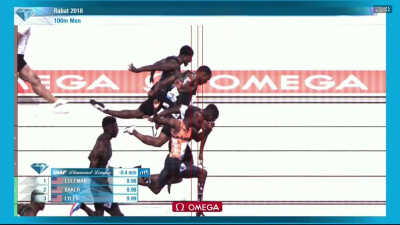 Injuries can permanently derail a sprinter's career. Just ask Yohan Blake and Andre De Grasse and Trayvon Bromell. Coleman's injuries scare from earlier in the year seems to be a thing of the past. After the race, Coleman said it was a "sigh of relief" that he got the win and he viewed today's race a second season opener of sorts. He said it was the first time all year he felt full confident in the health of his leg. That being said, he wasn't surprised he won.
"It was a perfect night for me – good race and good time. I could not be happier. I am not so surprised to win for my first race, even with such a great field because I was very fast in practice these last days," said Coleman. "When I was injured, I managed to maintain a good condition. Now I am gonna run in London then Birmingham."
Quick Take #2: If this race hadn't been called back for a false start, Noah Lyles likely would have been your winner.
The fastest runner today was Lyles. His reaction time of 0.198 was not good at all. Coleman's reaction time was .160. However, the race was run after a false start. Britain's Reece Prescod reacted in under the allowable .10 (.079) the first time they tried to start (but wasn't DQ'd). Lyles' reaction time then was .142 – nearly identical to Coleman's .144.
It's worth noting that when the race was actually run, every single runner in the field had a slower reaction time than the first time the gun was fired.
Results
100 Metres - Men  - Diamond Discipline                 Wind: -0.4 m/s
                                                             Pts
    1 Coleman , Christian              USA       9.98          8
    2 Baker , Ronnie                   USA       9.98          7
    3 Lyles , Noah                     USA       9.99          6
    4 Rodgers , Michael                USA      10.01          5
    5 Prescod , Reece                  GBR      10.09          4
    6 Ujah , Chijindu                  GBR      10.19          3
    7 Kiryu , Yoshihide                JPN      10.20          2
    8 Cissé , Arthur                   CIV      10.22          1
    9 Mohammed , Abdullah Abkar        KSA      10.30