30 Years of Sub-3:00 Marathons: Despite a Setback in Boston, Mark Cucuzzella Is Looking to Extend an Epic Streak
In almost 100 career marathons, Mark Cucuzzella had never run one slower than 3:00. Boston 2018 changed that, but he still has a chance to make history.
By Jonathan Gault
May 16, 2018
When April 16 dawned cold, windy, and wet in Massachusetts, you couldn't blame most of the 27,042 runners who started the 2018 Boston Marathon for feeling a little disappointed. For the average runner, the freezing rain and 20+ mph headwinds meant that the time goals they had spent the winter training for had to be thrown out the window. Those conditions also meant that every runner was guaranteed to become cold and wet by the time they crossed the finish line on Boylston Street a few hours later.
Article continues below player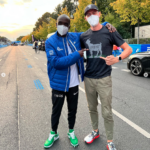 Kipchoge loves the 1:59:40 Shirt Get Yours Today
What a legend!
But as Mark Cucuzzella headed out to the start line for his 18th consecutive Boston Marathon, he wasn't in a bad mood at all. In fact, he was reminding himself how lucky he was to be running at all.
"It's a privilege and a pleasure to be out there if you have a busy day job," says Cucuzzella, professor of Family Medicine at the West Virginia University School of Medicine. "No matter what the weather is, just embrace the day and look at it if it's not an ideal weather day, that it's an opportunity to learn something new and be a new challenge. So for example, I'm riding the bus [to the start line in Hopkinton] in 2012. That year was really hot and everyone's complaining about how sucky it's gonna be. And I just turn around and I say, Well why are you here? You could be at work today. This is great! This is new conditions and you're going to learn something new. If you don't want to be here, you paid to do it…
"[Bad conditions mean] there [are] more war stories to tell. And you learn more from a race like that than [one run in] 50 degrees and a tailwind."
Cucuzzella had more reason than most to be bummed out about the weather. Now 51 years old, he entered 2018 having run at least one sub-3:00 marathon for 30 consecutive years. Not only that; in close to 100 career marathons (he's lost count of the exact number), he had never once run slower than three hours, his slowest time a 3:00:00 at the 2016 Air Force Marathon, which he mostly ran barefoot (he has one DNF, at Boston in 1989).
In Boston, the latter streak would come to an end: Cucuzzella hit halfway on pace at 1:29:06 but faded to 3:04:31, his slowest marathon ever.
When he finished the race, Cucuzzella was shivering. He was tired. But he wasn't upset. In any marathon he enters, Cucuzzella has only one goal: find his rhythm. That means finding the right group to run with, and running a pace where his breathing is comfortable. Despite the conditions, he did that in Boston, and said he wouldn't change a thing.
"I wasn't disappointed at all," Cucuzzella said. "If you showed up that day and you didn't fall apart and didn't make it to the med tent, it's a win…I know I can run that [sub-3] time. That day at Boston, I was in probably decent shape, and I was on pace through about 20 miles, but the wind was just freezing. The wind, it was kicking you, and once you start slowing a bit, you can't get it back."
***
If 30 straight years of sub-3:00 marathons sounds like a lot, that's because it is. Cucuzzella, who lives in Shepherdstown, West Virginia, with his wife Roberta and their two children Leo (15) and Lily (13), says he didn't even realize how long his streak was until last year, when he was giving a talk in Frederick, Maryland. Someone came up to him and pointed out that Cucuzzella had a 29-year streak of sub-3:00s. Cucuzzella went through his old results and confirmed that was the case (you can see his year-by-year bests here). He also poked around on the internet and read about Chris Finill, a Brit who broke three hours at every London Marathon from 1981 to 2013.
As far as Cucuzzella knows, Finill's 33-year streak is the longest ever. Now that it's over, Cucuzzella believes he owns the longest active streak (if you know of a longer one, email us).
As with most of these streaks, Cucuzzella didn't start out with the intention of running sub-3:00 every year. A 14:55 5k runner at the University of Virginia, Cucuzzella graduated in 1988, stopped running, and immediately put on 20 pounds over the summer. As he began medical school at UVA that fall, he got back into running, finding that it offered a period of relaxation in a day otherwise filled with medical textbooks.
During his first year of medical school, one of Cucuzzella's friends happened to be training for the Marine Corps Marathon in Washington, D.C. Cucuzzella decided to sign up on the day of the race and ran 2:34. He was hooked.
"Then I got the bug," Cucuzzella said. "I was like, this is kind of fun."
For the first half of his streak, Cucuzzella trained fairly conventionally. By 1999, Cucuzzella owned a 2:24:30 pb (1995 Rome) and set his sights on qualifying following year's Olympic Trials, which required a 2:22:00 or faster. Cucuzzella put everything he had into his buildup for that fall's Chicago Marathon, but his body couldn't handle it. He wound up running 2:24:45 and couldn't walk for a week after the race.
"I was a wreck when I ran that," Cucuzzella said. "Everything was hurt [during the buildup] but you deal with it because you're trying to qualify for the Trials."
In particular, Cucuzzella's feet were really bothering him — one of his big toes was bent at a 40-degree angle. Having failed to qualify for the Trials, he decided to get foot surgery and was content to call it a career at 33 years old.
But running wasn't done with him. As he recovered from the surgery, Cucuzzella began reading up on exercise physiology. He came across the work of Dr. Phil Maffetone, who advocated low-intensity training in order to achieve sustained, lifelong fitness. Cucuzzella decided to give it a try, running slow loops around Washington Park in Denver, where he was living at the time. No workouts. Just easy running. He ran Marine Corps again that fall, and though his time of 2:28:55 was over four minutes slower than what he had run in Chicago a year earlier, his body felt amazing.
"It was crazy," Cucuzzella said. "Usually you feel wiped after these things. It was like, you finish the damn thing and you were like, wow, I could turn around and do it again."
Cucuzzella realized that if running was going to remain a part of his life for decades to come, this was the approach he had to take. He says he has not missed a day of running due to injury since the foot surgery.
"Your site (LetsRun.com) are all people about times and competing, it's a more competitive side," Cucuzzella says. "But the goal in running longevity is how to stay fast without running hard. Because running hard beats the shit out of you."
Now Cucuzzella doesn't do any interval sessions or tempo runs, though he does try to get in a two-hour long run once a week. Even in a marathon buildup, he doesn't run more than 50 miles a week. A month out from his marathon, he might run the last four miles of his long run at marathon pace, but almost all of his training consists of easy, relaxed running. During his 2018 Boston buildup, he estimates that he ran just 1% of his miles at marathon pace, supplementing those miles with strength training and core work such as burpees.
"If you've developed speed over your lifetime, that doesn't go away," Cucuzzella says. "Running a marathon fast, I mean, all of us have the speed to do it. It's all about the endurance. I do drills almost every day — short sprints, strides, drills — to keep the spring, keep that fascia, keep that quickness. But that's not hard."
The surgery also caused Cucuzzella to re-examine his choice in footwear, and he became an advocate for minimalist training. In 2010, he opened Two Rivers Treads, the U.S.'s first minimalist shoe store, and now he runs the bulk of his summer miles barefoot. In 2016, he ran Boston in the Vibram FiveFingers, finishing in 2:57:09. The following year, he ran 2:56:03 while racing in a pair of running sandals.
"When you show up to a marathon in sandals, people think you're kind of crazy so you better run well," Cucuzzella. "It makes you show up just to prove to people that you can run a marathon in sandals."
***
This is the first year where there's even been a serious question as to whether Cucuzzella could extend his streak. He broke 2:40 every year from 1988 to 2011, and broke 2:50 every year from 2012 to 2014. Only in the last three years has his fastest yearly time moved into the 2:50s, but even then he's still had breathing room, running 2:55 in 2015 and 2016 and 2:56 in 2017. He likes to run Boston and the Marine Corps Marathon every year, but because he had broken 3:00 at Boston every year until now, he never had to stress about the time at Marine Corps.
And that won't change in 2018. Yes, Cucuzzella will try to extend his sub-3:00 streak to 31 years at Marine Corps in October. And sure, he'd like to surpass Finill's 33-year streak as well. But Cucuzzella doesn't run marathons to maintain a streak. He does it because he enjoys putting himself out there, feeding off the energy of the crowd. He does it because it's a chance for him to stay connected with friends, and to represent the Air Force, where he's served 29 years — 10 active duty, 19 reserve — as a flight doc, tending to the medical needs of air crews. If he runs sub-3:00 at Marine Corps, he'll be back in Boston next year looking to extend the streak. And if he doesn't? He'll be back out there anyway.
"I never really ran marathons with the intention of running sub-3:00 streaks," says Cucuzzella, who will run the famed Comrades Marathon (around 56 miles) in South Africa next month. "It used to be kind of a given when you have a lot more margin or headroom, so to speak. But now as you get older, as you can see from Boston, my margin, I need a good day…But that's what makes it fun and challenging. Now I've actually got to show up and really give it my all.
"I'm not worried. If I show up and run well at Marine Corps and I don't get it, my life will not change. If it keeps going, I'm not going to change my life or stress myself out or overtrain or do anything different."
---
Talk about Cucuzzella and his training our our messageboard. MB: Guy who has run sub-3 for 30 straight years reveals the secret – Don't run hard as "running hard beats the shit out of you"