Sam Chelanga and Stephanie Bruce Lead the American Hopefuls at London Marathon
by Jonathan Gault
April 20, 2018
Eliud Kipchoge, Kenenisa Bekele, Mo Farah, Mary Keitany and Tirunesh Dibaba have deservedly been getting the majority of the coverage this week from London, but Sam Chelanga and Stephanie Bruce lead a handful of American hopefuls (Fernando Cabada, Becky Wade and Liz Costello are also running) at the 2018 Virgin Money London Marathon.
I look at their chances below. For more on the other non American long-shot men's hopefuls click here, women's non American longer-shots here.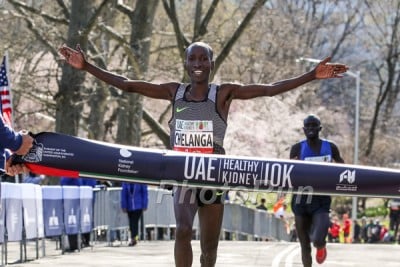 Sam Chelanga — USA, 33 years old, 2:15:02 pb (2017 Chicago), 60:37 half
Last two marathons: DNF 2016 Olympic Trials, 15th 2017 Chicago (2:15:02)
Prep races: 60:37 for 6th at Houston Half on 1/14; 43:16 for 2nd at US 15K champs on 3/10; 61:23 for 14th at World Half on 3/24
Chelanga is still a novice in the marathon, as he dropped out of his first at the 2016 Olympic Trials (today, he described it as "a long tempo" rather than a serious race) and was humbled in his second last year in Chicago, fading to 2:15:02 after hitting the wall at 35k and splitting 17:46 for his next 5k.
Article continues below player.
Chelanga has lowered his mileage from his last buildup. Before Chicago, he spent 3-4 weeks at 130 mpw with a high of 147. This time around, he has tried to keep his mileage at 120 mpw, and no more than 130 mpw. Overall, Chelanga is pleased with his training. He ran a 27-second PR of 60:37 to finish 6th at the Houston Half in January, a performance which surprised him.
"I just felt good," Chelanga said. "I didn't even know how fast I could run. In fact, I only saw it the last 10 seconds. I was like, Oh wow, look at the time."
That run came before Chelanga was in the thick of marathon training, but he was pleased with his runs at the US 15K champs (43:16 for second behind training partner Leonard Korir) and 61:23 at a windy World Half Marathon Champs, where he finished as the top American. As a result, Chelanga is confident in his speed, but the question is whether he can hold up through 26.2 miles.
"Have I done enough to give me the endurance?" Chelanga said. "Because I know I've got the speed. And I'm just hoping that my endurance is there and I can hold a good pace on Sunday."
Just what pace that will be is TBD. Chelanga wants to run in a group for the first half, but if the top guys go out on world record pace, Chelanga knows he can't hang with them. But he's not afraid to be aggressive.
"I'm probably going to choose a group that goes 64:00 [or] 63:00 [for the first half]," Chelanga said. "I think personally, I think I can risk it up to 62:30. I can risk it. I know it's a bad idea, but if they went that pace, I would go with them."
That doesn't necessarily mean Chelanga will be trying to run 2:05, however. He clarified off-camera that his plan is to back off the pace in the second half, but he would be all right going out hard with a pack in the early stages in order to avoid being gapped and being forced to run most of the race alone.
Stephanie Bruce — USA, 34 years old, 2:29:34 pb (2011 Houston), 70:53 half
Last three marathons: 2nd 2016 CIM (2:32:37), 10th 2017 New York City (2:31:44)
Prep races: 72:31 for 1st at Rock 'n' Roll Arizona Half on 1/14; 33:35 for 3rd at USA XC champs on 2/3; 72:02 for 2nd at Gasparilla Half on 2/25
All the signs point toward a strong race and a personal best on Sunday for Bruce, who will be carrying the flag for the U.S. contingent here (which also includes Becky Wade and Liz Costello). Bruce missed a chunk of her prime with back-to-back pregnancies (son Riley was born in June 2014; another son, Hudson, was born in September 2015), but she has steadily worked her way back to form since then and now, at 34, looks ready to challenge the 2:29:34 pb she set in Houston seven years ago. Her prep races have gone well, the most impressive among them a third-place finish at USA XC where she crushed steeple World Championship silver medalist Courtney Frerichs by 21 seconds and finished behind only Emily Infeld and Molly Seidel, two strong 5k/10k athletes who had the luxury of not having to prepare to run a marathon two months later.
"After US Cross, Molly turned around, and she was like, Steph, who are you?" Bruce said, laughing. "But Molly's so young. She rents a room from our house (when she trains in Flagstaff) . I'm like, Well Molly, I used to be good at running. It's okay that I was that close to you."
Editor's note: While Stephanie never rented a room from LetsRun.com in Flagstaff, we learned at World cross last year she did see the LRC apartment in Flagstaff when she went through one summer while in college.
Bruce said her aim is to go out with the 2:28 pace group and hopes that she'll be able to run some people down if others go too fast or struggle with the heat.
Bruce also gave some insight into what the drug-testing setup is like at the London Marathon. That part of the interview begins at the 6:20 mark.
For more on Bruce, she did a Q&A with Race Results Weekly's David Monti, which you can read here: RRW Q&A With Steph Bruce And Ben Rosario Ahead Of Virgin Money London Marathon