by LetsRun.com
November 24, 2017
Updated 11/25: All of these deals are working today as well and look good until Monday.
Black Friday is here and Cyber Monday is approaching we've assembled some of the best running deals we can find out there. No one has paid us to promote the deals below but if you buy from some of the partners below we will receive a commission.
Many of these deals will last all Black Friday Weekend until Monday but we think the Sole Treadmill deal and some of the Amazon deals may expire today. Not sure what you want? Use this link to to shop Amazon.com and support LetsRun.com.

1) Running Warehouse Black Friday Deals here RunningWarehouse is the leader in online running so we're starting off with this deal because you maybe be able to one stop shop and be done as a runner. For Black Friday some shoes are 50% off including adidas adizero Prime and the Saucony Guide 10, GPS devices are up to $100 off (for example the Garmin 235 HRM is $249.99, and some apparel is 40% off.
Article continues below player
2) 25% off everything Mizuno at Running Warehouse Pretty simple if you're into Mizuno.
3) 20% off at New Balance.com Pretty simple if you're a New Balance fan. Don't have to go search for some random product that may be discounted.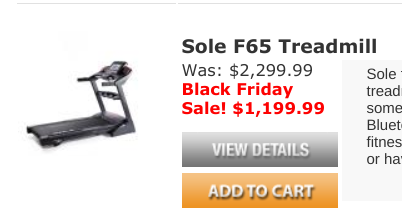 4) Huge savings on Sole Treadmills We've never run on them but they get good reviews on the LetsRun.com forums (here and here). The prices on Sole today are way cheaper than on amazon.
5) Garmin Forerunner 235  $249.99 Save an extra $50. Buy from the little guy RunningWarehouse $249.99 (free shipping too and they sponsor all of our contests) or Amazon $249.99.
6) Save on UnderArmour especially UnderArmour recovery at Amazon This is the recovery stuff Tom Brady promotes. If you think it's works, now is the time to get it.
7) 2XU Compression Everything 30% Off No gimmicks here.
Don't see anything? You're bound to find something at Amazon.com (click on the link here to support LetsRun.com)
Are you with a company that has a great Black Friday or Cyber Monday deal for runners? email us [email protected]