Watch The 2017 Beer Miler World Classic today for free on LetsRun.com – 16 of the top 20 beer milers in the world will compete
by LetsRun.com
August 12, 2017
LONDON – The 2017 IAAF World Championships aren't the only elite running event taking place in London today. The third Beer Mile World Classic (BMWC) is taking place today and the men's field is the greatest ever assembled in the history of the beer drinking sport as 16 of 20 best beer milers in history are expected to line up in London later today to lay claim to the coveted Beer Mile World Classic (BMWC) title. The women's race features American Allie Grace Morgan who could be the first woman under the 6- minute barrier.
Plus with all of the world's best pro athletes in town, will any world championship competitors show up and try to grab the title if their IAAF duties are already over?
Article continues below player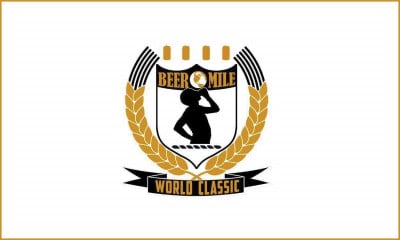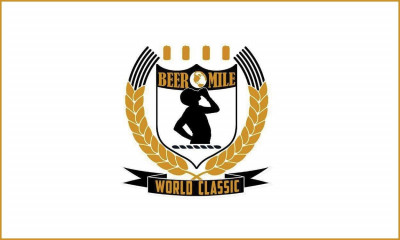 You'll have to watch to find out and the good news is you can watch it for free right here (scroll down) on LetsRun.com. The schedule is as follows:
Gates Open 17:45 (12:45 pm ET)
Open Heats 1, 2 & 3 18:15, 18:35, 18:55 (1:15 pm ET, 1:35 pm ET, 1:55 pm ET)
Open Relay 19:15 (2:15 pm ET)
Presentation of Elite Athletes 19:35 (2:35 pm ET)
Women's Beer Mile Elite Championship 19:45 (2:45 pm ET)
Men's Beer Mile Elite Championship, Section 2 20:40 (3:40 pm ET)
Men's Beer Mile Elite Championship, Section 1 20:50 (3:50 pm ET)
Awards Ceremony 21:00 (4:00 pm ET)
Relay Championships 21:15 (4:15 pm ET)
Talk about the race on our messageboard. MB: 2017 Beer Mile World Classic with 16 of top 20 men's beer milers in history is today at 2:45/3:40 pm ET.
More info here: beermileworldclassic.com

Full race previews appear below the media player.

Men's Preview (from race organizers)
————————
Men's Meet Overview:
This is the deepest beer mile field ever assembled – period – both in person and around the globe. Of the Top 20 beer milers of all time, 16 of them will be lining up in London to lay claim to the coveted Beer Mile World Classic (BMWC) title.
European Record Holder Dale "King" Clutterbuck aims to defend his pride and home turf by turning back an American Armada of Beer Milers, lead by Yank record holder Chris Robertson, all with their eyes on the individual crown. Former world record holders, Australian Josh "Harry" Harris and Canadian Corey "Whip Hubley" Gallagher are also in The Big Smoke, each with hope of basking in victory.
Even on the sidelines the talent runs deep: Lewis Kent, the 2015 BMWC Champion, will be doing the play-by-play on the livestream while recovering from a torn patellar tendon. Corey Bellamore, the current World Record Holder has been selected to the Canadian National Teams for the Francophone and World University Games and will be competing in those championships, sans suds, and will regrettably miss a chance to defend his BMWC title in London. With two dominant Canadians in street clothes, the door is wide open for a new team to become the toast of their nation by capturing the team title.
Men's Race:
The high excitement of the race is matched with the startling potential of England's Dale "King" Clutterbuck. In 2016, he finished 3rd in the British 1500m championships; his goal is to make the British Commonwealth Games team. He has run 3:38 for a suds-free 1500m, which is about 4 seconds faster than Beer Mile World Record Holder Corey Bellemore's 1500m best of 3:42.
Clutterbuck found out about the 2016 BMWC two days before the event, and had not run a full beer mile prior to last year's competition. Virtually untrained, he ran the second fastest time ever recorded. He stands a shot at the world record. However, he must outrace both Bellemore's shadow and the Candian's current record.
Following the beer mile's global rules, the "Kingston Rules", Bellemore's 4:39 "time trial" in Canada was the first race under 4:50 and 4:40. Within 24 hours of his 4:39 record, Bellemore flew to London for the 2016 race and then promptly ran 4:34 to set the the still standing World Record. That's swagger, folks.
At the conclusion of the 2016 World Classic, we thought it would be years until the world's beer milers caught up with that time. The beer mile, if nothing else, is evolving quickly. It was only three years ago, when James "The Beast" Nielsen broke 5 minutes for the first time (12 people have done it now, and the World Record has been lowered 7 times in the last 2 years (Josh Harris, Lewis Kent, Corey Gallagher, Lewis Kent, Brandon Shirck*, Bellemore – twice). There's no doubt the prestigious sub 5 list will grow after the 2017 BMWC.
Fight for Individual Title:
There are seven sub-5 minute beer milers in the field. It would be hard to imagine a medalist coming from outside this group, but it is possible for a talented outsider, perhaps from the IAAF meet to enter and excel (example: Dale Clutterbuck). The Americans are sending their last three National Record Holders.
In late July,

Chris Robertson

broke Brandon Shrick's American Record, clocking 4:46 to marginally break the record Shirck's record. Robertson has been one of the most improved elite beer milers in the world and has quietly flown under the radar. He was disqualified from last year's World Classic for excessive leftover beer, and was out-leaned for the bronze by Shirck. Robertson went on to finish 3rd at the Flotrack Beer Mile in December 2016, and should be in the mix in London. He has a 1500m best of 3:55 and does not have the top end track speed of other medal contenders. He will have to be efficient in his chugging to hold off some of the faster pure runners.

Brandon Shirck

briefly held the American and World Records when he clocked 4:47 prior to BMWC 2016. He has a 3:46 1500m best and closed well to nip Robertson at the line last year. He recently ran 4:59 to win a beer mile tune-up at the West Valley TC Summer Classic. He will have to improve to make up some ground on Robertson, but he is a mentally tough competitor and has a way of eaking out tough straightaway battles with great high end speed.

Garrett Cullen

is the American darkhouse to make it on the podium. He still hasn't had a breakthrough race in either a Flotrack or BMWC race, yet, but reports of his workouts should give him hope for glory. Like Shirck, he is a tough competitor. To get on the podium, he will need brilliant guzzling and misfortune (i.e. puking!) by some of his competitors.
Canada has threats for the podium despite the absence of Bellemore and Kent:

Phil Parrot Migas

has been in the shadow of the great Canadian Beer Milers Kent, Bellemore, and Gallagher, each of whom have won either or both the BMWC and FloTrack Beer Mile. Phil's non-beer mile bests have come down this summer to 3:50 for 1500m the 14:30s for indoor 5000m. Finishing beer and keeping it down has not been an issue for him (which is true for the whole Canadian team…they finish their beers and keep them down. Maple leaf pride, they say). In championship beer miling, he had a breakthrough in December at Flotrack, finish 4th between Robertson and Australian Josh Harris.

Former World Record Holder

Corey "Whip Hubley" Gallagher

is the inaugural Flotrack champion but getting over an injury and may need to rely on stubbornness and savvy to reach podium glory, both of which he has plenty.

Jim "the Gastric Ghost" Finlayson

rounds out a very good Canadian team. Finlayson is a former beer mile record holder and the current beer 2-mile world record holder (at 11:39…damn.). Even at 45-year old Finlayson, is really running fit. He never has problems with beers, but his best probably won't get him on the medal stand this year. Mostly because he's old.
Australia has one medal threat and that is

Josh "Harry" Harris

, the former World record holder who owns the 7th fastest time ever. However, he will be pulling double duty for Oz, as he will be running on its national marathon team at the IAAF World Championships. He ran 2:17 this spring, and it may be difficult to turn his aerobic Prius engine into an alcohol fueled funny car with only six days recovery from the World Championships marathon.

Harris provided the now famous puke heard round the globe, the "

Chunder for Down Under

", during the 2015 World Classic (aka the Beer Mile of the Century). His compatriot, and OZ's second runner

Jack Corleavy

is also on the IAAF marathon squad. Luckily, the ever entertaining

Charlie Blanch

will be fresh.
Quest for the Kingston Cup: Men's Team Championship:
Canada has won every individual men's title and every Kingston Cup Team Title. This might be the year that all that changes. Their Ace (Corey Bellemore) and their King (Lewis Kent) are out. Questions about the depth of the Canadian team should be answered with a stable of competitors waiting for their moment in the London sun..

Phil Parrot-Migas

and legend

Jim Finlayson

played vital roles in two Kingston Cup championships, and

Corey Gallagher

is hungry to get his first. Since three score, they have a fighting chance, but it will be an uphill climb. Their fourth and fifth runners are a combination of youth and age. Newcomer

Gabe Giglihone

a 5:25 beer miler and this will be his first international race. Beer mile pioneer,

John "Sparkle" Markell

, rounds out the team. Canada's hopes rest on the consistency of their veteran runners, and an opportunistic puke or a disqualification.

The American Team is ready. Like any good opportunists, they may not have invented the beer mile, but they are on their way to perfecting it, then plan to claim it as their own. The top three Americans have run under 5:02 this year.

Chris Robertson

and

Brandon Shirck

are top 4 candidates, and

Garrett Cullen

is expected to finish in the top 7. The Stars and Stripes will have a team of 6 at this year's Classic and all 6 men were the scoring athletes for Team USA at the last two BMWC.

Objectively, England probably has the third best team lining up. They will be running in front of their home crowd. When scoring 3 people in a race, having the individual winner is huge. Here's England's path to the Kingston Cup:

Dale Clutterbuck

wins the individual title

Ben Coldray

finishes no farther back than 6th place

American and Canada have 1-2 key pukes or DQ's

One new Brit emerges…from somewhere…anywhere….please, for the love of Queen and country…

Australia has an outside chance to claim the Kingston Cup. For this minor miracle to occur, three things must happen:

Josh Harris

and

Jack Corleavy

must recover well from their marathon 6 days prior,

Charlie Blanch

needs to put on a performance for the ages, and a few opponents need to pre-party with a bit too much zeal, ala Sweden in 2016.
Despite our best "predictions", luckily for the fans, anything can happen in a beer mile. That's why we run the race folks.
Women's Preview (from race organizers)
The Favorite: United Stats Alison Grace Morgan
The United States is sending one athlete to the event, in essence conceding the team title. Anyone who has watched Allie Grace Morgan's performance at the FloTrack Invitational knows she could very well break the World Record, perhaps even become the first Women to break the magical six-minute barrier. Her performance if run on a track would have been the fastest time ever recorded (2016 World Classic Champ ran 6:08
*We don't consider O'Mara's time to be the word record as it broke broke Rule 2 of the Kingston Rules: The chug zone was 8m too long, the course/track was short, and the tangents were not measured). Objectively, we consider Liz Herndon 6:17, though not run on a standard track, to be the current World Record. The fastest time for a women's beer mile following all Kingston Rules is Chris Kimbrough's 6:26 in 2015.
Back to Morgan…she is a very talented athlete. The Running was not an issue in Austin, as she seemed to glide away. She did, however, leave a lot of beer. It was similar to the Scottish Men's performance at the World Classic last year. We are left to wonder, has she mastered the chugging. She has run 32:46 for 10km, making her one of the bet pure runners in the field. She's represented the United States at the Panama American Games and has had success in mountain running. The toughness is there. In Austin, Caitlin Batten who won the race after the DQ summed it up best, "…gotta finish your beer." We don't think she's going to fly eight time zones for another DQ. The questions we ask is…how fast will she when she finishes her beers? How much has that technique improved?
The British Are Coming: No They are already here!
You have to give the British credit, on paper they've put together a great team. In all transparency, we've only seen Polly Keen and Laura Riches race. The hardest part for us is figuring out who the top Brit will be in the race within the race. Whoever that is…will likely go home with the European record.
That record belongs to Polly Keen. Like Dale Clutterbuck in the men's race, she gave Erin O'Mara a really tough race. Some improved technique see her improve upon her 3rd place from last year. She owns a modest 4:55 1500m PR, but showed true grit in her chugging ability.
Laura Riches is having a great season. She ran briefly for Butler University which attracts a lot of British talents. Her return to home cooking in England has done her well, she recently PR'd in the steeplechase with a very respectable 9:36. She ran very well in last year's World Classic despite a rookie mistake. After a slow first chug, she ran a very hard first lap and came through in the lead. Beer miles can become very tough if you can't breathe in the chug zone. We've seen videos of Riches working on her chugging. With a sensible game plan, she should be rubbing elbows with leaders.
We've also heard some great things about Louise Rudd. She will be gunning for Chris Kimbrough's master's (40+) World Record. That will be tough to beat, and should be celebrated if she gets it. Rudd is the Master's World Champ this year at 800m, 1500m and 3000m. When an athlete of this pedigree says they are going for a fast time, you have to respect it. If she runs under Kimbrough's time (6:28), she very well could be in the mix for another World Title should Morgan falter. At this point, we haven't seen her footage, so it will be tough to predict how she will fare. We wouldn't consider it an upset if she pulled it out.
Mystery Olympians:
With the IAAF meet just down the road, we have some interest from several Olympic athletes who will make a decision after their events wrap. We could see a really talented runner give it a shot…we look forward to seeing if they had time to drink some beers during their intense running training.