TV & Streaming Information for 2017 Muller Grand Prix Birmingham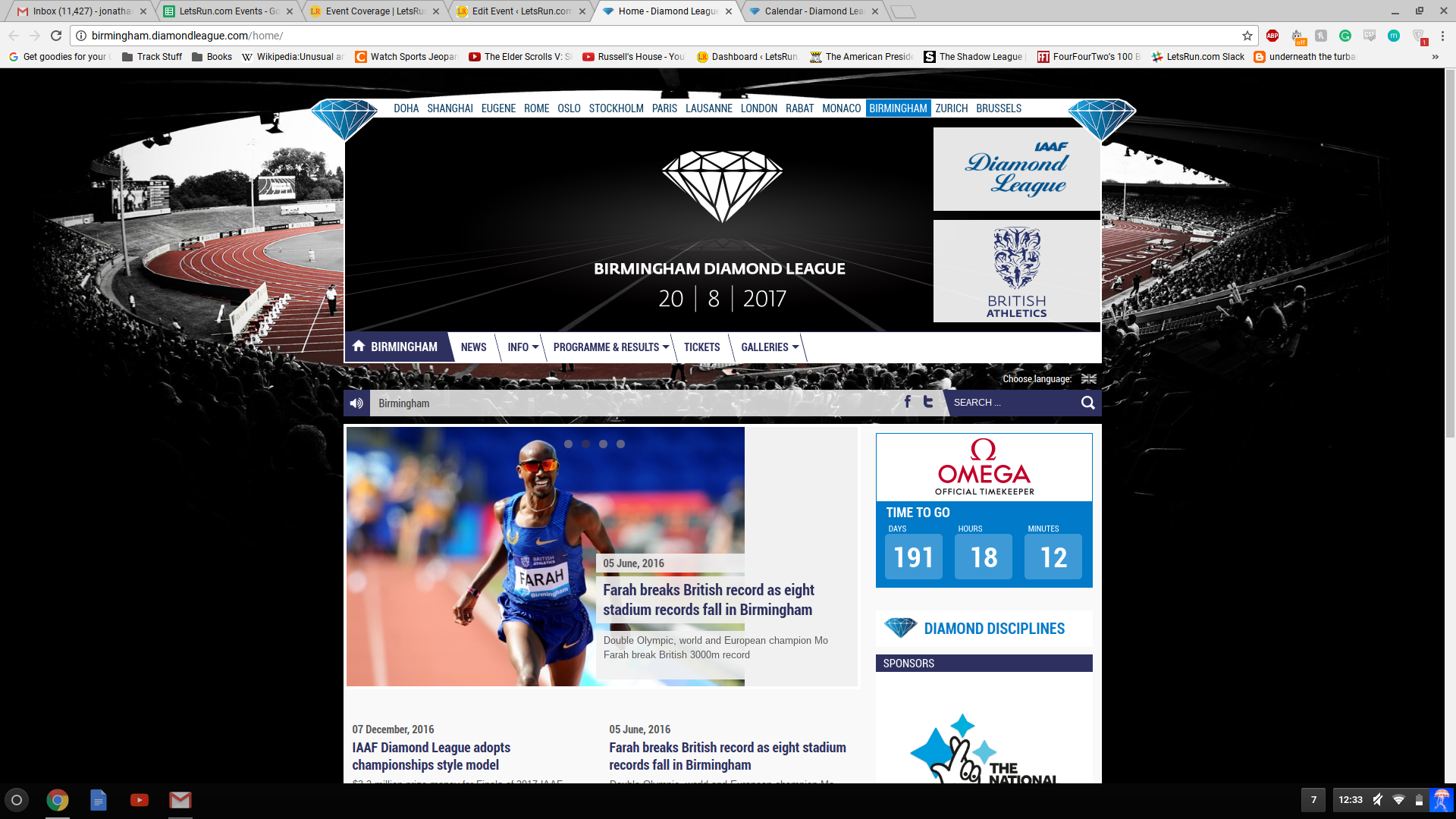 August 20, 2017
he UKBy LetsRun.com
August 16, 2017

The World Championships are over, but the professional track season is not, and many of the sport's top stars will be in action at Sunday's Muller Grand Prix Birmingham — 59 London 2017 medalists in all! And many of those stars will be supremely motivated as Birmingham represents the last chance to qualify for the Diamond League finals (and the hefty cash prizes on offer) in Zurich and Birmingham. Television and streaming information for the meet is listed below.
Article continues below player
---
How to watch:
In USA: U.S. fans, we've got great news for you. We've learned you can watch this meet and all of the 2017 Diamond League season live on TV without shelling out $69.99 for the NBC Sports Gold Track & Field Pass. NBC has told us that all 14 meets will air live on TV in the U.S., either on NBC, NBCSN or the Olympic Channel (formerly Universal HD).
This meet will air live in the United States on the Olympic Channel on Sunday from 10 a.m. to 12 p.m. ET. There will be an encore presentation from 9 p.m. to 11 p.m. ET on NBC Sports Network.
If you want to watch online, meets shown on NBC or NBCSN can be streamed live through NBC Sports' website or the NBC Sports app. The Olympic Channel can also be streamed on OlympicChannel.com or through the Olympic Channel app, but we don't think you can access the online stream unless your cable company gets the Olympic Channel. The only guaranteed way to watch live online coverage is to buy the NBC Sports Gold Track & Field Pass. The pass, which costs $69.99 for the entire year, provides access to every Diamond League meet, the World Outdoor Championships, major marathons and select other meets (full schedule here). With the pass, you can also watch full event replays online as well as extra live dedicated cameras for Diamond League meets (meaning you can watch field events in their entirety).
To buy the pass, click here.
In Canada: The CBC (Canadian Broadcasting Corporation) is broadcasting all 14 Diamond League events and live streaming them also.
In the UK: The meet will be shown live on BBC Two from 13:30 to 14:50 and on BBC One from 14:50 to 17:10.
Live Radio: If you are on a plane or don't have great broadband, you can listen to a free IAAF radio broadcast here (scroll down lower right).