Schedule, Entries & Results for 2017 Memorial Van Damme — Brussels Diamond League
by LetsRun.com
August 30, 2017

Though a few domestic meets remain, for all intents and purposes, the 2017 track season will come to an end on Friday as the Memorial Van Damme in Brussels hosts the second of two Diamond League finals. With $50,000 on offer for the winner of every event, the fields are stacked and the competition will be fierce. Television and streaming information for the meet is listed below.
Below you will find the meet schedule and entries. Once the meet begins, you can find live results here.
Article continues below player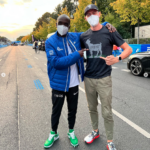 Kipchoge loves the 1:59:40 Shirt Get Yours Today
What a legend!
Schedule (all times U.S. Eastern)
Thursday, August 31
11:00 a.m. ET Shot Put Men Entries
Note: The men's shot put will be taking place outside of the stadium at the Place de la Monnaie on Thursday
Friday, September 1
11:38 a.m. ET High Jump Youth Memorial Boys Entries
11:41 100m Youth Memorial Girls Entries
11:47 100m Youth Memorial Boys Entries
11:54 400m Youth Memorial Girls Entries
12:01 p.m. ET 1000m Youth Memorial Girls Entries
12:07 1000m Youth Memorial Boys Entries
12:13 100m Wheelchair Boys/Girls Entries
12:21 4 x 100m Youth Memorial Girls Entries
12:28 4 x 100m Youth Memorial Boys Entries
12:30 Discus Throw Women Entries
12:34 100m AG Sprint Experience Women Entries
12:40 100m AG Sprint Experience Men Entries
12:45 Long Jump Women Entries
12:48 4 x 100m Magic Relay Girls Entries
12:55 4 x 100m Magic Relay Boys Entries
1:03 100m Street Girls Entries
1:09 100m Street Boys Entries
1:14 Pole Vault Women Entries
1:30 100m Blades Women Entries
1:37 1500m Men Entries
1:47 High Jump Women Entries
1:49 200m Wheelchair Men Entries
INTERNATIONAL TV BROADCAST BEGINS
2:03 p.m. ET 400m Hurdles Women Entries
2:11 100m Men Entries
2:18 5000m Women Entries
2:20 Discus Throw Men Entries
2:44 110m Hurdles Men Entries
2:46 Triple Jump Men Entries
2:52 400m Women Entries
3:00 3000m Steeplechase Men Entries
3:16 200m Men Entries
3:23 1500m Women Entries
3:35 800m Men Entries
3:45 100m Women Entries
3:53 400m Men Entries