Sanya Richards-Ross Explains Why She Went Public About Having An Abortion So She Could Win Gold At The 2008 Olympics
"The truth is it's an issue that isn't really talked about, especially in sports, and a lot of young women have experienced this. Like, I literally do not know another female track athlete who hasn't had an abortion and that's sad."
by LetsRun.com
June 7, 2017
Retired US track and field athlete Sanya Richards-Ross has published a memoir entitled Chasing Grace. In it, she admits to having had an abortion prior to the 2008 Olympic Games so she could seek Olympic gold (Richards-Ross ended up finishing third in the 400, but was on the gold-medal-winning 4×400 relay team. Richards-Ross won the only individual Olympic gold of her career in 2012).
Article continues below player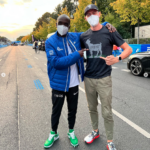 Kipchoge loves the 1:59:40 Shirt Get Yours Today
What a legend!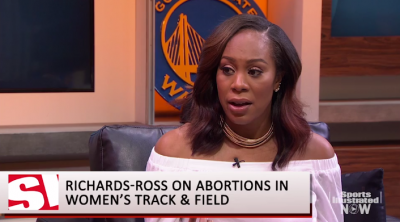 Yesterday, Richards-Ross was interviewed by Maggie Gray for SI Now on SI.com. Gray asked Richards-Ross why she decided to go public with the fact she had an abortion.
Richards-Ross replied, "The truth is it's an issue that isn't really talked about, especially in sports, and a lot of young women have experienced this. Like, I literally do not know another female track athlete who hasn't had an abortion and that's sad. For me, I'm hoping that this will open up some discussions to help especially young women who [are] in my situation not experience what I did."
To her credit, Gray followed up with a second question, "Why do you think it's so pervasive? You said you do not know another female track athlete who hasn't had an abortion."
Richards-Ross' response was as follows:
"I think [it's] because at that time in your life, when you're in college, you know you don't feel comfortable talking to your mom and so a lot of the information you get is from your peers – and it's going to sound silly to some people – but in our community people don't want to take the pill cause you put 'water-weight' on, and of course as an athlete, you want to be able to stay as fit and as healthy as possible. And then people tell you when you are extremely fit that you can't get pregnant because our cycles are shorter so there is a lot of mis-education that happens to young women in college because we are educating ourselves.  
"So I didn't know all of my options and I had been fortunate up until that point – my husband and I had been dating for five years, I was engaged to him – I had [had] no mishaps prior so I was just put in a really, really tough situation and for me it was so much more than the physical. I mean of course you can imagine after the procedure I wasn't even supposed to run – the doctors told me to take 14 days off. I didn't have 14 days, but it was more for me about the spiritual and emotional part of the experience that I wanted to share because it wasn't until even I started this journey that I uncovered some of the hurt that was still there and really try to forgive myself. I knew that God had forgiven me for it but really forgive myself for that choice and really move on. Now that I'm going to be a mother and now that God has blessed me again, I felt like I needed to kind of purge myself of that and help others do the same."
Talk about Richards-Ross on our messageboard/fan forum.
MB: Sanya Richards Ross: I literally do not know another female track athlete who hasn't had an abortion and that's sad
MB: Sanya Richards-Ross reveals having an abortion right before the 2008 Olys
You can watch Maggie Gray's interview with Richards-Ross below.

Editor's note: When initially published, this article said Richards-Ross had her abortion prior to the 2012 Olympics. That was incorrect. It was the 2008 Olympics.