ElliptiGO Mile WR Attempt At Tracktown Summer Series
Press Release
June 27, 2017
SAN DIEGO, CA – ElliptiGO elliptical bicycles will take to the Stanford University track for a special exhibition race as part of the Tracktown Summer Series, which will be held this Thursday, June 29. The event will feature elite track athletes racing the world's leading elliptical bicycles in what is widely considered the most recognizable and prestigious competition distance in track – the mile.
The presence of the ElliptiGO Mile at the Tracktown Summer Series is a natural one, according to Bryce Whiting, ElliptiGO Chief Enthusiast. "ElliptiGO is the top cross-training tool for countless elite, collegiate and high school runners, providing them with quality workouts without the pounding of running," Whiting said. "We couldn't think of a better way to celebrate our connection with the running community than to showcase our elliptical bikes at the high level Tracktown Summer Series meet."
Article continues below player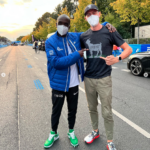 Kipchoge loves the 1:59:40 Shirt Get Yours Today
Shirts are $10 off if he breaks the world record and you order today.
Two men and two women will compete in the ElliptiGO Mile, looking not only to win but to break the existing ElliptiGO records, which stand at 2:37.25 for men and 2:54.85 for women.
The ElliptiGO Mile will take place between the Men's 3000 meters (7:30 p.m.) and Women's 800 meters (7:45 p.m.). The race can be watched live at https://www.facebook.com/tracktown/.
TrackTown Summer Series is a U.S. circuit of professional track and field meets which features scored competition between four teams representing the cities of New York, Portland, Philadelphia and San Francisco.
To learn more about ElliptiGO, visit http://www.elliptigo.com/, or follow them on Twitter @elliptigo and Facebook at https://www.facebook.com/elliptigo.
About ElliptiGO
ElliptiGO Inc. created the world's first elliptical bicycle to deliver a fun, comfortable and effective workout experience that inspires people and improves their lives. Combining the best of running, cycling and the elliptical trainer, ElliptiGO elliptical bikes deliver a strong cardiovascular workout that eliminates impact on joints and allows people to get out of the gym and enjoy the outdoors. Elliptical cycling is an effective way to build fitness without aggravating injuries, and it is great for everyone from the weekend warrior to the elite athlete. The full line of ElliptiGO bikes is distributed through specialty running, cycling and fitness retailers nationwide and through the ElliptiGO headquarters outside San Diego. http://www.elliptigo.com/