TrackTown Summer Series 2.0 To Have Allyson Felix, Bernard Lagat, Nick Symmonds and Sanya Richards-Ross as GMs, Plus Why Nick Symmonds' Final Season May Be a Short One
By Jonathan Gault
April 11, 2017
TrackTown USA announced on Tuesday that U.S. stars Allyson Felix, Bernard Lagat, Nick Symmonds and Sanya Richards-Ross will be the General Managers of the four teams in the 2017 TrackTown Summer Series.
TrackTown USA president Vin Lananna, TrackTown USA CEO Michael Reilly and all four GMs took part in a conference call with the media on Tuesday afternoon, where they discussed what's in store for the three-meet series, which runs from June 29 through July 6. We break down our five takeaways below.
Article continues below player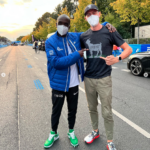 Kipchoge loves the 1:59:40 Shirt Get Yours Today
What a legend!
The TrackTown Summer Series debuted last year with one meet in Eugene, and has some big financial backers in NASDAQ chairman Bob Greifeld and venture capitalist Pitch Johnson, who want to create a domestic track league of sorts in the US that has a team concept and more fan-friendly features.
*Last year's coverage LRC 2016 TrackTown Summer Series: Colby Alexander (3:34.88) Wins a Fast 1500, Kate Grace (4:09.92) Keeps Rolling, Melissa Bishop Wins 800 (1:59.74) as Shannon Rowbury Finally Breaks 2:00
1. Details, details, details
The 2017 series will be a true series of three meets (last year's trial one was only one meet)– one at Stanford University on June 29, one at Mt. Hood Community College in Gresham, Ore. (just outside of Portland) on July 2 and a final at Icahn Stadium in New York on July 6. Because all three meets will be held in the span of eight days, Reilly said that most athletes who sign on will likely run one of the first two meets (not both) plus the final.
The teams will remain the same as last year (Portland, New York, Philadelphia and San Francisco) but the athletes on each team will change (though a select few athletes will be offered contract extensions to remain on their 2016 team). Each roster will consist of 18 men and 18 women.
The draft, which will be held on May 20, will be streamed live this year. Last year, the draft was conducted on Twitter.
The first two meets will be streamed online while the final will be carried live on ESPN.
The events will remain mostly the same (100, 800, 1500, steeple, 100/110 hurdles, LJ, TJ, HJ, SP, PV, mixed 4×400 relay). The men's and women's hammer throw are being added to the meets, and the four-mile road race is now a 5k.
Each team will be getting a new name, to be announced soon, instead of last year's "Team San Francisco," "Team New York," etc.
2. Nick Symmonds likely won't compete and isn't optimistic about his chances to qualify for Worlds in his final season as a pro
None of four GMs would commit to participating in the 2017 edition. Richards-Ross is retired. Lagat has retired from the track, and though he's still running road races, he's committed to running the Peachtree Road Race in Atlanta on July 4, which means he almost certainly won't be doubling back for the 5k in New York on July 6. Felix said she was unsure about competing as she's still finalizing her schedule, but it was Symmonds who offered the most interesting response.
"Knowing what kind of shape I'm in, I certainly wouldn't draft myself," Symmonds said. "I'm excited to get out back on the track, but I think that this farewell tour of mine will probably end before the Summer Series."
The Summer Series begins only four days after the U.S. outdoor championships, and when pressed to expand on his comments, Symmonds walked them back a bit. But it's clear that, at 33 years old and coming off an injury-plagued 2016 season that saw him race just twice, Symmonds is nearing the end of the line.
"I'm in good shape, I'm training hard at full mileage right now," Symmonds said. "And if my fitness returns the way it has in years past, I do plan on being on that World team. But we're 10 weeks out now from the U.S. championships and I'll have to do a lot of things in order to make that team…Right now I'd give myself a 50-50 chance.
"But because the draft is on May 20, I don't know that I'll have proven fitness enough to myself as a GM to select myself for a team. But if one of my other GMs would like to select an old dog for their team, I'd be happy to do it."
That's unlikely to happen, but he's got at least one fan behind him. Right after Symmonds said he gave himself a 50-50 shot, Lagat — a guy who knows a thing or two about making unlikely teams — jumped in, saying "You can do it!"
While Symmonds, Richards-Ross, Lagat and Felix are big names in U.S. track and field and it's great for the TrackTown Summer Series to have them on board, the fact that none of them would commit to racing in 2017 — and that none of them competed in the event last year, either — demonstrates one of the hurdles the series will have to overcome to be successful. It can be difficult getting athletes to commit to racing, especially this far in advance.
Allyson Felix is the biggest name in women's track and field in the United States. It would be a big boost for the series if she said she was competing and drafted herself #1.
3. The goal is to create a party-like atmosphere at the final in New York
The final will be held on July 6, a Thursday, at Icahn Stadium on Randall's Island, site of the old New York Diamond League meet (RIP). There will be a beer garden, and reserved seats near the finish line ($40) come with a complimentary drink. We're definitely on board with that idea.
4. The draft process is still a little murky, but Lananna is hoping for some continuity when it comes to team building
One of the criticisms of last year's draft was that it wasn't clear who was making the draft picks and who were the stakeholders for each team. That problem hasn't been entirely solved — Reilly said that draft picks will be made by a combination of the GMs, investors and TrackTown USA staff — but they've made progress. We now know the identities of two major investors, NASDAQ chairman Bob Greifeld and venture capitalist Pitch Johnson. And each team now has a public face in the form of their GM (Lagat for Portland, Symmonds for San Francisco, Richards-Ross for Philadelphia and Felix for New York). Plus the draft will be streamed live, which is definitely an improvement from last year. These teams are never going to resonate close to the level of teams in the other major sports, but adding GMs is a good first step.
Aside from the simple fact that track and field, in general, just isn't very popular, two of the biggest issues for the series last year were the lack of unified team jerseys and the fact that an athlete's connection to the team ceased as soon as the meet was over. Lananna is working to address both issues. He said that something is in the work to solve the jersey problem, and on paper it's an easy fix: have all NY athletes wear blue jerseys, and all SF athletes wear red but let them keep their shoe company's logo on the jersey. Getting the shoe companies to agree to that may be tricky, but Nike and adidas athletes wear the same colors on the Diamond League circuit all the time. Why not here?
As for the other problem, creating a meaningful connection between team and city, Lananna believes it starts with the athletes and the GMs.
"If this is going to be something that builds over time, I don't think we can establish the loyalty necessarily straight away," Lananna said. "But we do want to, and we have offered extensions to those who've been on these teams last year and I'm guessing that's going to grow as we go forward."
5. Can the TrackTown Summer Series actually make a difference?
That's what this boils down to. The World Championships are coming to Eugene in 2021 and Lananna is hoping to use the TrackTown Summer Series to boost support for the sport in the United States. It has a secondary benefit of offering a venue for American pros who either can't or won't travel to Europe to compete over the summer.
"This Summer Series and other domestic opportunities in the United States are essential," Lananna said. "We must build a fanbase for these athletes…I think the American public needs to see more of [our GMs] and our other great athletes coming off of a great Olympic Games.
"Yes, this is important for the sport of track and field and I will tell you that things like this Summer Series will enhance the possibility of not only the World Championships in 2021 being a success but being the greatest World Championships we've ever had."
When Lananna sets his mind to something, he usually achieves it, so there's no doubt he's the man for the job. But there were large swaths of empty seats for last year's event in Eugene — supposedly the mecca for track and field in the United States. Even with the new changes, will there be more support in Palo Alto, Portland and New York?
The addition of four big-name General Managers and having a compact three-meet series over eight days are steps in the right direction.