Television and Streaming Info for 2017 Müller Indoor Grand Prix in Birmingham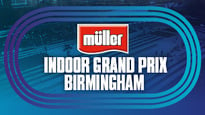 February 18, 2017
by LetsRun.com
February 16, 2017
The television and streaming info as well as a schedule for the 2017 Müller Indoor Grand Prix in Birmingham – the final IAAF World Indoor Tour event of 2017 – appears below. A lengthy full meet preview is here: 2017 Müller Birmingham Indoor Grand Prix Preview: Laura Muir Goes for UK 1K Record, Sifan Hassan vs. Hellen Obiri in 3K & the Return of Mo Farah Saturday morning cartoons can wait. You need to make sure you've got a few hours on Saturday to watch this meet (8:00 am ET US) as the end of 2017 IAAF World Indoor Tour is a dandy. The US records in the women's 1000 and 3000 very well could go down and yet we don't think Kate Grace or Shannon Rowbury will win their races.
What: 2017 Müller Indoor Grand Prix
Article continues below player
When: Saturday, February 18, 7:11 a.m. ET to 11:30 a.m. ET
Where: Barclaycard Arena, Birmingham, England
How to watch: Live in the US on beIN Sports Connect from 8:00 a.m. ET to 11:30 a.m. ET. Live in the UK on BBC One and the BBC website starting at 13:15 GMT.
Schedule (with links to start lists)