Ritz Is Running to Win, Abdi Is On the LRC Training Plan & 5 More Observations From Talking to the Top U.S. Men in New York
By LetsRun.com
November 3, 2016
NEW YORK — New York City Marathon week is in full swing, and today we met with all the top Americans in Central Park three days out from the big race. Dathan Ritzenhein, Ryan Vail, Tyler Pennel, Abdi Abdirahman, Matt Llano and Craig Leon were all on hand, as was 2009 NYC champ Meb Keflezighi, who is serving as one of the race's Grand Marshals this year. Ritz, in particular, was very candid about the changes he's made to his training and his deep desire to win the marathon on Sunday. We share what we learned below (our highlights from the women's media availability is here).
Ritz wants to win desperately and has made some big changes to accomplish that goal
Article continues below player
Ritzenhein was not shy about his goal on Sunday.
"I want to put myself in position to win. If I'm on the podium, I would be happy, but really I want to have a chance to win. I think getting on the podium might be a little bit easier this year than past years because it's not as deep but winning's not going to be any easier because there's still three, four guys who if they were here any other year they would be favored."
Ritz has run New York twice in the past, but each time he struggled to close out the race over the final 10k, finishing 11th in 2006 and 8th in 2010. This time around, Ritz has changed up a lot. He's not hitting the same peak mileage he was earlier in his career and he's only running six days a week, with a lot of strength work in the gym to stay healthy.
The biggest difference has been the type of workouts Ritz has done. He knows that an unrabbitted race like New York often comes down to a dramatic late-race move where the leaders go from running 5:00's or 5:10's to 4:30's or 4:40's. He's done everything he can to prepare himself for that. That means few long, steady runs and lots of workouts in which he's changing speeds and throwing in hard surges.
"That's one thing that I've done very differently than in the past," Ritzenhein said. "It's served me well. It's less of a fuel issue in the half marathon, but at the Great North Run I felt like every time there was a hill, every time the pace picked up, I was able to come back out of it and feel okay and feel fresh at the end. Even at the end I was tired, it was a hard race, but I felt like I was recovering very quickly."
In the end, that may not be enough to overcome someone like Stanley Biwott (2:03 marathoner), Ghirmay Ghebreslassie (world champ) or Lelisa Desisa (two-time Boston champ). But if Ritz comes up short this time, it won't be for lack of trying.
A new, more patient Ryan Vail is feeling fresh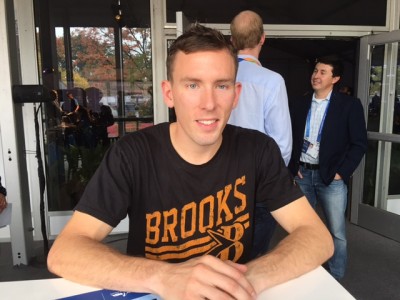 After three stress-related injuries in the past two years, Vail, who was the top American here in 2013 and 9th overall in 2014, has been super cautious during this buildup. He's been aqua jogging during minor injuries that he may have run through in the past and has also worked on his strength in the gym to make his body more durable.
His new approach has caused Vail to back off in terms of mileage, from 130-140 down to 100-110, but he believes he'll be okay on race day.
"That's the one piece I'm missing in my mind is having that volume, but because the workouts have gone so well, I'm not that worried about it. And I have 12-plus years of high volume under my belt so I'm really counting on that coming through to help me out."
Plus, Vail said that the sort of small things that usual cause him minor annoyances during the week of a marathon — tightness, fatigue — are absent this time around, which he hopes will help on Sunday.
Vail's goals for New York are simple. "My workouts have gone as good as they have every gone so I'm not going to well myself short. I'd like to my best New York yet. I've been 9th in the past (2015). I'd like to be the top American [as well]. Anything can happen in New York."
Vail had an interesting response when we asked him if he'd be talking to other Americans about making sure they run together on Sunday. "I've never had a pacing conversion in New York. I do think there is sort of an American team atmosphere for at least 30k but it's sort of an unspoken Team USA bond out there. [The] 2014 [race] was a huge fartlek so I'm pretty much ready for anything," said Vail.
37-year-old Abdi Abdirahman, who is now following the (unofficial) LetsRun.com training plan, isn't content to run for top American honors
You'd never know from talking to 37-year-old Abdi Abdirahman today that he hasn't finished a marathon since 2014 Boston as Abdirahman was full of confidence.
"Training has been going well. It's been a great buildup," said Abdirahman who added that the key thing is he's had zero injury setbacks.
"I've had one of my best buildups for a marathon for this race – I think. Everything was perfect and I've been healthy for the full year. I think I have struggled the past three or four years with a [brief] injury [popping up] here or there. I was healthy but not 100%. I think this was the perfect buildup for me."
Abdirahman credited his lack of any injuries during the buildup to following the unofficial LetsRun.com training mantra – he's been running his easy days very easy.
"We kind of changed my recovery days. My hard days have become much harder [and my easier days easier]. It used to be I'd run under six minutes on everything. This time I do [my easy days] at 7 or 7:30 [pace]. Instead of doing 10 miles in 58:00, now I do 70 or 80 minutes for 10 or 11 miles," said Abdirahman.
Abdirahman, who had to pull out of the US Olympic Marathon Trials with an injury a few weeks before he was to seek an unprecedented fifth US Olympic team, said a lack of rest before the Trials cost him.
"I think I had too much motivation for the Trials. I never backed off. I was all in. And it cost me [as I got hurt]," said Abdi, who added he was disappointed for a few days but able to move on quickly as he realized he was fortunate to be on four Olympic teams when many runners never even make one.
When asked what his goal for NYC was, Abdi said, "The goal is to compete and be competitive and give yourself a chance."
We asked him, "A chance for what?" and he replied, "My goal is not to be the top American. I want to be competitive with everyone. I want to be first. As an athlete, you compete to be first!"
Abdi was asked if he'd changed his diet or added in any supplements to his training to compensate for his age. He said he has not. He said he takes zero supplements except for Gatorade.
Tyler Pennel will be more patient in marathon #3
Pennel broke open the Olympic Trials in February with his big move at 15 miles. Eight months later, he doesn't regret the move, as he said he felt great while making it. What he does regret is continuing to push during mile 17 (where he dropped a 4:50 after a 4:56 16th mile), but it's hard to fault a guy who makes a ballsy move like that in the biggest race of his life, especially when it almost worked. Who's to say Pennel would have fared any better by playing it safe?
In New York, however, Pennel said he's under strict instructions not to do make any big moves until later in the race. If the pace is relaxed, he'll stay up front, if it's fast, he'll hang back. But he won't be trying to break anyone until after 20 miles.
Matt Llano thinks he's in his best shape ever even though he wasn't good at the US 20k champs (20th place) and a key marathon workout didn't go well
Llano, who was 6th at the Olympic Trials this year and has a 2:12:28 pb, said he's learned not to judge a marathon buildup by the success or failure of a single workout.
"Llano try to think of each cycle as a whole and also think of the body of work I've done over the last few years," said Llano.
Llano added that it didn't take long for him to get over that bad workout. After a quick talk with his coach Ben Rosario of the Hoka One One NAZ Elite, Llano says he "got in the car, drove home and had my smoothie and was over it.
"Anytime you are coming off an injury or a layoff, you are going to have some good ones and bad ones. You're going to have some rust busters in there. I feel like I'm in the best shape I've ever been in – better than when I ran 2:12 and better than what I did at the Trials," said Llano, who had a double sports hernia after the 2016 US Olympic Marathon Trials.  "This is probably the most relaxed I"ve ever been going into the marathon but also the most confident. I think those two go together."
Fast Teammate
Did you know that Matt Llano and 2016 Olympic 1500 gold medallist Matthew Centrowitz were high school teammates? Llano was a year older than Centro. The duo initially played on the high school soccer team together but Llano said they weren't "jibing" with the coach and both decided to switch over to cross country during Llano's junior year and see if they were any good. The team proceeded to win the Maryland state championship that fall.
As for who was the better soccer player, Llano admitted that it was the same answer as in running – Centrowitz. He said Centrowitz, who played midfield or forward as he was really fast and would just run up and back, was called up to the varsity at the end of this freshman year whereas Llano (a fullback) didn't get called up until the end of the next year.
Llano, who bumped into Centrowitz this morning while running in Central Park, said it was inspiring to watch Centrowitz win gold this summer.
"It was really encouraging to the rest of us (Americans) that are trying to do it the right way," said Llano.
Craig Leon, who was 8th in New York last year, focuses on his strengths during a marathon buildup
Leon, who is MBA program manager for the Warsaw Sports Marketing Center at the University of Oregon, said his training for New York has gone much better this year than last.
"My training has been better than it was last year. I did not have a good block leading up to the race last year in terms of mileage. [This year], I feel I've hit all of the key workouts I wanted to hit," said Leon, who added that his training has been a bit of a "whirlwind" as he's had to train in a lot of different US and Asian cities due to his job. Training in Beijing and Shanghai is the most problematic for him he says they aren't very runner-friendly cities.
Leon says he's been focusing on his long runs and he's been doing a 20-miler every week since August. "My strength is my strength. I try to play to my strengths," said Leon who added he used to work on improving his speed but found that was a lost cause. Leon said a key workout for him is after a 10-mile warmup, he runs 10k at marathon pace, then takes a mile easy before running 2 miles at marathon pace or faster before taking a mile easy, before finishing with a hard mile.
"The goal is to try to get your body used to running fast while tired," said Leon.
During this buildup, after not being able to get in a long run in Singapore where it was over 85 degrees all the time, Leon ran and won a marathon in Oregon in September in 2:23:14. Leon said it just replaced a long run and he was back to doing more workouts on Wednesday of that week.
In terms of a goal for Sunday, Leon is focused on racing. "You can throw time out the window – just to compete (is the goal). A key part of that is going to be me running my own race. If I learned anything at the Trials it's to be careful that first 5 or 10k. I put myself in a hole very early in that race and honestly I know better than to do that. I knew how hot it was," said Leon of the Trials where he finished a disappointing 29th. " If I could do it over agian, I definitely would have laid off the pace. I want to be careful on the bridge in New York," said Leon, who added his main goal is to be competitive amongst the Americans.
Meb Keflezighi talks about throwing up
Meb is here as a spectator this weekend, serving as one of the race's Grand Marshals. We talked briefly about New York, but also about the stomach issues he's battled in Boston last year (when he stopped to throw up several times in the late stages of the race) and at the Olympics (when he did the same thing just after halfway). Meb doesn't know what the problem is, but he's trying to figure it out before he runs his final two marathons next year (we expect them to be Boston and New York).