Women's Heptathlon Preview: Will Jessica Ennis-Hill Win Another Gold? Or Will Brianne Theisen-Eaton Join Ashton As A Gold Medallist? Or Will The Future Of The Sport Arrive?
by LetsRun.com
August 10, 2016
The women's heptathlon will take place over the first two days of the track and field action at the Rio Olympics. The favorite is without a doubt 30-year-old Jessica Ennis-Hill of Great Britain. The reigning Olympic champ hasn't lost a heptathlon at a global championships since 2011 when she lost to a Russian drug cheat and there are no Russians in the event this year due to the doping scandal in their country. Moreover, after giving birth in July of 2014, she was able to pull down gold in Beijing last year. With a full additional year of training behind her, she should be hard to beat.
Ennis-Hill has already scored 6765 this year in a multi, which is more than the 6669 it took to win in Beijing. However, don't hand her the gold medal quite yet. In 2012, Ennis-Hill was at another level as she twice scored 6900+ (6906 before the Olympics and 6955 at the Olympics). A similar bump up this year of, say, 50 points from her early season mark would put Ennis-Hill in the 6800-point range. Canada's Brianne Theisen-Eaton, the silver medallist at Worlds last year, is certainly capable of that as she scored 6808 last year. She's most known for being the wife of world record holder in the decathlon Ashton Eaton, but she could get an Olympic gold of her own. After all, Theisen-Eaton did win World Indoors in the pentathlon this year (though Ennis-Hill was absent).
Article continues below player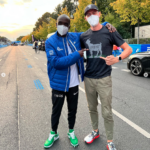 Kipchoge loves the 1:59:40 Shirt Get Yours Today
What a legend!
Britain's Katarina Johnson-Thompson, just 23, has been viewed as the future of the event for some time now. After making the Olympics in 2012 at age 19, Ennis-Hill said she expected Johnson-Thompson to ultimately be better than her. Two years ago, Johnson-Thompson scored 6682 as a 21-year-old. A world-class jumper (silver at World Indoors in 2014), she has yet to live up to that potential in the multi as she hasn't scored more than 6304 since 2014. Speaking of 6304, that's basically what 21-year-old Kansas State multi-athlete Akela Jones (Barbados) scored earlier in the year (6307). In many ways, she's a younger version of Johnson-Thompsons, young and full of potential and an incredible jumper (world junior champ in the LJ in 2014, NCAA champ in HJ) but has often struggled to put it all together in the multi. Jones' best bet for a medal is clearly in the high jump for 2016.
A safer bet for the bronze medal is Latvia's Laura Ikauneice-Admidina, 24, who snagged the bronze last year with a 6516 score and has already improved on that to 6622. The other bronze medal candidate is 23-year-old Anouk Vetter of the Netherlands, who snagged European gold at 6626.
Event Time and Date:
Day 1 – Friday August 12
Day 2 – Saturday August 13
2016 World Top 10
1 6765 Brianne Theisen-Eaton CAN
2 6733 Jessica Ennis-Hill GBR
3 6626 Anouk Vetter NED
4 6622 Laura Ikauniece-Admidiņa LAT
5 6557 Carolin Schäfer GER
6 6494 Barbara Nwaba USA
7 6491 Nafissatou Thiam BEL
8 6458 Antoinette Nana Djimou FRA
9 6423 Heather Miller Koch USA
10 6408 Ivona Dadic AUT
2015 Worlds Top 5
1. Jessica Ennis-Hill  Great Britain (GBR) 6669 SB
2. Brianne Theisen-Eaton  Canada (CAN) 6554
3. Laura Ikauniece-Admidiņa  Latvia (LAT) 6516 NR
4. Nadine Broersen  Netherlands (NED) 6491
5. Claudia Rath  Germany (GER) 6441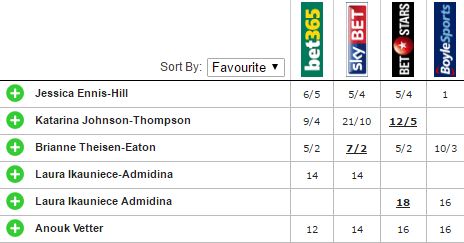 | | |
| --- | --- |
| 1. Jessica Ennis-Hill (Great Britain) | 6955 ('12) |
| 2. Brianne Theisen-Eaton (Canada) | 6808 ('15) |
| 3. Laura Ikauneice-Admidina (Latvia) | 6622 ('16) |
LRC Picks: It would be foolish to bet against Ennis-Hill.
So we'll go Ennis-Hill, Theisen-Eaton, and then for bronze we'll take a proven commodity, Vetter, versus the next big thing in Johnson-Thompson. If you look at the UK bookies, however, above, they are very high on Johnson-Thompson. The votes from the LetsRun.com prediction contest (sign up now, it's free to play) are as follows:
Who will win the
Women's Heptathlon?
Brianne Theisen-Eaton  1405 (315)
Jessica Ennis-Hill 1320 (236)
Laura Ikauniece-Admidina 265 (0)
Anouk Vetter 177 (0)
Katarina Johnson-Thompson 99 (6)
Carolin Schafer 43 (1)
Barbara Nwaba 35 (0)
Other10 (2)
Nafissatou Thiam 2 (0)
Claudia Rath0 (0)
Nadine Broersen0 (0)
If you want more info, check out the IAAF preview of the women's heptathlon  here.