Schedule, Entries & Results for 2016 Meeting de Paris — Paris Diamond League
By LetsRun.com
August 25, 2016

Just two days after the Athletissima meet in Lausanne, the 2016 IAAF Diamond League season rolls on to Paris on Saturday for the final regular-season meet before the Diamond League finals in Zurich and Brussels. Below, you will find the complete schedule with links to entries. Once the meet begins, live results can be found here.
Article continues below player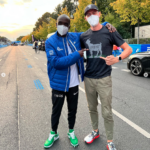 Kipchoge loves the 1:59:40 Shirt Get Yours Today
What a legend!
Schedule and entries
ALL TIMES U.S. EASTERN
11:35 a.m. ET 100m Regional Men
11:45 100m Regional Women
11:57 200m Regional Men
12:10 p.m. 200m Masters Women 
Entries

12:22 800m Regional Men
12:33 800m Masters Men 
Entries

12:40 800m Regional Women
12:45 400m Regional Men
12:50 Shot Put Men 
Entries

12:55 400m Regional Women
1:02 200m Regional Women
1:12 LIFA Relay Women
1:20 Triple Jump Men 
Entries

1:22 LIFA Relay Men
1:25 Discus Women 
Entries

1:55 Pole Vault Men 
Entries

TV WINDOW BEGINS
2:04 400m Hurdles Men 
Entries

2:15 High Jump Women 
Entries

2:17 400m Women 
Entries

2:25 800m Men 
Entries

2:40 3000m Steeplechase Women 
Entries

2:45 Long Jump Women 
Entries

2:50 Javelin Men 
Entries

2:55 200m Women 
Entries

3:05 1500m Women 
Entries

3:20 100m Hurdles Women 
Entries

3:40 3000m Men 
Entries

3:51 100m Men 
Entries