Full Results for 2016 Athletissima — Lausanne Diamond League
By LetsRun.com
August 24, 2016

After a one-month break for the 2016 Olympics, the IAAF Diamond League series resumed in Lausanne, Switzerland, on Thursday. Below, you will find the complete results. Below the results is the meet schedule. For full field series, go here.
Article continues below player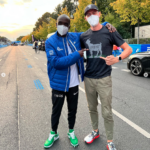 Kipchoge loves the 1:59:40 Shirt Get Yours Today
What a legend!
25/08/2016

Athletissima
Lausanne (Pontaise), 25/08/2016


Men's results

100 Metres - Men Race 1                                       Wind: +0.3 m/s

    1 Wilson , Alex                    SUI      10.41                   
    1 Wilson , Alex                    SUI      10.41                   
    2 Mancini , Pascal                 SUI      10.49
    3 Chuard , Sylvain                 SUI      10.61
    4 Clivaz , Florian                 SUI      10.63
    5 di Nocera , Kevin                SUI      10.90
    6 Hoxha , Hamid                    SUI      11.05
    7 Biya , Jarod                     SUI      11.06
    8 Ngom , Jordan                    CMR      11.20

100 Metres - Men Race 2                                       Wind: +0.5 m/s
                                                            Pts
    1 Powell , Asafa                   JAM       9.96         10        
    2 Meité , Ben Youssef              CIV      10.01          6        
    3 Fearon , Joel                    GBR      10.05          4        
    4 Martina , Churandy               NED      10.15          3        
    5 Collins , Kim                    SKN      10.24          2        
    6 Bockarie , Solomon               NED      10.30          1        
    7 Wilson , Alex                    SUI      10.41                   
    7 Wilson , Alex                    SUI      10.41                   
    8 Aikines-Aryeetey , Harry         GBR      10.43

200 Metres - Men                                              Wind: +0.4 m/s
                                                            Pts
    1 Martina , Churandy               NED      19.81         10        
    2 Edward , Alonso                  PAN      19.92          6        
    3 Forte , Julian                   JAM      20.16          4        
    4 Tsákonas , Likoúrgos-Stéfanos    GRE      20.21          3        
    5 Prescod , Reece                  GBR      20.38          2        
    6 Bockarie , Solomon               NED      20.42          1        
    7 Ellington , James                GBR      21.34                   
      Brown , Aaron                    CAN        DNS                   

400 Metres - Men Race 1                                       

    1 Gregan , Brian                   IRL      46.56                   
    2 Lutz , Silvan                    SUI      47.18
    3 Angelella , Daniele              SUI      47.80
    4 Brand , Dany                     SUI      48.12
    5 Barth , Matthias                 SUI      48.42
    6 Devantay , Charles               SUI      48.49
    7 Bellon , Jérôme                  SUI      48.69
    8 Wäspi , Claudio                  SUI      49.16

400 Metres - Men Race 2                                       
                                                            Pts
    1 Merritt , LaShawn                USA      44.50         10        
    2 Gardiner , Steven                BAH      44.75          6        
    3 Bonevacia , Liemarvin            NED      45.26          4        
    4 Maslák , Pavel                   CZE      45.35          3        
    5 Rooney , Martyn                  GBR      45.46          2        
    6 Makwala , Isaac                  BOT      45.62          1        
    7 Anne , Mame-Ibra                 FRA      45.69                   
    8 Burgunder , Joel                 SUI      47.35

1000 Metres - Men                                             
                                                            Pts
    1 Souleiman , Ayanleh              DJI    2:13.49         10        
    2 Biwott , Robert Kiptoo           KEN    2:13.89          6        
    3 Kitilit , Jonathan Kiprotich     KEN    2:13.95          4        
    4 Kiprop , Asbel                   KEN    2:14.23          3        
    5 Lewandowski , Marcin             POL    2:14.30          2        
    6 Centrowitz , Matthew             USA    2:16.67          1        
    7 Kipkoech , Nicholas Kiplangat    KEN    2:16.68                   
    8 Ingebrigtsen , Filip             NOR    2:16.95                   
    9 Rogestedt , Johan                SWE    2:17.88
   10 Soet , Gilbert Kwemoi            KEN    2:18.63
   11 Hochstrasser , Jan               SUI    2:18.66
   12 Kiplagat , Silas                 KEN    2:19.80
      Rimmer , Michael                 GBR        DNF                   
      Rotich , Andrew Kiptoo           KEN        DNF                   
      Melly , Edwin Kiplagat           KEN        DNF                   

3000 Metres Steeplechase - Men                                
                                                            Pts
    1 Kibiwott , Abraham               KEN    8:09.58         10        
    2 Bett , Nicholas Kiptonui         KEN    8:10.07          6        
    3 Mutai , Abel Kiprop              KEN    8:17.88          4        
    4 Birech , Jairus Kipchoge         KEN    8:19.48          3        
    5 Kipruto , Brimin Kiprop          KEN    8:20.46          2        
    6 Cabral , Donald                  USA    8:20.77          1        
    7 Kirui , Amos                     KEN    8:22.59                   
    8 Bayer , Andrew                   USA    8:23.88                   
    9 Koech , John Kibet               BRN    8:26.76                   
   10 Koech , Paul Kipsiele            KEN    8:32.91                   
   11 Sima , Tesfaye                   ETH    8:33.26                   
   12 Kipyego , Barnabas               KEN    8:45.54                   
   13 Haileselassie , Yemane           ERI    8:45.97
      Kemboi , Clement Kimutai         KEN        DNF                   
      Kipsang , Lawrence Kemboi        KEN        DNF                   
      Huling , Daniel                  USA        DNS                   

110 Metres Hurdles - Men                                      Wind: +0.5 m/s
                                                            Pts
    1 Ortega , Orlando                 ESP      13.11         10        
    2 McLeod , Omar                    JAM      13.12          6        
    3 Bascou , Dimitri                 FRA      13.25          4        
    4 Belocian , Wilhem                FRA      13.25          3        
    5 Baji , Balázs                    HUN      13.34          2        
    6 Martinot-Lagarde , Pascal        FRA      13.37          1        
    7 Oliver , David                   USA      13.40                   
    8 Douvalídis , Konstadínos         GRE      13.69                   

400 Metres Hurdles - Men                                      

    1 Mägi , Rasmus                    EST      48.59                   
    2 Bett , Nicholas Kiplagat         KEN      48.68                   
    3 Fernández , Sergio               ESP      49.22                   
    4 Mörö , Oskari                    FIN      49.81                   
    5 Cray , Eric                      PHI      49.88                   
    6 Mfomkpa , Alain-Hervé            SUI      51.58                   
    7 Tumuti , Boniface Mucheru        KEN    1:08.05                   

High Jump - Men                                               
                                                            Pts
    1 Barshim , Mutaz Essa             QAT       2.35         10        
    2 Grabarz , Robert                 GBR       2.32          6        
    3 Kynard , Erik                    USA       2.32          4        
    4 Bondarenko , Bohdan              UKR       2.32          3        
    5 Protsenko , Andriy               UKR       2.29          2        
    6 Seliverstau , Pavel              BLR       2.25          1        
    6 Thomas , Donald                  BAH       2.25                   
    8 Baniótis , Konstadínos           GRE       2.20                   
    9 Bednarek , Sylwester             POL       2.20
      Tobe , Naoto                     JPN         NM                   
      Gasch , Loïc                     SUI         NM                   

Pole Vault - Men                                              
                                                            Pts
    1 Kendricks , Sam                  USA       5.92         10        
    2 Lisek , Piotr                    POL       5.72          4        
    2 Lavillenie , Renaud              FRA       5.72          6        
    4 Barber , Shawnacy                CAN       5.62          3        
    5 Sobera , Robert                  POL       5.62          2        
    6 Joseph , Stanley                 FRA       5.47          1        
    7 Wojciechowski , Pawel            POL       5.47                   
    8 Filippídis , Konstadínos         GRE       5.47
    8 Scherbarth , Tobias              GER       5.47                   
      Dilla , Karsten                  GER         NM                   

Discus Throw - Men                                            
                                                            Pts
    1 Milanov , Philip                 BEL      65.61         10        
    2 Weisshaidinger , Lukas           AUT      64.84          6        
    3 Kövágó , Zoltán                  HUN      64.52          4        
    4 Harting , Robert                 GER      63.12          3        
    5 Urbanek , Robert                 POL      62.83          2        
    6 Malachowski , Piotr              POL      62.46          1        
    7 Kanter , Gerd                    EST      62.03                   
    8 Kupper , Martin                  EST      61.93                   
    9 Jasinski , Daniel                GER      60.79
   10 Brown , Rodney                   USA      58.77


Women's results

100 Metres - Women Race 2                                     Wind: +0.2 m/s

    1 Halbheer , Cornelia              SUI      11.74
    2 Ptak , Ewelina                   POL      11.81
    3 Lavanchy , Marisa                SUI      11.99
    4 Dagry , Samantha                 SUI      11.99
    5 Hermet , Laetitia                SUI      12.03
    6 Keller , Charlène                SUI      12.14
    7 Humair , Fanette                 SUI      12.36
    8 Kambundji , Muswama              SUI      12.51

100 Metres - Women Race 3                                     Wind: +0.8 m/s
                                                            Pts
    1 Thompson , Elaine                JAM      10.78         10        
    2 Prandini , Jenna                 USA      11.11          6        
    3 Akinosun , Morolake              USA      11.16          4        
    4 Henry , Desiree                  GBR      11.17          3        
    5 Ta Lou , Marie-Josée             CIV      11.25          2        
    6 Campbell-Brown , Veronica        JAM      11.27          1        
    7 Kambundji , Mujinga              SUI      11.44                   
    8 Williams , Christania            JAM      11.48                   

100 Metres - Women Race 1                                     Wind: +0.1 m/s

    1 Del Ponte , Ajla                 SUI      11.58
    2 Kielbasinska , Anna              POL      11.60
    3 Kora , Salomé                    SUI      11.75
    4 Atcho , Sarah                    SUI      11.76
    5 Sokólska , Katarzyna             POL      12.35
      Ryemyen , Mariya                 UKR        DNS                   
      Povkh , Olesya                   UKR        DNS                   
      Bryzgina , Yelyzaveta            UKR        DNS                   

800 Metres - Women Race 1                                     

    1 Hoffmann , Lore                  FRA    2:08.40
    2 Andenmatten , Sonja              SUI    2:08.73
    3 Kurmann , Lisa                   SUI    2:09.14
    4 Märzendorfer , Pamela            AUT    2:09.32
    5 Vancardo , Veronica              SUI    2:10.44
    6 Kierdorf , Fiona                 GER    2:12.84
    7 Bonvin , Sabine                  SUI    2:13.27
    8 Bühlman , Danja                  SUI    2:14.53
    9 Stöckli , Lisa                   SUI    2:17.54
   10 Löhrer , Sandra                  SUI    2:19.45
   11 Fink , Andrea                    SUI    2:19.59
   12 Rosat , Pauline                  SUI    2:19.81
   13 Rusch , Camille                  SUI    2:24.21
      Overney , Gaelle                 SUI        DNF                   
      Bosshard , Alexandra             SUI        DNS                   

800 Metres - Women Race 2                                     
                                                            Pts
    1 Niyonsaba , Francine             BDI    1:57.71         10        
    2 Sum , Eunice Jepkoech            KEN    1:58.41          6        
    3 Sharp , Lynsey                   GBR    1:58.52          4        
    4 Bishop , Melissa                 CAN    1:58.71          3        
    5 Büchel , Selina                  SUI    1:58.77          2        
    6 Alemu , Habitam                  ETH    2:00.46          1        
    7 Pryshchepa , Nataliia            UKR    2:00.59                   
    8 Chebet , Winny                   KEN    2:02.21                   
      Jepkosgei , Nelly                KEN        DNF                   

3000 Metres - Women                                           
                                                            Pts
    1 Dibaba , Genzebe                 ETH    8:31.84         10        
    2 Obiri , Hellen Onsando           KEN    8:33.96          6        
    3 Cherono , Mercy                  KEN    8:34.49          4        
    4 Kipkemboi , Margaret Chelimo     KEN    8:37.54          3        
    5 Kisa , Janet                     KEN    8:43.34          2        
    6 Tirop , Agnes Jebet              KEN    8:50.74          1        
    7 Tesfay , Haftamnesh              ETH    9:11.29                   
    8 Efraimson , Alexa                USA    9:11.48                   
      Kuria , Mary Wangari             KEN        DNF                   
      Wafula , Lydia Nasimiyu          KEN        DNF                   
      Degefa , Beyenu                  ETH        DNS                   
      Dida , Dera                      ETH        DNS                   
      Teferi , Senbere                 ETH        DNS                   

100 Metres Hurdles - Women                                    Wind: +0.7 m/s

    1 Harrison , Kendra                USA      12.42                   
    2 Harper Nelson , Dawn             USA      12.71                   
    3 Stowers , Jasmin                 USA      12.75                   
    4 Ofili , Cindy                    GBR      12.80                   
    5 Nelvis , Sharika                 USA      12.88                   
    6 Reuse-Rard , Clélia              SUI      13.00                   
    7 Simmonds , Megan                 JAM      13.15                   

400 Metres Hurdles - Women                                    
                                                            Pts
    1 Muhammad , Dalilah               USA      53.78         10        
    2 Doyle , Eilidh                   GBR      54.45          6        
    3 Petersen , Sara Slott            DEN      54.98          4        
    4 Tate , Cassandra                 USA      55.14          3        
    5 Little , Shamier                 USA      55.20          2        
    6 Spencer , Ashley                 USA      55.86          1        
    7 Titimets , Anna                  UKR      55.99                   
    8 Sprunger , Léa                   SUI      56.05                   

Long Jump - Women                                             
                                                            Pts               Wind
    1 Španovic , Ivana                 SRB       6.83         10              +1.2
    2 Ugen , Lorraine                  GBR       6.71          6              +1.1
    3 Klishina , Darya                 RUS       6.50          4              +1.1
    4 Proctor , Shara                  GBR       6.48          3              +0.8
    5 Bartoletta , Tianna              USA       6.46          2              +0.8
    6 Okagbare , Blessing              NGR       6.11          1              +0.9
      Jones , Akela                    BAR        DNS                   
      Nettey , Christabel              CAN        DNS                   

Triple Jump - Women                                           
                                                            Pts               Wind
    1 Ibargüen , Caterine              COL      14.76         10              +0.5
    2 Rypakova , Olga                  KAZ      14.53          6              +1.0
    3 Papahrístou , Paraskeví          GRE      14.18          4              +0.3
    4 Mamona , Patrícia                POR      14.05          3              +0.8
    5 Saladukha , Olga                 UKR      13.95          2              +0.5
    6 Williams , Kimberly              JAM      13.75          1              +0.7
    7 Tsykhotska , Ruslana             UKR      13.54                         +0.6
      Elbe , Jenny                     GER        DNS                   

Shot Put - Women                                              
                                                            Pts
    1 Adams , Valerie                  NZL      19.94         10        
    2 Carter , Michelle                USA      19.49          6        
    3 Schwanitz , Christina            GER      19.33          4        
    4 Smith , Brittany                 USA      18.94          3        
    5 Márton , Anita                   HUN      18.60          2        
    6 Dubitskaya , Aliona              BLR      17.81          1        
    7 Johnson , Felisha                USA      17.54                   

Javelin Throw - Women                                         
                                                            Pts
    1 Palameika , Madara               LAT      65.29         10        
    2 Špotáková , Barbora              CZE      64.48          6        
    3 Khaladovich , Tatsiana           BLR      64.15          4        
    4 Mitchell , Kathryn               AUS      62.85          3        
    5 Viljoen , Sunette                RSA      62.47          2        
    6 Laasma , Liina                   EST      60.91          1        
    7 Obergföll , Christina            GER      53.97                   
    8 Andrejczyk , Maria               POL      53.49                   

4x100 Metres Relay - Women                                    

    1 Ukraine                          UKR      42.67                   
    2 Switzerland                      SUI      43.64                   
    3 Poland                           POL      44.12                   
    4 Mixed Team                       UND      44.88                   
    5 Switzerland "B"                  SUI      45.05
ALL TIMES U.S. EASTERN

12:00 p.m. ET

Discus Throw Men

12:00

800m Women

B Race

12:10

800m Men

B Race

12:20

100m Women

Finals

B Race Heat 1

12:30

100m Women

Finals

B Race Heat 2

12:40

400m Men

B Race

12:50

100m Men

B Race

13:00

1500m Women

U18 Swiss Athletics Cross-Cup

13:05

Javelin Throw Women

13:10

1500m Men

U18 Swiss Athletics Cross-Cup

13:15

Shot Put Women

13:20

5x80m Relay

U14 Mixed

13:38

1500m Wheelchair Men

SUVA

13:40

Triple Jump Women

13:46

4x100m Relay Women

UBS Trophy

13:54

1500m Women

U20

14:03

400m Hurdles Men

UBS Trophy

14:05

Pole Vault Men

14:12

3000m Women

14:20

High Jump Men

14:26

100m Men

14:35

800m Women

14:44

100m Hurdles Women

14:53

400m Men

15:00

Long Jump Women

15:02

3000m Steeplechase Men

15:16

100m Women

15:25

400m Hurdles Women

15:34

110m Hurdles Men

15:43

1000m Men

15:52

200m Men