Two Aspiring Coaches Triumphed in Our Running Warehouse USA Indoors Prediction Contest
Two collegiate runners who want to coach came out on top in our USA Indoors Prediction contest.
Join Our Supporters Club To Keep Reading
Sign up today to get a free 12-week training program and t-shirt.
by LetsRun.com
April 12, 2016
One of the best things about LetsRun.com are our prediction contests. Sure they make the sport a little more interesting to follow, but we personally like them because they show us the interesting people who come to our site.
Our $20,016 USA Indoors Running Warehouse Contest winners didn't get any recognition on LetsRun last month as the World Champs were the week after USA Indoors.
Article continues below player
So we're honoring them this week. Getting the most attention is the guy who finished in 4th place via a tiebreaker, Dillon Gracey. Dillon is the husband of the top American hopeful at next week's Boston Marathon, Neely Spence Gracey and gets his own Q&A here.
Evan Darm won the USA Indoors prediction contest and receives a $100 Running Warehouse gift certificate and the Brooks shoe of his choice. He chose the Brooks Pure Cadence.
Evan's a 5th-year senior long distance runner for Campbell University in North Carolina pursuing a Master's of Education in grad school. Evan grew up in Ottawa, Illinois, which is southwest of Chicago. Evan says, "My career aspiration is to coach at the collegiate level. I got into running because I loved pushing myself and seeing the results of hard work. In regards to picking strategies, I always go with my gut. It helps to be an avid track fan. I check LetsRun daily to stay up to date with all of the news of the world of Track and Field. Thank you for covering the sport so well."
Thank you Evan for coming out on top.
Our second place finisher was Arron Buershure. Arron, we're looking for you. Email us at letsrun@letsrun.com.
In 3rd place was CoachO, aka Jordan Olson, who ran at the University of Akron and Coach Lee LaBadie. Akron is now famous in distance circles for the success of Clayton Murphy, who made the World Championship team at 800 as a sophomore last year and won the NCAA Indoor title in March. Jordan ran 4:23 in high school and jokes Coach LaBadie wouldn't have recruited him (he started Coach LaBadie's first year).
Jordan has some great advice for all aspiring college runners:
"I ran a mediocre 4:17.33 while at Akron, but was able to spend a lot of valuable time next to Coach LaBadie, picking his brain, and only realized late in the game how weak I had been mentally. To all of you high school and college runners out there struggling and thinking you should be running faster, I've been there. My advice: take some of the pressure off of yourself and have some fun. Find that mental zone which helps you relax and focus on the task at hand.
"I have since moved on to teaching high school chemistry and coaching girls cross country and track. I love every minute of it. I am a huge running nerd and do my best to instill the idea of being a student of the sport into the girls I coach."
As for the contest Jordan says, "I had never entered a Letsrun contest but decided I might as well give it a whirl. I think I got lucky! My picking strategy took into account results of the past, current trends and who usually does well at this time of the year, how I figured each race would develop and who usually races best in those types of races, and most importantly the experience factor. If only I had gone with my gut and put Andrews 2nd and Blankenship 3rd…dangit! Cheers and GO ZIPS!"
Jordan chose the Brooks Pure Flow 5 as his prize.
Thanks to everyone who played in our Worlds contest and to Running Warehouse for sponsoring the contest. When you're looking to buy shoes online from an online retailer full of legitimate runners, there is only one place to shop, RunningWarehouse.com.
Running Warehouse now has sells Brooks Beasts Pro racing gear. Check it out below.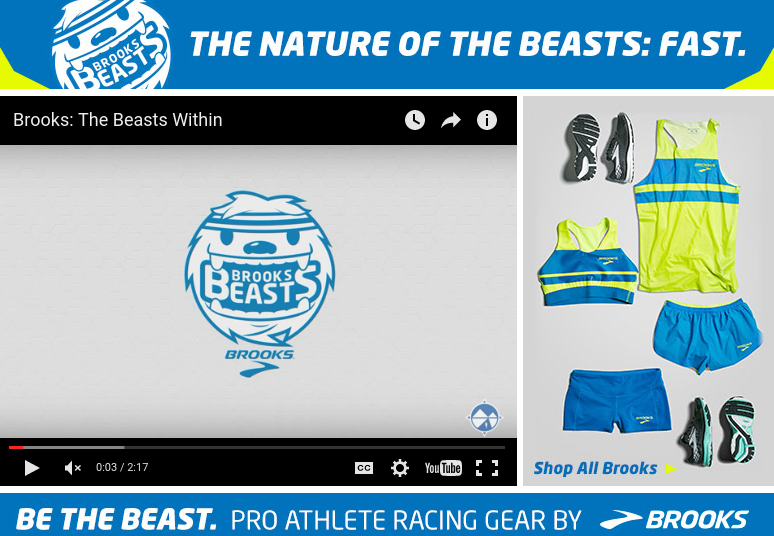 And get ready for this summer as our Olympic Trials and Olympic contests will be huge.