by LetsRun.com
February 20, 2016
Below we have results of all the pro events at the 2016 NYRR Millrose Games starting with the distance events. If you'd like full results of the other events at Millrose click here.
Full 2016 Millrose Games coverage here.
Be sure to chime in with your thoughts on the action in our fan forum: Official 2016 NYRR Millrose Games Live Discussion Thread.
Men's Wanamaker Mile
Article continues below player
Place
Athlete
Time
1
Matthew Centrowitz
Nike OP
3:50.63
2
Nick Willis
adidas
3:51.06
3
Chris O'Hare
adidas
3:52.91
4
Robby Andrews
adidas
3:53.16
5
Cory Leslie
Nike
3:53.87
6
Garret Heath
Brooks Beasts
3:55.10
7
Cristian Soratos
adidas
3:56.05
8
Blake Haney
University of Oregon
3:56.36
9
Jordy Williams
Villanova University
4:03.36
10
Daniel Winn
BAA adidas
4:11.15
DNF
Kyle Merber
Hoka One One
"B" Mile (Drew Hunter)
Place
Athlete
Time
1
Johnny Gregorek
Asics
3:56.57
2
Julian Matthews
Saucony
3:56.91
3
Thomas Awad
University of Pennslyvania
3:57.03
4
Drew Hunter
Loudoun Valley- VA
3:57.81
5
Jake Hurysz
New Jersey-New York TC
3:58.10
[3:58.094]
6
John Travers
Ireland
3:58.10
[3:58.097]
7
Julian Oakley
University of Providence
3:58.34
8
Robert Denault
Villanova University
3:58.48
9
Joe Stilin
Zap / Reebok
4:02.34
10
Travis Mahoney
New Jersey-New York TC
4:04.19
11
John Coghlan
Ireland
4:12.79
DNF
Ford Palmer
New Jersey-New York TC
Women's Wanamaker Mile
Place
Athlete
Time
1
Shannon Rowbury
Nike OP
4:24.39
2
Kerri Gallagher
Nike
4:26.18
3
Amanda Eccleston
Brooks
4:26.63
4
Heather Kampf
Asics
4:27.26
5
Morgan Uceny
adidas
4:27.99
6
Ciara Mageean
new balance
4:28.40
7
Katie Mackey
Brooks Beasts
4:28.84
8
Alexa Efraimson
Nike
4:28.91
9
Heather Wilson
New Jersey-New York TC
4:30.80
10
Dominique Scott
Arkansas
4:31.57
11
Leah O' Connor
adidas
4:31.83
12
Erin Teschuk
North Dakota St
4:34.58
DNF
Melissa Salerno
Asics
DNF
Treniere Moser
Nike OP
Women's 800
Place
Athlete
Time
1
Ajee' Wilson
adidas
2:00.09
2
Brenda Martinez
new balance
2:00.14
3
Laura Roesler
Nike
2:00.49
4
Raevyn Rogers
University of Oregon
2:00.90
5
Lynsey Sharp
Nike
2:01.55
6
Phoebe Wright
Nike
2:03.97
7
Natoya Goule
adidas
2:04.62
DNF
Latosha Wallace
USA
Men's 3k
Place
Athlete
Time
1
Ryan Hill
Nike BTC
7:38.82
2
Hassan Mead
Nike OTC
7:38.85
3
Eric Jenkins
Nike OP
7:39.43
4
Evan Jager
Nike BTC
7:40.10
5
Mo Ahmed
Nike BTC
7:40.11
6
Edward Cheserek
University of Oregon
7:40.51
7
Kemoy Campbell
new balance
7:40.79
8
Andy Bayer
Nike BTC
7:42.33
9
Lopez Lomong
Nike BTC
7:43.01
10
Cam Levins
Nike OP
7:45.44
11
Donn Cabral
Nike
7:47.18
12
Trevor Dunbar
Nike
7:47.39
13
Matt Hughes
Nike BTC
Women's 5k
Place
Athlete
Time
1
Betsy Saina
Nike BTC
14:57.18
2
Molly Huddle
Saucony
14:57.31
3
Emily Infeld
Nike BTC
15:00.91
4
Marielle Hall
Nike
15:06.05
5
Shelby Houlihan
Nike BTC
15:06.22
6
Abbey D'Agostino
new balance
15:24.44
7
Laura Thweatt
Saucony
15:35.24
8
Chelsea Reilly
Saucony
15:36.73
9
Liz Costello
new balance
15:37.82
10
Jordan Hasay
Nike OP
15:46.45
DNF
Rachel Schneider
Under Armour
DNF
Greta Feldman
New Jersey-New York TC
Men's 800
Place
Athlete
Time
1
Duane Solomon
Saucony
1:47.52
2
Brannon Kidder
Penn State
1:47.59
3
Alex Amankwah
Ghana
1:48.94
4
Sean Obinwa
Nigeria
1:49.43
5
Noah Kauppila
Princeton University
1:49.67
6
Andrew Dawson
USA
1:50.97
7
Julius Mutekanga
CPTC New Balance
1:51.00
8
Garrett O'Toole
Princeton University
1:51.69
Men's 400
Place
Athlete
Time
1
Bralon Taplin
Grenada
45.35
2
Lalonde Gordon
Nike
45.51
3
David Verburg
adidas
46.27
4
Vernon Norwood
new balance
46.28
5
Brycen Spratling
New York Athletic Club
46.78
Women's 60 Hurdles
Place
Athlete
Time
1
Janay DeLoach
Nike
7.85
2
Brianna Rollins
Nike
7.89
3
Jasmin Stowers
Nike
7.93
4
Monique Morgan
Shore Athletic Club
8.18
5
Brianne Theisen-Eaton
Nike
8.19
6
LaTisha Palmer
USA
8.21
7
Ginnie Crawford
Nike
8.22
Men's 60 Hurdles
Place
Athlete
Time
1
Omar McLeod
Nike
7.46
2
Ashton Eaton
Nike
7.53
3
Jarret Eaton
World Express
7.58
4
Eddie Lovett
World Express
7.67
5
Jeff Porter
Nike
7.69
6
Aleec Harris
adidas
7.70
7
Jason Richardson
adidas
7.73
8
Ronald Forbes
Cayman Islands
Women's 60: Allyson Felix Wins
Place
Athlete
Time
1
Allyson Felix
Nike
7.15
2
Tianna Bartoletta
Nike
7.20
3
Jenna Prandini
Puma
7.22
4
Angela Tenorio
adidas
7.23
[7.222]
5
Flings Owusu-Agyapong
Syracuse Elite
7.23
[7.229]
6
Khamica Bingham
Canada
7.25
7
Miki Barber
Unattached
7.30
8
Ashley Kelly
CPTC New Balance
7.39
Men's 60: Andre De Grasse Wins
Place
Athlete
Time
1
Andre De Grasse
Puma
6.61
2
Su Bingtian
Nike
6.62
3
Kimmari Roach
360
6.63
4
Ameer Webb
Nike
6.65
5
Emmanuel Matadi
Liberia
6.66
6
Marquise Goodwin
Nike
6.68
7
Jeremy Bascom
Guyana
6.80
8
Terry Jernigan
Essex Community College
6.92
High School Boys Mile
Place
Athlete
Time
1
Isaac Cortes
Greak Oak- CA
4:09.87
2
Noah Affolder
Carthage- NY
4:09.88
3
Aidan Tooker
Kinetic R.C.
4:10.20
4
Conor Lundy
Fordham Prep- NY
4:10.68
5
Jaxson Hoey
Downingtown West- PA
4:11.07
6
Eion Nohilly
John Jay CR- NY
4:14.30
7
Dalton Hengst
McDonogh School- MD
4:14.48
8
Ben Petrella
Liverpool- NY
4:15.27
9
Nick Dahl
Germantown Friends- PA
4:17.18
10
Ryan Dearie
St Anthony's- NY
4:18.82
11
Tyler Cox-Philyaw
Millbrook- VA
4:20.88
12
Patrick Sullivan
Don Bosco Prep- NJ
High School Girls Mile
Place
Athlete
Time
1
Kate Murphy
Lake Braddock- VA
4:41.84
2
Jessica Drop
Coginchaug- CT
4:50.06
3
Diana Vizza
North Shore- NY
4:52.77
4
Hannah Bonaguidi
Delaware Valley- NJ
4:52.79
5
Gabrielle Wilkinson
Friend Central- PA
4:53.03
6
Abbe Goldstein
Germantown Academy- PA
4:53.68
7
Ciara Roche
Freehold TWP- NJ
4:54.17
8
Olivia Arizin
Cardinal O'Hara- PA
4:55.68
9
Jessica Lawson
Corning- NY
4:55.88
10
Brianna Gess
Haddonfield- NJ
4:56.16
11
Mady Clahane
Cumberland Valley- PA
4:57.80
Women's 400
Place
Athlete
Time
1
Natasha Hastings
Under Armour
51.66
2
Phyllis Francis
Nike
52.65
3
Samantha Edwards
CPTC New Balance
54.07
4
Kendall Baisden
adidas
54.98
DNF
Kadecia Baird
Speed Evolution
60m Invictus
Place
Athlete
Time
1
Sgt. Robert Brown
U.S. Army
7.81
2
Cpl. Josh Wege
U.S. Marine Corps
8.36
3
Sgt. Gideon Connelly
Air National Guard
8.54
4
Sgt. Ryan McIntosh
U.S. Army
8.67
5
Capt. William Reynolds
U.S. Army
10.27
6
Sgt. Anna Manciaz
U.S. Army
13.04
Women's Pole Vault
Place
Athlete
Mark
4.20m
13-9 ¼
4.30m
14-1 ¼
4.40m
14-5 ¼
4.50m
14-9
4.60m
15-1
>>
1
Katerina Stefanidi
Nike
4.90m
16-0 ¾
PPP
PPP
PPP
O
O
2
Demi Payne
USA
4.90m
16-0 ¾
PPP
PPP
PPP
XXO
PPP
3
Sandi Morris
Nike
4.70m
15-5
PPP
PPP
O
PPP
O
4
Megan Clarke
Duke University
4.50m
14-9
O
XO
O
O
XXX
5
Tori Pena
Ireland
4.40m
14-5 ¼
O
XO
O
XXX
6
Mary Saxer
Nike/NYAC
4.40m
14-5 ¼
PPP
PPP
XO
PPP
XXX
Men's Long Jump
Place
Athlete
Mark
Att 1
Att 2
Att 3
Att 4
Att 5
Att 6
1
Marquis Dendy
Nike
Flight: 1
8.13m
26-8 ¼
7.74m
25-4 ¾
Rnk: 1
8.08m
26-6 ¼
Rnk: 1
8.04m
26-4 ½
Rnk: 1
8.13m
26-8 ¼
Rnk: 1
8.07m
26-5 ¾
Rnk: 1
8.02m
26-3 ¾
Rnk: 1
2
Mitchell Watt
Australia
Flight: 1
7.86m
25-9 ½
7.42m
24-4 ¼
Rnk: 4
7.59m
24-11
Rnk: 3
7.79m
25-6 ¾
Rnk: 3
7.86m
25-9 ½
Rnk: 2

FOUL

Rnk: 2

PASS

Rnk: 2

3
Marquise Goodwin
Nike
Flight: 1
7.82m
25-8
7.50m
24-7 ¼
Rnk: 3
7.58m
24-10 ½
Rnk: 4
7.81m
25-7 ½
Rnk: 2
7.74m
25-4 ¾
Rnk: 3
7.82m
25-8
Rnk: 3

PASS

Rnk: 3

4
Chris Benard
Chula Vista OTC
Flight: 1
7.69m
25-2 ¾
7.69m
25-2 ¾
Rnk: 2
7.61m
24-11 ¾
Rnk: 2
7.58m
24-10 ½
Rnk: 4
7.50m
24-7 ¼
Rnk: 4

PASS

Rnk: 4

PASS

Rnk: 4

5
Ronald Taylor
Chula Vista OTC
Flight: 1
7.31m
23-11 ¾
7.09m
23-3 ¼
Rnk: 5
7.31m
23-11 ¾
Rnk: 5
7.29m
23-11
Rnk: 5

PASS

Rnk: 5

PASS

Rnk: 5

PASS

Rnk: 5

6
Ashton Eaton
Nike
Flight: 1
7.15m
23-5 ½
FOUL
7.15m
23-5 ½
Rnk: 6

PASS

Rnk: 6

PASS

Rnk: 6

PASS

Rnk: 6

PASS

Rnk: 6
Men's High jump
Place
Athlete
Mark
2.20m
7-2 ½
2.25m
7-4 ½
2.30m
7-6 ½
2.35m
7-8 ½
2.37m
7-9 ¼
>>
1
Erik Kynard
Nike Jordan
2.30m
7-6 ½
O
O
XO
XXX
2
Mike Mason
Mizuno
2.20m
7-2 ½
O
XXX
3
Ricky Robertson
Chula Vista OTC
2.20m
7-2 ½
XO
XXX
4
Jacorian Duffield
Nike
2.20m
7-2 ½
XXO
XXX
4
Jesse Williams
Nike
2.20m
7-2 ½
XXO
XXX
NH
Justin Frick
Shore Athletic Club
XXX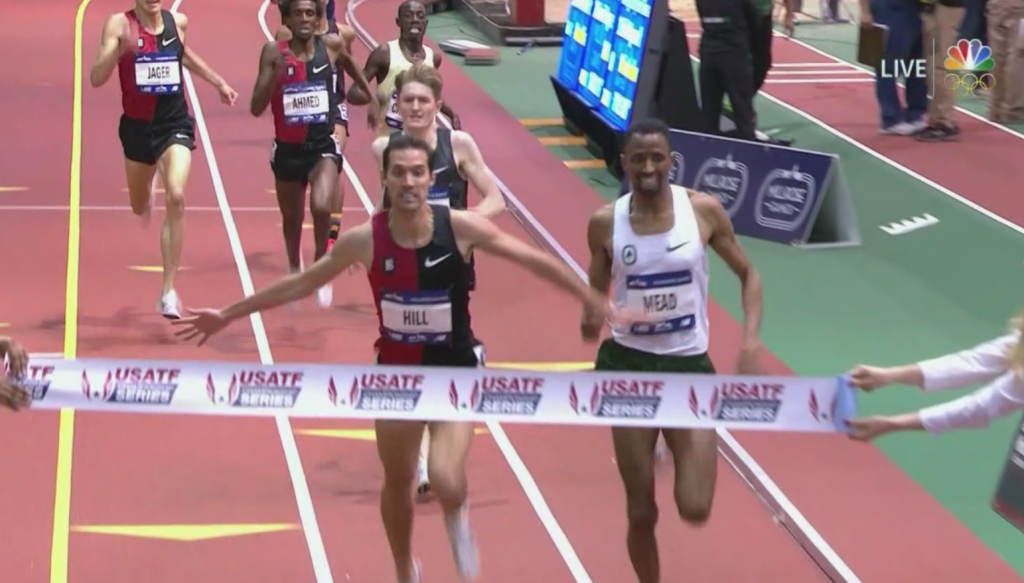 ---
Advertisement
The 1:59:40 GOAT shirts are here