Matt Centrowitz On the NOP Doping Investigation and Dominating the 2015 USATF 1500m Final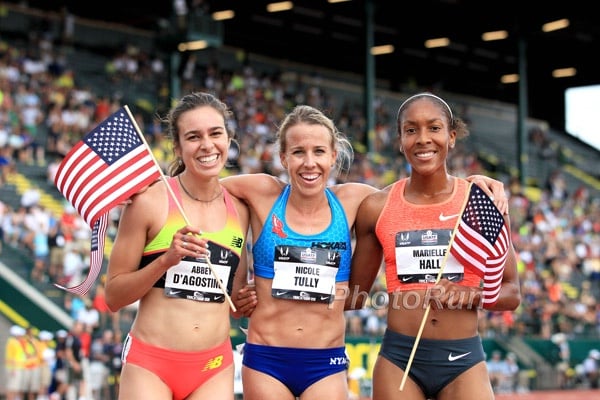 June 25, 2015 to June 28, 2015
by: LetsRun.com
June 27, 2015
The Nike Oregon Project's Matt Centrowitz dominated the 2015 USATF 1500m title (Our recap and analysis of the race is here: LRC Matthew Centrowitz Amazes & Robby Andrews Kicks His Way Onto US 1500m Team as Leo Does What He Always Does).
Afterwards, Centrowitz was a great interview as he point blank talked about his desire to dominate the field and then addressed head on questions about the Nike Oregon Project doping investigation from the British press.
Article continues below player
As for his third US championship he said this was the one he wanted "to win the most. I wanted it really bad… (That desire was) a mix of finishing as the second US runner in the rankings last year… and obviously with everything going on (with the investigation) I wanted to win this one for my team, the Oregon Project, and my family. Yeah I wanted it bad."
Centro said, "Coming into this race, I knew was strongest and I was also the fastest." He added he did not want to leave it late, so he made his move with 600 to go. With 400 to go he was surprised to be bumping shoulders with Oregon's Will Geoghegan (who ran the 5k at NCAAs) so he figured the entire field was still in it. Centro then pushed harder on the backstretch and with 100m to go it was all over as he had a comfortable lead, just as he wanted.
"Coming into this US championships, winning wasn't good enough, I really wanted to dominate the field. Going into that homestretch, I wanted that race to be won already. That was the main goal coming into that and I think I did that," he said. He then pointed out if you make the US team you are medal contender at Worlds.
Centro Says He'd Gladly Cooperate With USADA, Has Seen Nothing Suspicious, He Would Be the First to Leave If He Saw Something, and "There is a life after running and I don't plan on anything to jeopardize that right now"
Centro also fielded many questions on the NOP doping investigation from the British press.
He said the investigation was not too much of a distraction and only affected him indirectly as he is "good at blocking out distractions", but added Alberto is "like a second father" and Galen is a "close friend."
NOP team member Treniere Moser has said USADA has contacted her. Matt said he has not been contacted by USADA but would be "obviously be arms open willing to discuss and talk whatever they need from me."
He was adamant he had seen nothing suspicious in his time with the NOP and would have been the first to leave if he had. He said, "I can safely say if I ever saw one thing that I felt was wrong I would be the first to leave. Like I said I have never seen anything, I've been part of the group since the Olympics and on, and I've never seen anything from Alberto, Galen or anyone on our team, anyone on the staff do anything wrong. Never came with me about anything."
He then addressed his own supplements usage and pointed out there are things more important than running. "For the record I'm not currently on any TUEs, I don't take inhalers, I'm not on thyroid medication, never have never been. Honestly, the only supplements I take like I said before are vitamin c, iron, and (vitamin) B. I've said that several times and will continue to say that. There is a life after running and I don't plan on anything to jeopardize that right now, " he said.
Props to Centro for answering the questions directly.
Full interview below:
Discussion: Matt Centrowitz Will Fully Cooperate With USADA, Has Seen Nothing Suspicious, and Would Be First to Leave If He Did
*Centro: "Coming into this US championships, winning wasn't good enough, I really wanted to dominate the field. "