German Journalist Behind Russian Doping Scandal Documentary (Hajo Seppelt) Says IAAF Has Threatened Him With Legal Action
by LetsRun.com
March 20, 2015
Embedded below is a video interview from EuroSport.com with German journalist Hajo Seppelt. Seppelt is the man behind the series of documentaries that aired on ARD at the end of last year which accused Russia of systematic doping and some IAAF members of corruption charges.
In this interview Seppelt speaks out against the IAAF who he says have threatened him with legal action. He states while the IAAF appreciated his research on Russian doping, they weren't happy about the mention of a list of 150 athletes with suspicious blood samples who were allegedly never targeted for testing from 2006-2008.
Article continues below player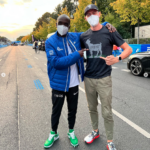 Kipchoge loves the 1:59:40 Shirt Get Yours Today
What a legend!
Seppelt says, "They (the IAAF) have been in favor of our Russian research, but they have been completely unsatisfied, or completely annoyed, about our criticism of the IAAF … the IAAF for this reason, obviously is not in favor of me anymore. They sent their lawyers to threaten me. But I tell you if someone does it this way, I will react to that. I can absolutely not accept this approach from the IAAF."
In the aftermath of the documentaries, LetsRun.com received an email from IAAF spokesman Nick Davies explaining why the IAAF did not follow up on the 150 suspicious samples and why they don't actually prove an athlete cheated.
In that email Davies said "there is no doubt that the first two episodes of the ARD documentary on doping in Russia were very useful … However, I was extremely shocked to note the third episode [implied] completely unfairly, that 150 athletes had suspicious blood values and were not subject to proper targeted testing." Davies claims that it is "PARTIAL and misleading information" that was "stolen" from the IAAF.
However, Seppelt doesn't back off of claims of an IAAF cover-up. In a previous interview he said, "The IAAF is trying to give the impression that all the details we had were individual blood values. That is simply not the case. There are several readings for each athlete."