RRW: Despite Pressure, Wilson Kipsang Is Cool Entering TCS NYC Marathon
By Chris Lotsbom, @ChrisLotsbom
(c) 2014 Race Results Weekly, all rights reserved
October 31, 2014
NEW YORK — Sporting a bright orange adidas windbreaker and an even brighter smile, Wilson Kipsang answered question after question in style here today. In anticipation of his TCS New York City Marathon debut, the 32-year-old former world record holder sat at attention, grinning often and looking straight into each and every reporter's eyes. While some athletes let the nerves of race week boil over and stress them, Kipsang seems to thrive in the intense environment.
"My training has been going very well and I am feeling very good and I am looking forward to Sunday's race," Kipsang assured, beaming from ear to ear.
Article continues below player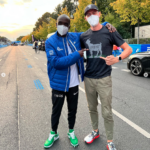 Kipchoge loves the 1:59:40 Shirt Get Yours Today
What a legend!
Going into the 44th running of the TCS New York City Marathon, Kipsang is well aware that a win would net him at least $600,000 in prize money. Kipsang would take home $100,000 as winner of the five borough marathon, plus an additional $500,000 as the 2013-2014 World Marathon Majors series champion, defeating countryman Dennis Kimetto by one point. If Kipsang finishes any worse than first, then Kimetto, the man who took Kipsang's marathon world record, would win the World Marathon Majors prize.
"[We] rarely talk about it because when it comes to competition, everyone wants to win. But we can accept the outcome," said Kipsang.
At 32, Kipsang has mastered the marathon, earning wins in Berlin, Frankfurt, London, Otsu, and Honolulu. This will be his first attempt at a TCS New York City Marathon title, something he greatly anticipates.  He had planned to run the race in 2012, but it was cancelled by super storm Sandy.
Suffering a rare defeat to training partner Geoffrey Ronoh at the Mattoni Olomouc Half Marathon in the Czech Republic this past June, Kipsang went back to the drawing board and altered his training just a tad. While still focusing on endurance and strength, Kipsang fine tuned his speed work.
"I really had time to check on my training, my endurance, my speed, because I really had enough time to prepare for this race," he said.
Much has been made about Kipsang and Kenya's Geoffrey Mutai going after Mutai's course record of 2:05:06, which he set in 2011. As a two-time winner and the reigning champion, Mutai knows every bridge and hill from Staten Island to Manhattan. Not wanting to reveal his strategy too much, Kipsang said that he'll respond to whatever happens based off how his body feels.
"If guys are really going to run a faster pace for the first half, then I think we should try to go on the course record schedule," he said. "It will depend because sometimes it may be windy but guys might be ready to take a faster pace. That will give us a chance to run a faster time."
Kipsang is no rookie to running fast times; he's run under 2:08:00 eight times. This will be his first time running a marathon without pacemakers since 2012.
"Of course, because in this race [and] the weather, no pacemakers, you really have to try and know your position yourself. It's more hilly than compared to other courses which I have been running, so this is something new to me," he said. "I think it'll be a challenge but my training has been going very well and I have been trying to work on the hills. I feel ready."
When asked why he chose New York as opposed to Berlin or Chicago –flat and fast courses that he is tailored too– Kipsang flashed a big smile.
"I chose New York because I wanted to take the challenge, to take on the challenge of racing in the conditions and on the course."
In 2015, Kipsang says he will return to the speed-oriented courses, hoping to take down Kimetto's world record of 2:02:57. But for now, his sights are on a victory in the Big Apple.
"I think the main aim to win the World Major Marathons is to win this race. Yes. It is not a big pressure for me," he affirmed. "Many of the guys here have really raced together so it's a matter of running my own race and trying to win."