Jim Spisak (23:41) Just Beats Out Dirba Degefa Yigezu At Rothman Institute 8K As Part Of Philadelphia Marathon Weekend
Press Release
November 22, 2014
PHILADELPHIA – Today's Rothman Institute 8K kicked off the first of four races during the GORE-TEX® Philadelphia Marathon Weekend. In the men's field, Jim Spisak of Pittsburgh, PA came in first place with a time of

23:41

. Spisak previously won the 2013 Richard S. Caliguiri City of Pittsburgh Great Race, where he was able to maintain nearly a half-mile lead throughout the duration of the race. On the women's side, Alice Kamunya of Kingston, NY took the 8K crown with a time of 26:21. 
Article continues below player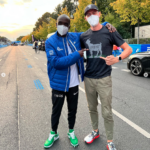 Kipchoge loves the 1:59:40 Shirt Get Yours Today
What a legend!
Kathryn Martin of Long Island, NY broke the the 60-64 year-old National Age Group record for the 8K – pending USATF approval. The previous record was set by Sabra Harvey with a time of 32:43. Coming into the race, Martin's goal was to complete the Rothman 8K in 32:43, but she surpassed her goal with a time of 32:20 on the Benjamin Franklin Parkway. 
"The Rothman 8K always serves as fantastic starting point for the athletic portion of Race Weekend," said Desiree Peterkin-Bell, Race Director of the GORE-TEX® Philadelphia Marathon. "This is year, we had the added bonus of watching one of our runners break a national record. Kathryn Martin's victory was a great moment for her and for our race."
More than 2,000 participants were registered for the Rothman Institute 8K (4.97 miles). Runners started on the Benjamin Franklin Parkway near the Philadelphia Museum of Art before turning onto the scenic banks of the Schuylkill River.
The GORE-TEX® Philadelphia Marathon and Half Marathon will start at

7 a.m. on Sunday, November 23

at 22nd Street & Benjamin Franklin Parkway. For a preview of the Elite Field for the Marathon and Half Marathon, visit the online press room at http://www.philadelphiamarathon.com/press-room. 
RESULTS FROM 2014 ROTHMAN INSTITUTE 8K
Men's 8K Results
Jim Spisak, 24, Pittsburgh, PA,

23:41
Diriba Degefa Yigezu, 27, New York, NY,

23:41
Cameron Marantz, 27, Philadelphia, PA,

23:52
Owen Dawson, 26, Coatesville, PA,

23:56
Rachid Ezzouniou, 26, Hebron, KY, 24:03
Females 8K Results
Alice Kamunya, 23, Kingston, NY, 26:21
Kerri Gallagher, 25, Arlington, VA, 26:26
Etaferahu Temesgen, 25, Silver Spring, MD, 26:31
Jane Murage, 27, Hebron, KY, 26:55
Sophy Jepchirchir, 21, Chapel Hill, NC, 27:45
Masters Male 8K Results
Justin Krebes, 40, York, PA, 25:59
Kenneth Barbee, 50, Philadelphia, PA, 26:43
Greg Watson, 48, Media, PA, 27:07
Masters Female 8K Results
Laura Latchford, 46, Palmyra, PA, 29:44
Leslee Hoey, 45, Downingtown, PA, 30:15
Cecily Tynan, Philadelphia, PA, 45, 30:17
Wheels Chair Male 8K Results
Rob Leiser, 59, Nazareth, PA, 44:22