Geoffrey Mutai, Wilson Kipsang, Stephen Kiprotich, Lelisa Desisa Ready to Battle in New York on Sunday
By LetsRun.com
October 31, 2014
NEW YORK — The women drew the most attention today after the Jeptoo news (click here for full coverage), but we were also able to speak to a few very fast men on Friday — former world record holder Wilson Kipsang, two-time defending NYC champ Geoffrey Mutai and Olympic champ Stephen Kiprotich.
Article continues below player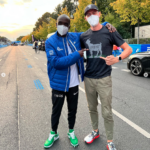 Kipchoge loves the 1:59:40 Shirt Get Yours Today
What a legend!
We conducted our interview with 2013 Boston Marathon champion Lelisa Desisa of Ethiopia off-camera, because his English is not great. Through a translator, he made it clear that his goal is to win on Sunday and that he doesn't mind if it's cold because it gets cold in Ethiopia too — especially near the Entoto Mountains north of Addis Ababa. Desisa closed by saying that a victory in New York would be the biggest of his career, even bigger than Boston in 2013.
Wilson Kipsang wants to run fast even if it's windy on Sunday
"My training has been going very well," Kipsang said. "I've tried to work on the hills. I feel ready."
Kipsang reiterated his goal of breaking the course record on Sunday (2:05:06 by Geoffrey Mutai in 2011) and said that even if it is windy, there might be guys ready to run a fast pace. He also said that Mutai, who hast twice won this race and trains with him in Kenya, hasn't given him any advice on the course ahead of Kipsang's NYC debut.
Kipsang didn't seem to mind that another of his training partners, Dennis Kimetto, broke his world record in September in Berlin. He likes that everyone else has a new target to aim at now: 2:02:57.
"It gives us a big challenge that we can still try to go for that time. Everybody now is trying to see if they can run faster."
Geoffrey Mutai Ready to Battle on Sunday
Geoffrey Mutai, the fastest marathoner ever until Berlin this year with his 2:03:02 in Boston, is ready for Sunday and his chance to defend his New York City title.
Talk of cold and wind did not faze him as he noted, "We must run that day [no matter what] so I cannot say anything about the weather."
Mutai said his training has gone very well. This past spring he was sixth in London in 2:08:18, and he said he felt he did not have enough time between the New York City Half Marathon (March 16) and London (April 13).
His only prep race this fall was a 27:32 10k in Prague in September that he was pleased with. He said a 15 x 1k fartlek on the roads was his toughest workout before NYC.
Regardless of the specifics of his training he is ready for Sunday and a battle with Kipsang. When asked if he thought there was a chance they might separate from each other early because of the weather he said, "there is not a chance we will leave each other." Expect a good battle.
Mutai On Meb
One tidbit on Mutai. He was asked about what he thought of Meb's win in Boston. He said when he saw Meb at the NYC Half this spring before Boston, Meb was telling him about his career and according to Mutai, "He was telling me 'I am about to retire.'"
"Later when I saw he won, I was very surprised and was cheering him," Mutai said.
Stephen Kiprotich looks to redeem himself after last year's 12th-place finish
Kiprotich ran NYC last year but he was only 12th as he didn't have much time to prepare after winning Worlds in mid-August. This time around, he feels more comfortable and rested running in New York. He also said that he likes racing the best competition so he's happy Geoffrey Mutai and Wilson Kipsang are here.
As the Olympic marathon champion, Kiprotich is one of Uganda's biggest athletes — in all likelihood, the biggest. He said that that he feels the pressure because "my people in Uganda are expecting a win."