Results – 2014 Falmouth Road Race Results
by LetsRun.com
August 17, 2014
Below you will find the elite men's and women's results for the 2014 New Balance Falmouth Road Race. For results for everyone else, we recommend going to the Falmouth Website.
Discuss this race in our fan forum: And the winners of 2014 Falmouth Road Race Are…Stephen Sambu and Betsy Saina (Molly Huddle 3rd, Ben Bruce 4th). 
Article continues below player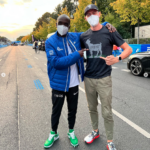 Kipchoge loves the 1:59:40 Shirt Get Yours Today
What a legend!
Men
— Jonathan Gault (@jgault13) August 17, 2014
Women
— Jonathan Gault (@jgault13) August 17, 2014