Ashton Eaton Celebrates, Yohan Blake Leaves in a Wheel Chair, McCorory over Richards-Ross, Big Throws by Americans, Alonso Edward is Back in Glasgow
by: LetsRun.com
July 11, 2014
Day 1 of the two day Sainsbury's Glasgow Grand Prix is in the books. 
We recap all the sprint and field event action below. The distance action which saw another win by Sifan Hassan and furious last lap in the men's 5000 is recapped here.
On the track, Ashton Eaton continued to impress, Yohan Blake left in a wheelchair, Alonso Edward is back, and Francena McCorory took down Sanya Richards-Ross in the big race of the night. Americans impressed in the shot, discus, and long jump. We recap it all below. Day 2 starts at 10 am eastern. Viewing/tv info here.
Running Events
Men's 400 Hurdles – Javier Culson Wins, Ashton Eaton PRs and Celebrates
2014 world leader Javier Culson of Puerto Rico moved himself into first place in the Diamond Race with his third Diamond League win of the season in 48.35. But the story here was American Ashton Eaton, the World/Olympic champ/world record holder in the decathlon, who was second in a PR of 48.69. That makes Eaton the sixth-fastest 400 hurdler in the world this year, and the #2 American.
In the race itself, Eaton got out very well and may have even led through the first couple hurdles, but Culson took the lead on the backstretch and stretched it through the final turn. Eaton ran in second for most of the race and though he was pushed hard in the home stretch, was able to hold off Felix Sanchez and Michael Tinsley — the gold and silver medalists from the 2012 Olympics.
Eaton has been focusing on the hurdles this season outdoors and what he's accomplished is remarkable. He already won the 400 hurdles in Oslo (though it was a non-DL event there). Eaton broke 49 seconds for the first time in Ostrava on June 17 and now he's down to 48.69, a world-class time for the hurdles. Even more insane is the fact that the 400 hurdles is not a decathlon event and Eaton did not have a 400 hurdle race on record prior to 2014.
Article continues below player.
Eaton talked to the BBC after the race and was thrilled with his performance.
"I can't even believe that. I knew I had Tinlsey on my inside and I was like 'This guy is just going to run up and blow by me.' When he came up on me, I was like, 'Just use him' and I did," said Eaton. "It's an honor to compete against them. My very last one (400 hurdles of the year), I wanted to go out well."
We don't understand why Eaton isn't a bigger mainstream star. He's the world record holder in a marquee event, is charismatic, good-looking and married to one of the world's top heptathletes, Brianne Theisen-Eaton. He deserves more attention, especially after what he's accomplished in the hurdles this year.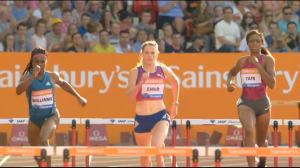 Women's 400 Hurdles – A Scottish Win
Scotland's own Eilidh Child gave the crowd what it wanted – a hometown winner in this non-Diamond League event. Child dominated and won by a large margin in a seasonal best of 54.39 (54.82 coming in, her pb is 54.22).
"That was totally my best race of the season. It was such an amazing atmosphere and has me fired up (for Commonwealths)," said Child of the hometown support in the stadium which was less than half full today.
America's Cassandra Tate, who was third at USAs, was second here in 55.43.
| | |
| --- | --- |
| Overall | |
| Comfort | |
| Cushioning | |
| Durability | |
| Appearance | |
| Value | |
Quick Thought #1: Our goal this week is to make sure everyone knows who America's 14-year old Sydney McLaughlin is. McLaughlin ran a 55.63 last week. How good is that? It would have placed her third in this race. We really hope since she's too young for World Juniors that one pro meet will let her run this summer.
Men's 200: Alonso Edward is Back
Alonso Edward of Panama is back. At at 19, Edward ran 19.81 to win the silver medal at the 2009 World Championships behind Usain Bolt. Bolt may have beaten Edward at Worlds, but Edward was faster than Bolt at age 19 (Bolt ran 19.88). Injuries then hit Edward and he hadn't run under 20.28 since 2009. In 2010 and 2012, he didn't even dip under 21 seconds.
That has changed this year. Edward ran 20.00 in May, and then at the Lausanne Diamond League meet last week he ran 19.84 for the win.
Today he faced 2014 world leader Warren Weir (19.82) and it was no contest. Coming off the turn together, Edward pulled away for the win in 20.25 to Weir's 20.30. Don't let the 20.25 (-0.7 m/s wind) confuse you, Edward was clearly best in this one and let up before the line making the final result look closer than it was.
QT: Edward is back but what has happened to Weir?
Weir ran 19.82 into the wind in NYC and hasn't been under 20.17 since.
Wind:-0.7
RANK
ATHLETE
NATION
RESULT
REACTION TIME

1

PAN

20.25

0.191

2

JAM

20.30

0.168

3

USA

20.31

0.164

4

USA

20.40

0.148

5

20.44

0.162

6

20.77

0.163

7

USA

20.91

0.170

8

BEL

20.96

0.152

 
Women's 400- McCorory over Sanya Richards Ross
Just as they did at USAs two weeks ago, world indoor champ Francena McCorory and Olympic champ Sanya Richards-Ross went 1-2 in the women's 400. Richards-Ross and Diamond Race leader Novlene Williams-Mills of Jamaica went out hard and with 100 to go, McCorory still had a lot of work to do. Her patience paid off as Richards-Ross and Williams-Mills began to tie up while McCorory used her strength to power away for the field and record just the third sub-50-second performance of 2014 (McCorory is the world leader at 49.48 from USAs).
This was a big win for McCorory (her second DL win of 2014) over an Olympic-caliber field. Five of the eight finalists from last year's World Championships were in this race as well as the resurgent Richards-Ross.
Men's 100 – Yohan Blake Leaves in a Wheel Chair as Three Go Sub 10 as Ashmeade Wins It
The top three were all under 10.00 as it was very tight. In the end, Nickel Ashmeade was your champion in 9.97. The US's Mike Rodgers had the same time and Nesta Carter ran 9.98 for third.
The big story, however, may have been that 2011 world champ Yohan Blake, who missed last year with injury, pulled up with another injury in this one and had to be wheeled off in a wheelchair. Blake wasn't gaining on the leaders and seemed to be forcing it trying to catch up before going down.
Wind:+0.3
RANK
ATHLETE
NATION
RESULT
REACTION TIME
DIAMOND POINTS
DIAMOND RANKING

1

JAM

9.97

SB

0.143

4

4

2

USA

9.97

SB

0.158

9

1

3

JAM

9.98

SB

0.140

3

5

4

10.03

=SB

0.181

5

10.07

SB

0.150

1

7

6

10.09

0.143

6

3

7

10.21

0.151

8

10.23

0.141

JAM

DNF

0.151
Men' 110h – William Sharman Gets the Upset Win
The Brits got an upset win here as William Sharman got the win equaling his personal best of 13.21. Hansle Parchment, who ran 12.94 last week in Paris, could only manage a 13.31 here.
The focus for Sharman is the Commonwealth Games. He told the BBC, "It's going well but I'm still training hard as I want to do well when we get to the championships."
He then had some insightful comments for athletes struggling with confidence. When told by the BBC announcer that it must really help to go into meets running so well, being full of confidence, Sharman's reply was, "I've been doing some interesting work when I was in the States. What they've been trying to tell me is, 'Confidence doesn't come into it (whether you run well or not). You've got a job to do so just get out there and do your job.' So regardless of how I feel day to day, I try and stay emotionless and just do my job."
Women's 4 x 100  Great Britain Wins Easily
Carmelita Jeter of the US, coming back from injury, led off for the US and wasn't able to keep it very close to the British team. Despite having English Gardner on the second leg, the US wasn't a factor and would finish 4th. The British team dominated this one winning in 42.74, runner-up was the British "B" team.
QT: The world record is nearly 2 seconds faster than this in 40.82. Amazing.
RANK
RELAY
NATION
RESULT
REACTION TIME
1
GREAT BRITAIN & NI A

GBR

42.74
0.140
2
GREAT BRITAIN & NI B

GBR

43.36
0.154
3
ALL STARS
MIX
43.40
0.229
4
STARS AND STRIPES
USA
44.11
0.163
5

POLAND

POL
44.59
0.167
6
WALES

GBR

45.10
0.166
7

SCOTLAND

GBR

46.55
0.231

IRELAND

IRL
DNF
0.148
Field Events
Men's Shot Put – Reese Hoffa 21.67 Scottish All-Comers Record
Reese Hoffa had a massive throw to win the men's shot put. He had a Scottish All-Comers record of 21.67 to win. Two-time defending world champ David Storl was second in 21.38.
World indoor bronze medallist Tom Walsh threw a New Zealand record of 21.23 (previous pb of 21.16) to get third.
Men's Pole Vault  – Poles Go 1-2
This wasn't a Diamond League event and  Poles Pawel Wojciechowski and Piotr Lisek went 1-2 both clearing a modest 5.67.
Wojciechowski was the world champ in Daegu in 2011.
Women's Discus – USA's Gia Lewis-Smallwood Gets Huge Upset Win
In a big upset, U.S. champ Gia Lewis-Smallwood became just the second American, man or woman (after Stephanie Brown-Trafton in 2011) to win a Diamond League event in the discus. Lewis-Smallwood PR'd by 1.30 meters to defeat World/Olympic champ Sandra Perkovic, who had won 14 straight DL events coming in. The mark also puts Lewis-Smallwood third on the all-time U.S. list.
Women's Long jump: Tianna Bartoletta's Great 2014 Continues as She Outlasts Katarina Johnson-Thompson
Tianna Bartoletta's tremendous 2014 continued as she got the win here. The 2014 USA 100m champ got the win here in 6.98 to give her the four longest jumps in the world in 2014. Bartoletta, the only woman over 7.00m in 2014, needed to jump well here as she was challenged by Brit Katarina Johnson-Thompson who jumped a pb of 6.92 to become the #2 Brit of all-time. British record holder (6.95) Shara Proctor jumped a season's best of 6.82 for 3rd.
QT: Katarina Johnson-Thompson is ranked #4 in the world in the heptathlon but she his a very good long jumper. She won the world indoor silver and keeps getting better.
Men's High Jump
None of the big names were in this one.
More: LRC Glasgow Day 1 Distance Recap: Sifan Hassan Wins Again, Hagos Gebrhiwet Returns To Form, The Americans Struggle Mightily in the 5000 and Jordan Hasay PRs Jordan Hasay was dead last in the 1500 but was an American bright spot as she still PR'd by over 2 seconds. The American men struggled big time in the 5000.
*Day 1 Full Results