8 Takeaways from the Pre-Meet Press Conference at NCAAs
By Letsrun.com
June 10, 2014
EUGENE, Ore. — The 2014 NCAA Outdoor Track and Field Championships begin tomorrow at the University of Oregon's Hayward Field. The NCAA assembled four of the coaches of the top men's and women's teams for Tuesday's press conference — Florida's Mike Holloway, Oregon's Robert Johnson, Texas' Mario Sategna and Texas A&M's Pat Henry. Here's what we took away from this afternoon's press conference.
(We apologize but the video sound is very low, jack your volume up).
Article continues below player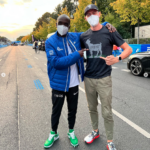 Kipchoge loves the 1:59:40 Shirt Get Yours Today
What a legend!
1. Stat of the Day – Here's Why The Oregon Ducks Could Win Both Titles
As the coaches got started on their opening remarks (Pat Henry video here, Mario Sategna here, Mike Holloway here, Robert Johnson here) we realized instantly why the Ducks could win titles on both the men's and women's side. Most of the coaches casually mentioned how many competitors they have competing here in Eugene. The differences were striking.
The Ducks have 39 men and women competing at this year's championships. Contrast that to Florida which has 25 and Texas A&M which has 26.
2. The Coaches Were Somewhat Split On Whether It's A Good Thing That Eugene That Eugene Will Host NCAAs for 9 Straight Years
The coaches were split when asked about what they thought about Oregon hosting NCAAs for nine straight years.
Florida coach Mike Holloway was the most negative. While Holloway was very gracious and complimentary about Eugene and said he's never not attended a great meet in Eugene, he said was not sure it was the best thing for the sport and that he wasn't "100 percent" on board.
Holloway pointed out that it can take a team from Florida 16 to 17 hours to get to Eugene if they fly commercial.
Texas A&M's Henry was much more upbeat although he did have a few reservations:
"It's very good for the sport of track and field. I'm not real convinced about the number of years, but I think having the meet in one place for more than one year is really good for track and field. I think somebody's got to step up and (host it for more than one year)."
"I wish the site didn't have a horse in the race (with Oregon being a great team). I wish it was an Omaha (the College World Series is in Omaha every year), but that can't happen in our sport right now."
Henry did point out a few negatives about Eugene. He said that it's very expensive to fly to Eugene – he said it can cost $900 for a parent to fly to Eugene from Houston. He then joked that when you combine that with the thousands people might have to spend for Allegra-D to deal with the high pollen count in Eugene, it's gets very pricey very quickly.
Texas' Sategna said he'd love to host the meet in Austin but it's very hot there this time of year and Eugene offers the student-athletes a great experience.
"I think removing yourself as a coach, what is the best thing for our sport? We'd love to host it in Austin, but it's probably 98 degrees right now at 8:00 pm. You know when you come out here to Eugene, it's going to be a great experience. At the end of the day, that's what we want for the student-athletes," said the first-year Texas head man.
Texas A&M's Henry added that while it's hot in Texas, when the NCAAs have been held there in the past people ran very fast.
Oregon's Johnson was obviously very happy the meet is here on a semi-permanent basis and urged anyone with complaints to try to do it better for the student-athletes.
"I don't see how you find a better place in the USA to do it than Eugene," said Johnson. "If you don't want it here, somebody step up and do it better. We're more than happy to go somewhere else and do it for the student-athlete. But until then, you can't do any better than Eugene, Oregon."
Later, when asked about how important it would be for the Ducks to win their first NCAA outdoor title since 1985 (women) and 1984 (men), Johnson made a great point. "If it's such a home-field advantage, then what are we doing wrong (as coaches)?"
3. Johnson knows that some Oregon fans were unhappy that Edward Cheserek hasn't run all-out at Hayward Field this season but he hopes that a team championship will change that.
Cheserek has had a great year, winning NCAA titles in XC and the 3k and 5k indoors. He's entered in both the 5k and 10k in this meet and Oregon are expecting him to score heavily in the push for a team title. Racing a total of 15,000 meters in a three-day span is a tough ask for any runner, particularly a freshman, and we wanted to know if Johnson was worried about his young phenom after such a long year.
Johnson said that the focus all of outdoors has been on the NCAA championships, and that the coaches changed things up a bit this year. Namely, they raced Cheserek just once at home — the 5k at the Oregon Relays in April — and he didn't go all out in that race, crossing the finish line with teammate Eric Jenkins as both ran 13:46 to get a qualifier for NCAAs. Johnson noted that some members of the Oregon fan base have been "indifferent" about the decision, but that he only did it to keep Cheserek fresh so that he could perform his best at NCAAs.
4. The Coaches Say What Makes The NCAA Meet Special
At the end of the press conference, the coaches were asked to market the meet and tell potential fans why they should watch it or follow it. While their responses varied in specifics, the coaches were in near total agreements in tone – the NCAA outdoor championships are a very special sporting event.
Florida's Holloway said he's been to World Championships and Olympics, but nothing tops NCAAs. "There's not a better meet than this one."
Robert Johnson's marketing message was quick and succinct – just four words, "Best meet in America."
Texas' Sategna said fans should follow the NCAA because all sports fan can relate to running as it's the backbone of nearly every sport.
Henry thinks the team nature makes NCAAs special.
"This meet is about the team – who wins it. People start relating to teams, not just individual performances, " said Henry. "Nobody says how high are we going to jump in the high jump. It comes down to what team is going to win."
5. "Fast People Make Fast Tracks"
Off camera, Mike Holloway had a great quip when asked a question about the quality of the track. "I'm kind of a Carl Lewis fan — 'Fast people make fast tracks.'"
6. Let's get the show on the road.
Oregon's Robert Johnson and Florida's Mike Holloway were both ready to stop talking about the meet and start competing.
Johnson said he felt like a kid the week of Christmas, wanting to open the gifts each and every day but having to wait an agonizingly long time, "(Let's) pull the bow and see what's inside the box."
7. Pat Henry isn't letting his team think about last year's 4 x 400 dropped stick –  "You drop the ball in the end zone, you have to let it go and get back into the game."
When asked if he's talked to his team about the dropped stick in the 4 x 400 last year that resulted in the Texas A&M men tying Florida for the team title, Henry said that he hasn't as they've moved on and are looking forward. "That was last year, it's over," said Henry.
That being said, it clearly was an incident that obviously bothered him. "We have a couple (on this year's team) who were on that team last year, but we can't think about something that was unpleasant for us," Henry said. "You drop the ball in the end zone, you have to let it go and get back into the game."
Oregon and Florida are the two men's teams favored to battle it out for the title and both have teams entered in the 4×400. In fact, the Florida men have already run the second-fastest time in NCAA history, 2:59.73, at the Florida Relays. Could the team title come down to the 4×400 once more?
8. The Coaches Share Their Favorite NCAA Track and Field Moments
Want More?
Check out our YouTube page, as the coaches did have more to say. Sategna talked about his women's 400 runners, Johnson and Sategna talked about the individual battle for the 400 crown between American indoor record-holder Phyllis Francis and collegiate outdoor record holder Courtney Okolo (as well as last year's champ Ashley Spencer), Johnson talked about the health of his team and Johnson talked about what it would mean to win an outdoor title at Oregon.